Designing & Inspiration
10 Master Bedroom Design Ideas
The Master Bedroom isn't just any room in the house—it's your private sanctuary. It should be your favourite room in your home, where you can let go of the day's stress and simply relax.
Stuck for ideas on decorating or designing your master bedroom? Check out these ten master bedroom design ideas that will never go out of style.
Navy comfort
A well-dressed bed is often the hero of a master bedroom design, and this is no exception. We love a theme, and the navy palette in this bedroom is totally timeless.
Minimal magic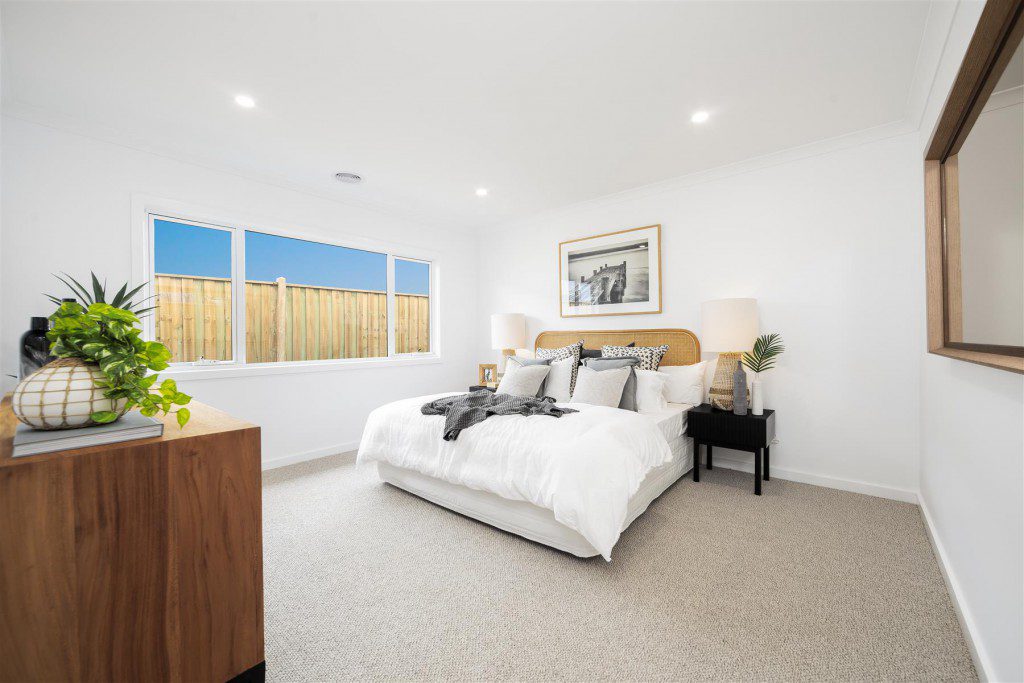 Sometimes, less is more. This master bedroom design heroes a plush bed with a grey and white palette, while small indoor plants and timber furniture add warmth. The overall aesthetic is totally refined (and one Marie Kondo would be proud of)!
Clever contrast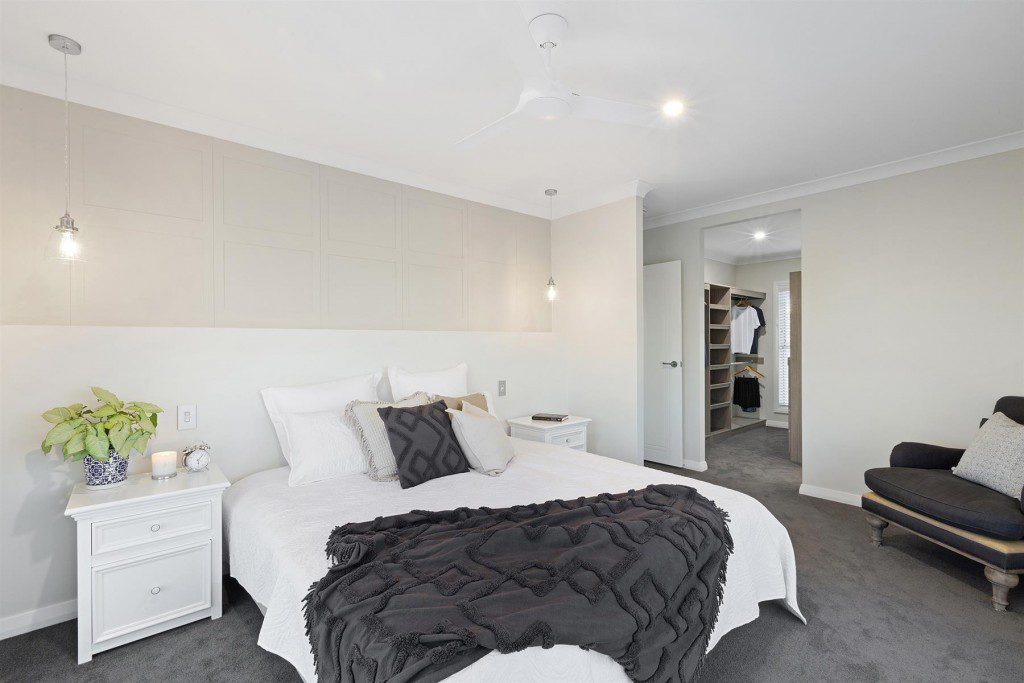 This design uses a light, neutral palette with darker details in the throw, cushions and armchair. The two-toned panelled feature wall adds architectural interest—this dimension and detail are mirrored throughout other areas of the home.
Make a statement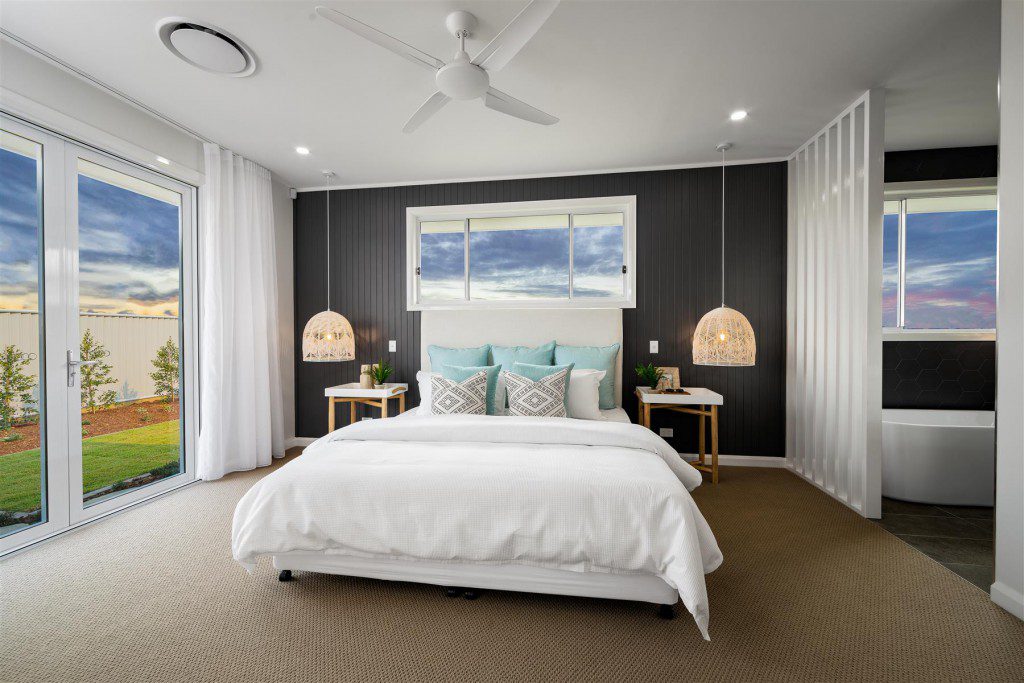 When done wrong, dark panelled walls can make a room feel tight, dark and outdated. But when done right—oh, boy is it timeless! This dark veejay panelling combined with the delightful bedside pendants makes for a total statement.

Perfectly private
Now how's this for a clever master bedroom design idea? The semitransparent curtain allows filtered natural light without compromising on privacy. An understated, modern aesthetic is achieved with grey and green, with a necessary pop of plant life to bring the outside in.
Pops of pink in Modern Hamptons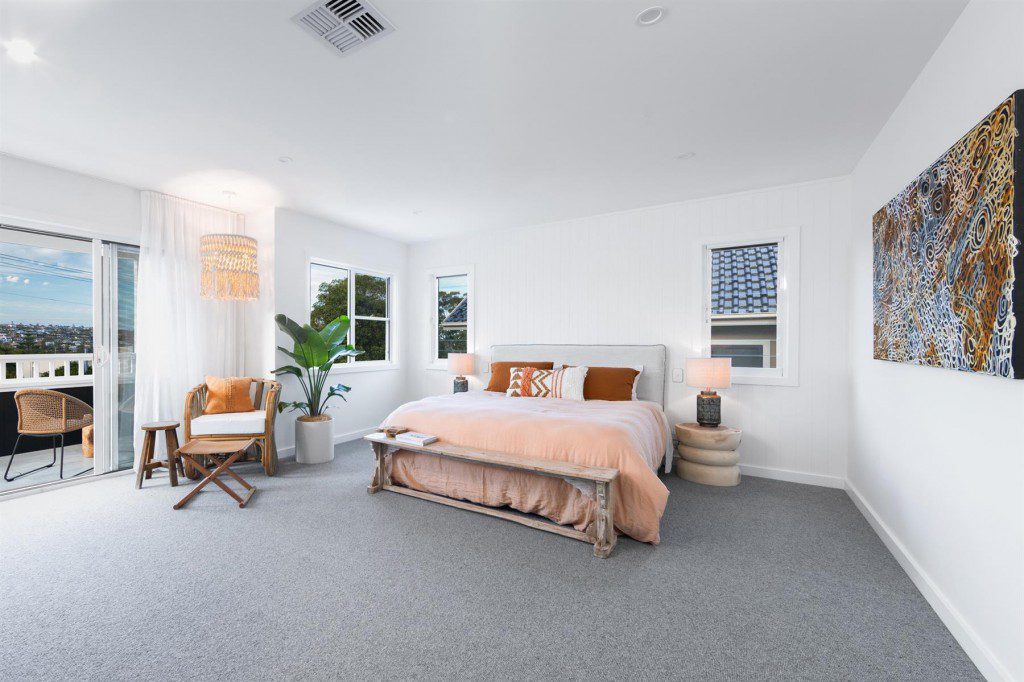 Modern Hamptons design uses classic materials and textures from the traditional Hamptons look, with a contemporary interpretation of the colour palette. This master bedroom adds pops of pink against neutral tones, channeling the coastal, relaxed aesthetic of the Hamptons with the fun-loving Australian personality.
Traditional Hamptons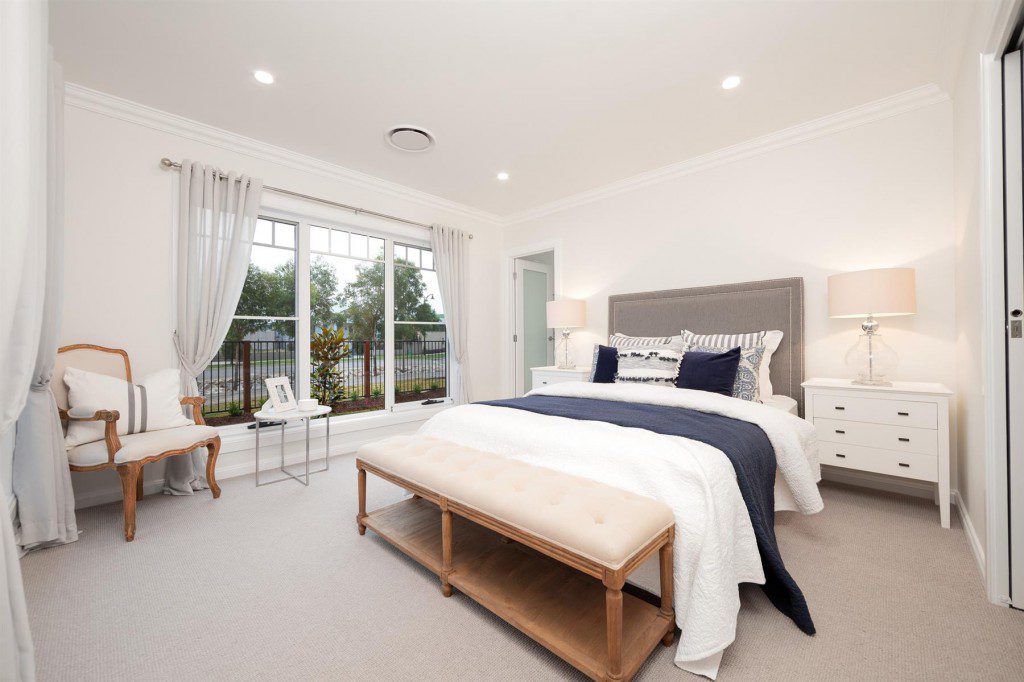 Is traditional Hamptons more your style? This master bedroom design features a white and blue palette against natural wooden features for a result that is both calm and warm.
Velvet and hardwood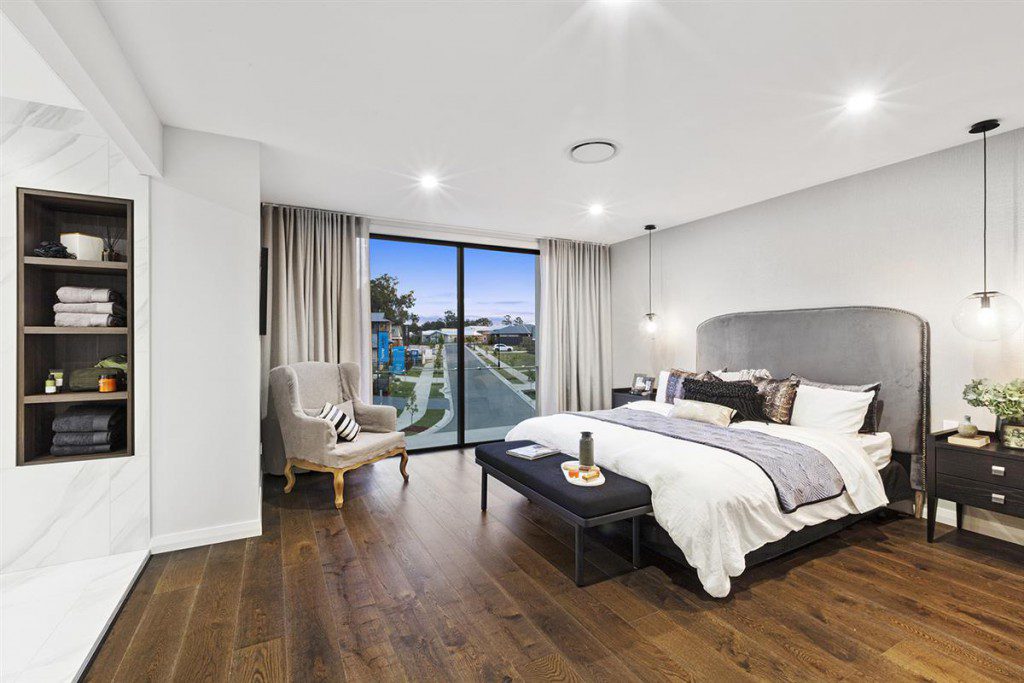 Nothing says elegance and sophistication like dark hardwood flooring paired with a velvet bedhead. Add pendant lighting to the mix and you have a master bedroom fit for a king (or queen)!
White on white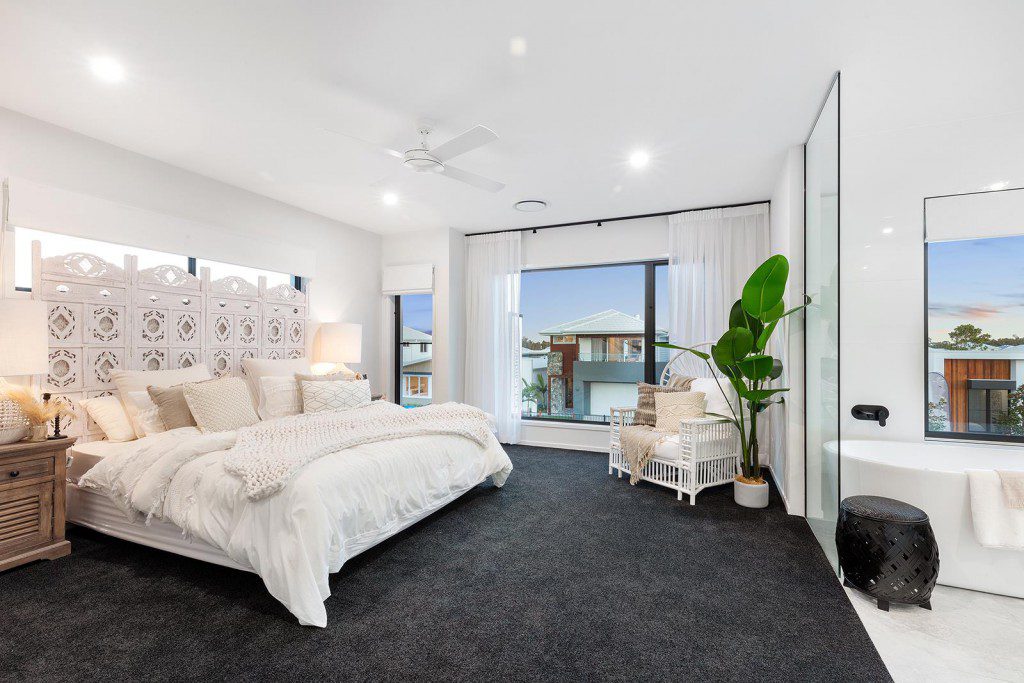 This stunning master bedroom uses a monochromatic palette with layered texture for depth and added interest. Topped off with beautiful, large windows, this design will ensure you're getting your daily dose of vitamin D.
Neutral classic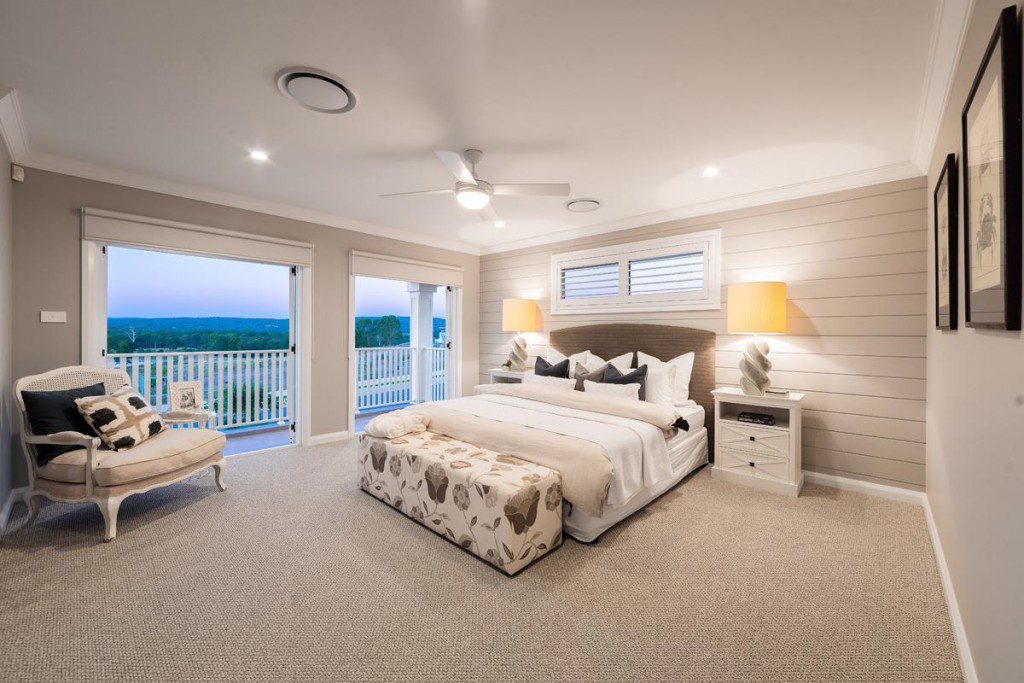 This bedroom channels coastal design with the panelled feature wall, and uses classic furniture and decor to complete the look. Statement bedside lamps make for a room that will feel like a seaside Airbnb, every night of the week.
---
Planning your dream home? Get in touch with your local G.J. Gardner office and turn your Master Bedroom Design Ideas into a reality.