Choosing your Home
Single Storey vs Double Storey Houses.
Should you build a single or double-storey home?
At the beginning of any new homebuyers' journey, the decision on whether to build a single or double storey home is a major one that could impact your family's lifestyle for years to come. It is essential to do your research before choosing the right house design for your family's current and future lifestyle.
In this article, we have outlined a few key considerations that will help you choose between building a single or double storey home, including building costs, floor plans, land size, and the block's aspect. Making the right decision based on these elements will help improve your family's lifestyle, help maximise the features of the property, utilise the block better, and even help improve your return on investment over time.
Location and block size
When deciding whether to build a single vs double storey house, the first consideration, and potentially the most important consideration, is the size of your block of land. Over the past couple of years, property prices have soared in both the inner city and suburban markets – leading to homebuyers spending more money on smaller block sizes.
For this reason, many home buyers are deciding to capitalise on their new smaller block size by building a double storey home or even a triple story home to create the living space that many families desire. When there is no room to build outwards, the only option left is to build up.
However, when moving away from high residential locations, there are more opportunities to own and develop a large block of land. As we move further away from the city, we see larger blocks of land with one-storey homes. These properties and home designs are still a very popular option for families and downsizers.
Costs
When considering the cost of building a single storey home versus a double storey home, it should be no surprise that building a two-storey home is more expensive than staying grounded. On average, you can expect to pay 30% more when building a double-storey home than a single home of comparative size. For a 250m2 home, this could be at least another $45,000.
Additional costs when building an additional level to your home can include:
Plans and permits to satisfy local laws and regulations.
Scaffolding to aid in construction.
Steel manufacturing to support the additional leave.
Inclusion of multiple staircases and balustrades for safe access to the second level.
You can also expect the build to take longer and the potential for unexpected extra costs during construction.
However, it is also worth considering that with the added construction cost comes the benefit of selling the home for more. This simply leaves the decision about whether it is worth the value for the money and level of investment up to the customer.
Maximising your property
Whether or not you should select a single or double storey build also depends on the aspects of the property and what will maximise your block of land.
For example, many home builders prefer a two-storey home design so that their home can have the best view possible and to ensure that trees or other single story homes don't block their view. Views also add value to any property, whether your home looks out over city skylines or ocean waves.
If your property has beautiful surroundings, this may be a deciding factor in choosing to build a two-storey home build. The invaluable respite and connection gained from a view can often be one of the main reasons people will add a second floor.
Assess the layout of the home
Another design aspect that needs to be considered is the desired layout and floor plan for the home. Single-storey floorplans are great for achieving an open plan house that has large living areas and great flow.
On the other hand, double-storey homes can be more flexible in terms of layout and are a great option for allowing for more privacy for family members. They can provide zoned living arrangements or separate spaces for entertaining and living.
Consider your family needs and lifestyle.
Every family situation is unique and has different needs to best suit their lifestyle. What may work for one household will not necessarily be the best option for yours.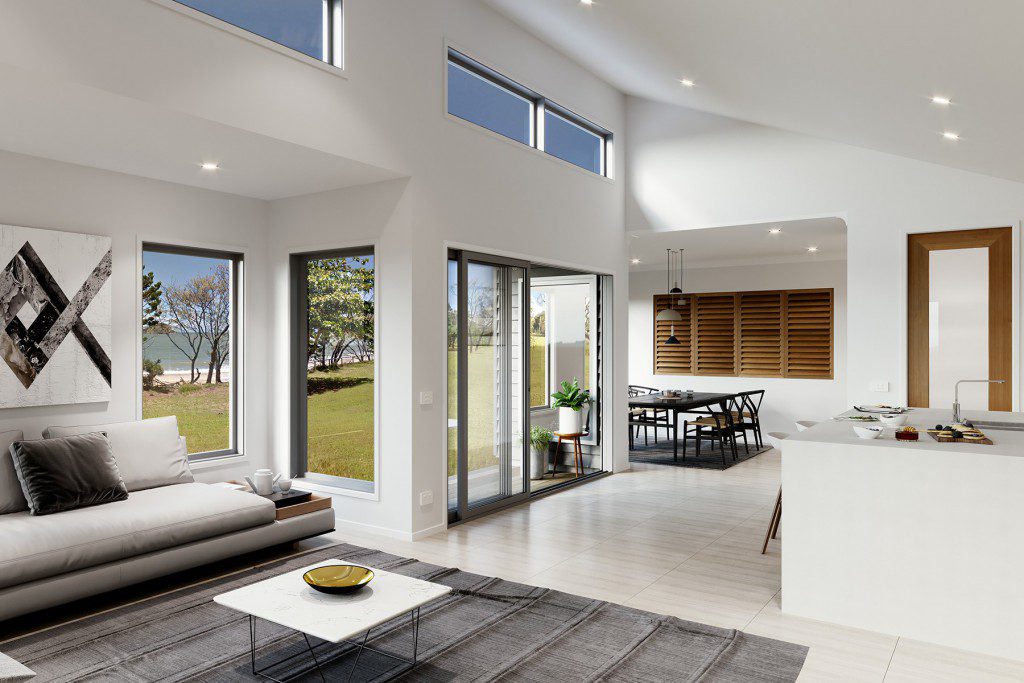 You should consider how you like to spend your free time if you require more privacy to work from home, have teenagers who want to entertain, or if you want to have room for children to play. If a family has children, the greater privacy and sense of separation afforded by a double-storey house is the best way to go.
Alternatively, if you live with elderly or disabled family members, it may be beneficial to keep everything at ground level to avoid difficulties walking up and downstairs. This should also be a consideration if you are building a house that you plan to retire in.
Single storey and double storey house plans
G.J. Gardner Homes offer a great selection of both double storey and single storey house plans. Some of our single storey house plans include:
Our Vista 285 includes elegant spatial flow with some private spaces and a centralised living area.
Our Oceanside 255 home design contains a stylish interior and a flowing open plan area that leads seamlessly from indoors to outdoors.
Our Rochedale 412 house plan is a popular pod-style home designed for large lifestyle blocks.
Some of our double storey homes include:
Our Freshwater 400 home is perfect for large and growing families with its abundance of space over two functional stories.
Our Elwood 353 design is a stunning example of form and function while providing elegant separation of spaces for entertaining and privacy for all.
Our Esplanade 367 home is designed for wide sites and is perfect for large or growing families.
Find out if a single or double store home is right for you.
If you have any questions or want to get started on building your dream home, contact your local G.J. Gardner office today for exceptional and friendly service.