Choosing your Home
Building a Profitable Investment Property
Since the purpose of an investment property is the return, building a new property gives you the opportunity to maximise your rental yield. From the materials to layout and style, the decisions you make during the construction will help to increase your property's profitability.
In Australia's current climate, some capital city investment properties have reported yielding on average around 7% to 8% return. For those looking to build and reap the rewards of property investment, we've compiled the investment property features that help increase profitability long-term.  
Our wide array of designs lets home builders find the right property design to resonate with the market demand of your location.  We work with investment property builders during the initial designs and construction stages to guarantee the home is ready to return.  Here are our top tips for building a profitable investment property.  
Profit from Investment Properties
The return on an investment property is multi-fold. Not only do investment properties boost your equity for future purchases, but the profit from renting also pays your mortgage and maintenance fees. This self-funding model makes an investment property one of the most common forms of investment.
As a rule of thumb, investment property profit should follow the 2% rule. This has determined that the monthly rental income on a property should be equal to or greater than 2% of the purchase price.
For example, if the home price was $800,000 then the monthly rental income needs to equal around $16,000.
This general rule was developed to help investors find insight into managing their rental as well as give insight into the caliber of property expected at this price.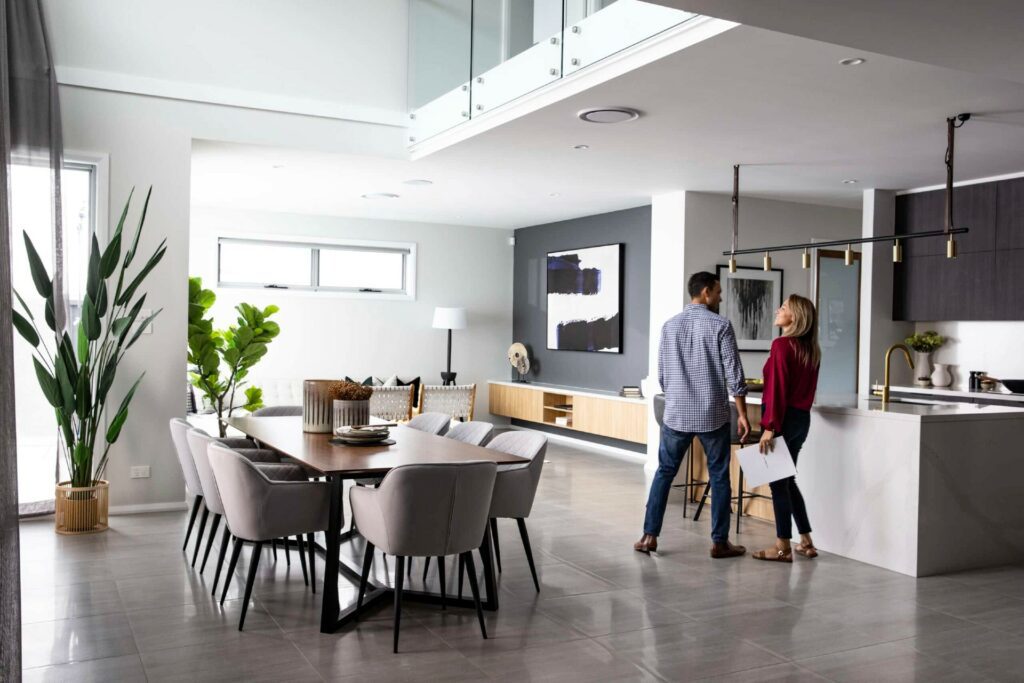 What makes a profitable property 
When building an investment property, there are a few factors to consider that'll help generate a greater return. If this is your first foray into investment properties, getting the most of this investment requires plenty of pre-planning and consistent management. Here are just a few factors in the initial stages that will help set you up for success.
Location
The best location for an investment property isn't always an urban location. Throughout the country, there are countless townships and suburbs with rental demand. We'd recommend doing comprehensive research on your local area and beyond.
Investment properties are, of course, a long term investment. That's why it's critical to find a location that's not only profitable now but will be long term. Research completed by the ABS and other sources can help track the up-and-coming areas and population density so you can choose a location that will ensure renters.
The right tenants
Whilst keeping your property rented tends to be the priority, it's important to find the right tenants to help maintain the integrity of your property. Reliable and responsible tenants help ensure that your property is profitable not only now but in the future.
We recommend doing the necessary research into being a landlord once you're looking to secure tenants. With additional context, you can make informed decisions when finding tenants so you can make an informed choice. 
Tax benefits
Property ownership lets you receive a wide array of tax benefits that can maximise your yield. With the help of a financial planner, you can make the necessary decisions from the initial construction stages so you can complete the right applications and processes.
The unique tax benefits associated with an investment property help to make property a more reliable investment with many benefits.
Sustainable energy choices
An essential part of building a profitable investment property is taking the steps to ensure we build a high performing home. Not only does this elevate the experience for your tenants, but it also helps limit the amount of maintenance long term. The appliances you fit your home with can not only increase its functionality, but can also help reduce your energy bills. Recent studies have found there's an opportunity to save several thousands every year by installing equipment like solar panels.  
Since an investment property is a long-term investment, renewable energy sources can help future-proof your home. We also work with our clients to make design choices to help support passive heating and cooling.  
Build a profitable investment property today
Our G.J. Gardner Homes' offices work with our clients to build profitable investment properties that are low maintenance. Building a new home gives property investors, the opportunity to make the design choices with profitability front of mind. If you're ready to invest in property, reach out to our friendly team today. Discover your options for building a profitable property for long term return today.