Choosing your Home
How to Find a Family Friendly Floor Plan 
Family tends to be one of the top priorities of home buyers, and it's important to find a home that can support you now and in the future. Our G.J. design team know that as the Australian family life evolves, like the rising trend of downsizing, multigenerational living and work from home, home designs need to as well. Our latest floorplans offer Australian families a wide range of styles and layouts, so your way of life has synergy with your home. The best home for you will always offer enough space, sanctuary and service for your family to function at its best.
Whilst our wide range of home plans provide the luxury of choice, we know it can be a challenge to marry your family's dynamics with a design and know what will actually work best in action. When it comes to finding your family floor plan, we're here to help.
What Australians are looking for when home buying is changing.
Modern Australian families have outgrown that nuclear five-person dynamic. In fact, the average family size today accounts for children under two, as single-parenthood and only children have grown more common. Despite this, Australia continues to build the biggest homes in the world, as our access to more space and emphasis on slow living has led the way to more expansive family homes.
What is a family friendly floorplan
Our priority when it comes to family floorplan is always flexibility, functionality and freedom. We consider a family friendly floor plan one that works with your family to streamline your daily life, offering the space and resources to evolve as your family does.
With G.J., our homes focus on creating a core living space that's located in the center of the home. Through an open plan layout, we can maximise light and airflow to keep the home feeling comfortable and bright in this most used spot. With the kitchen, living and dining room sharing one space, we create the ultimate living zone that brings the family together from weeknight dinners to lazy weekend afternoons.
Off from this central hub, you'll find our bedrooms in private locations to offer every family the chance to retreat when they need. Whether you're a young family or opting for intergenerational living, you'll find this general premise reimagined throughout our home plans so it can suit different dynamics. No family is the same, so our design team is always working to diversify our home range so your family can find the right configuration.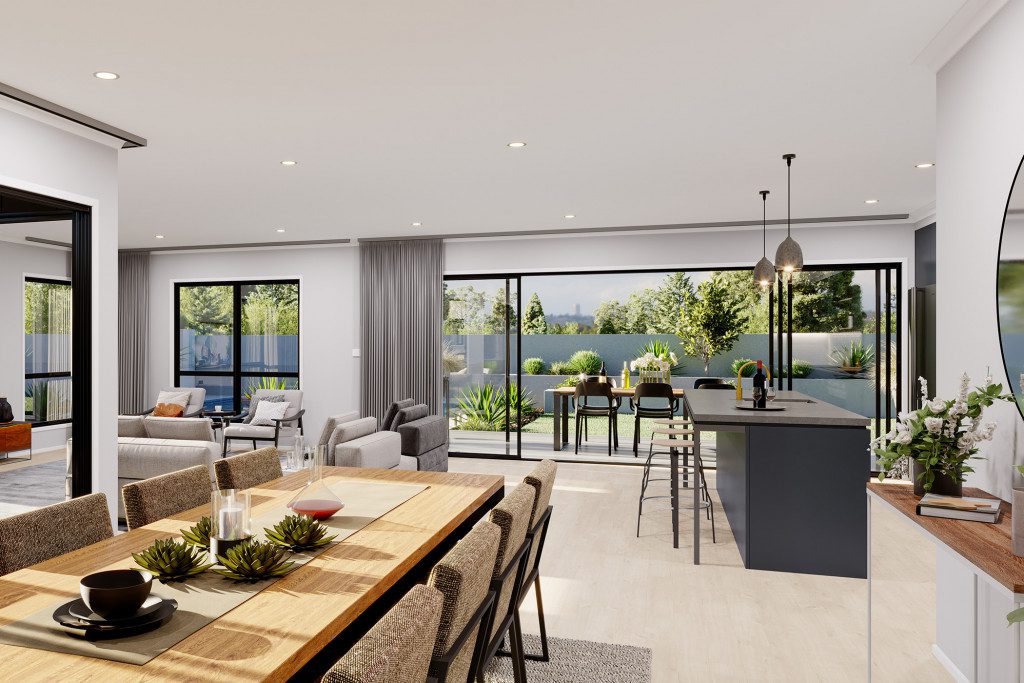 Where to start: consider this
Beyond just the number of rooms you need, we suggest families start by assessing a few factors and reflecting on their way of life, so you know what you're looking for when they go browsing.
Family size, both now and in the future
The size of your family gives your guidance to the amount of space your home needs overall, from bedrooms to living and dining rooms. Since your home is a long-term investment, you want to consider the long term, such as future children as well as your extended family needs. This way your floor plan can provide enough bedrooms, guest rooms and living spaces to function comfortably as the number of residents increases.
Family lifestyle
How does your family operate? Whether you're spending endless hours outdoors, love spending time together cooking or value your privacy, floorplans can be configured to work with your family. By taking account of how your day-to-day runs, your floorplan can be personalised to suit your family.
Storage
As any homeowner will tell you, you can't underestimate the power of storage to keep your home performing at its best. By thinking about not just how much storage you need, but where in the home would benefit from it and how it should be organised can help you find a floorplan that can support your family.
The Future
Our families are always changing. From new additions to kids growing up, it's important to find a floorplan that will keep your family comfortable for well into the future. This could be setting your floorplan up for once your children reach adulthood by separate wings or prioritizing entry level living and bedroom areas for aging parents. By understanding the long-term goal for your home, we can work together to find a configuration that can serve you best.
Find Family Friendly Floor Plans
From small families to multigenerational families, our G.J. Gardner Homes team is ready to help you find the right floor plan for you. Our wide range of home designs features endless configurations, details and styles for you to choose from. Get in touch with your local office today to start finding the ultimate floor plan for your family.