Choosing your Home
Best Home Plans for Queensland 
The Queensland climate, conditions and culture offer an exciting opportunity for home builders to create a beautiful and spacious home. Once famed for their iconic weatherboard look, the Queensland homes of today have taken inspiration from a wide range of beachside locations and laid-back lifestyles. From sleek modernism to classic Hamptons, our best home plans for Queensland maximise the airflow, open plan layout and indoor-outdoor living.
The diverse range of home styles captures the state's different landscapes like hinterlands, beaches and urban cities so you can find the right design for you. We've married contemporary design features with classic elements to create the best home plans for Queensland.
Queensland home design
In Queensland, home design is not just about a house; it's about creating a home that captures the essence of the Queensland way of life. We've found a few recurring features that define Queensland home designs.
Open plan living:
Queensland homes have a unique charm that's all about embracing the spacious landscape. It's no wonder that open floor plans are a quintessential feature of modern Queensland home design. These spacious layouts seamlessly blend living areas for abundant natural light as well as a sense of togetherness among family and friends. The freedom to move from the kitchen to the living room to the alfresco dining area creates a warm and welcoming atmosphere where indoor and outdoor living becomes one.
Outdoor areas:
In the Sunshine State, homes are designed to make the most of the glorious weather. That's why modern Queensland homes tend to invite the outdoors in with details like expansive sliding glass doors that effortlessly connect the interior with the exterior. This indoor-outdoor synergy encourages alfresco dining, summer barbeques and time spent outside. We prioritise the environment in our Queensland home designs to turn your family home into a true oasis.
Nature's elegance:
The state's natural beauty of rain forests, rural areas and coastlines has inspired our home designs to incorporate natural materials like timber and stone. These elements not only add warmth and authenticity to your space but also form a harmonious link with the land around you. Timber floors or ceilings bring a touch of rustic elegance, while stone countertops and feature walls add a timeless charm. The efficiency and aesthetics of natural materials perfectly complement the Queensland lifestyle.
Queensland home design ideas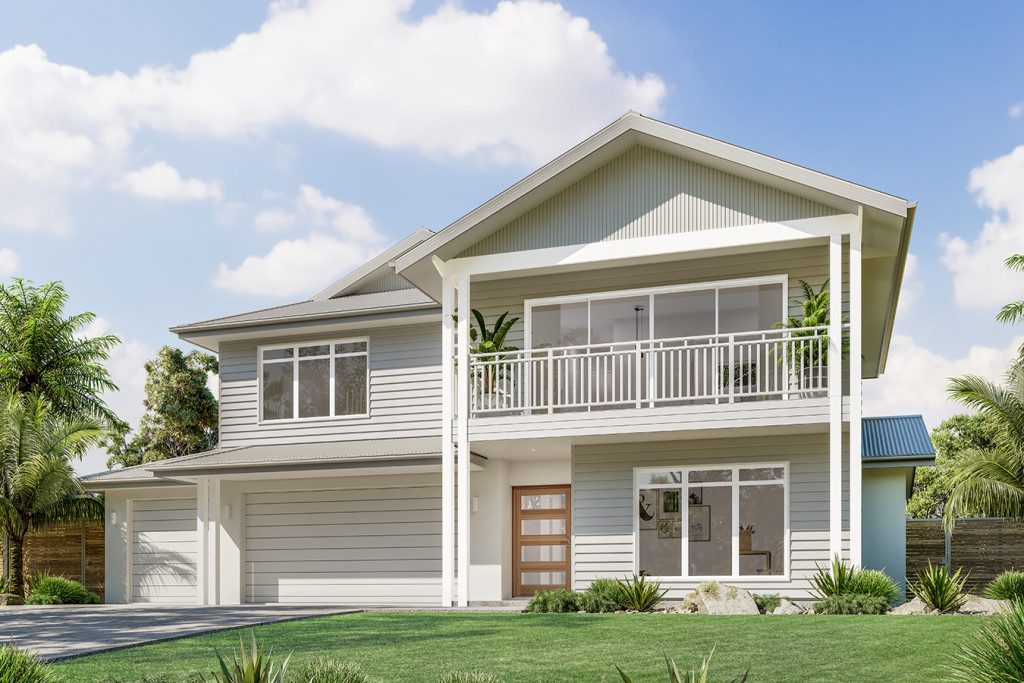 Monash 390: open plan house designs
This exceptional Queensland home embodies modern family living with its multiple entertaining areas centred around a sunlit courtyard, creating a year-round haven for the year-round weather. The heart of the home features an expansive kitchen, a walk-in butler's pantry, and an open-plan family and dining area that seamlessly extends to the alfresco and courtyard. The home office, family zone and bedrooms enhance the convenience and comfort and make this home perfect for the Queensland lifestyle.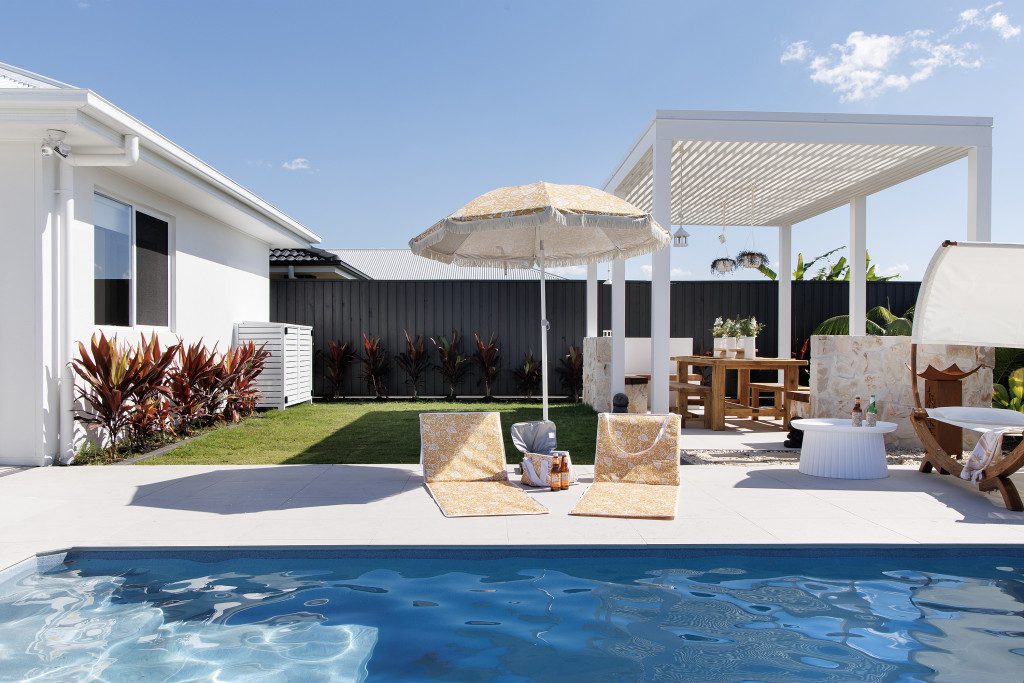 Long Bay 243: beach house design
Exclusively offered by G.J. Gardner Homes, the Long Bay designs capture the timeless elegance of Hamptons style while delivering the perfect family living experience. This versatile design includes an open-plan living area, a separate lounge room, a unique kid's zone and a spacious private master bedroom suite. The alfresco space has been designed with long summers in mind, letting Queenslanders make the most of the outdoors and climate.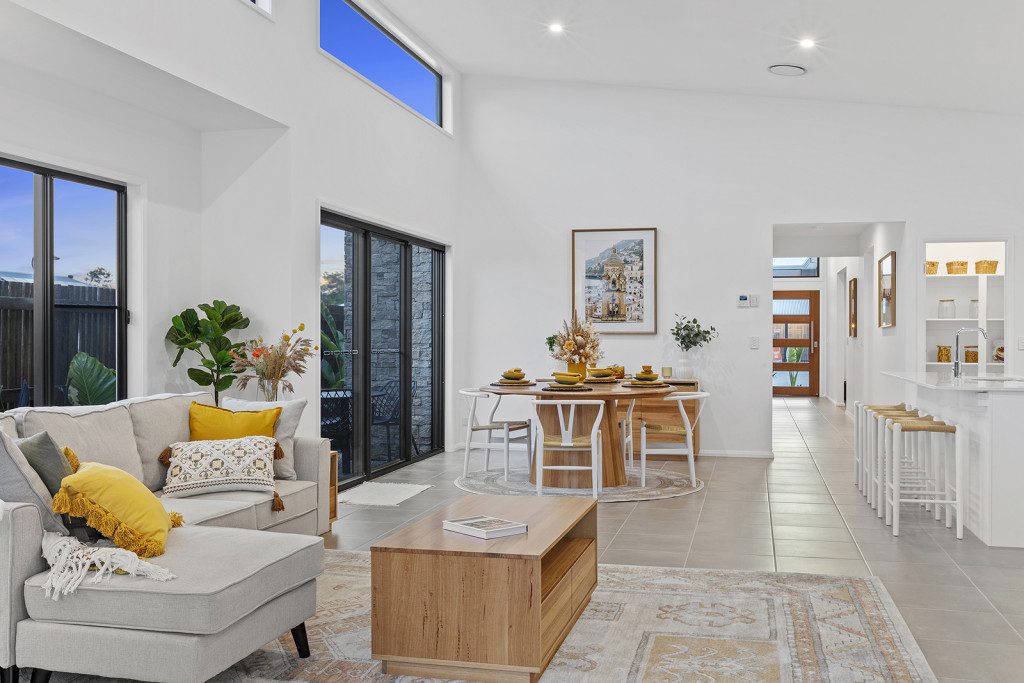 Banksia 234: family home design
The Banksia is a family home dedicated to spatial flow and a comfortable and versatile design. The central kitchen opens to the dining and family rooms and then, seamlessly connects to a spacious covered alfresco area. The central courtyard brings in natural light and breezes, while a separate lounge room offers a relaxing retreat to enjoy the laidback Queensland lifestyle.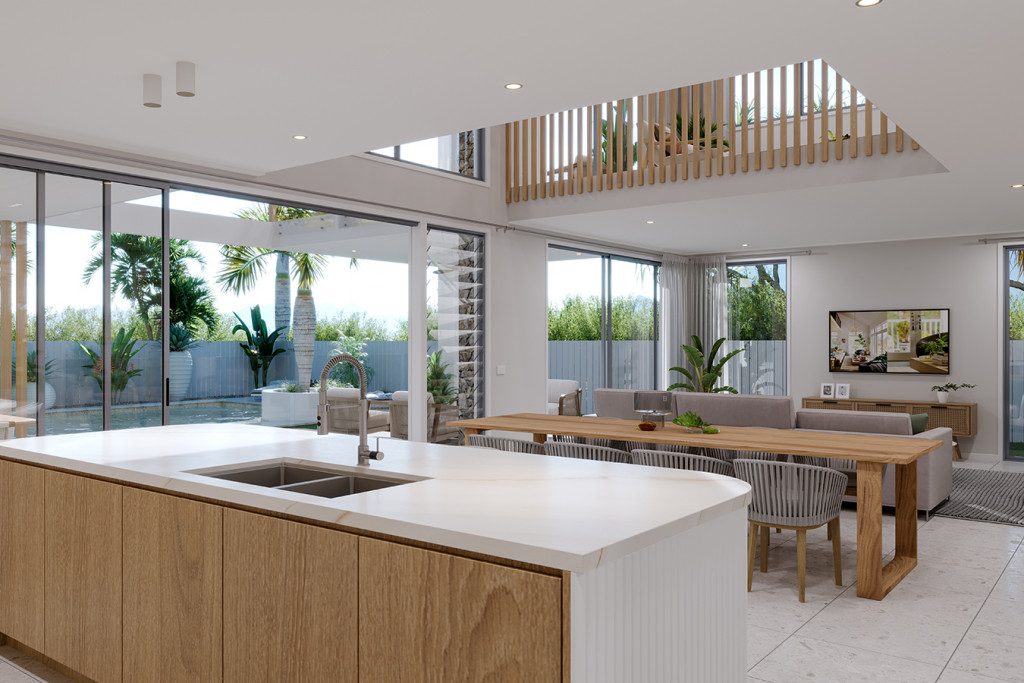 Castaway 471: resort style home
Across two-storeys, the Castaway 471 is the definition of tropical luxury. Its uber high ceilings have converted the upper floor into a mezzanine so the home maximises open space and natural light.
With the living area designated to downstairs and the bedrooms upstairs, the home has been designed with the needs of the modern family in mind. This modern layout has been paired with contemporary design features like timber detailing and a floating bridge. As a result, the Castaway captures Queensland's airy, bright and tropical culture with contemporary resort design details.
G.J. Gardner Homes Queensland design ideas
Our Queensland home designs always aim to be a harmonious blend of form and function. Learn more about our unique approach to designing for Queensland and reach out to your local G.J. Gardner Homes office now.