Planning your Home
Home Design Trends: How has COVID impacted how we live?
COVID has influenced many facets of the way Australians live, work, and play. The housing market and home design trends is not an exception to the changes we have seen in consumer behaviour over the last year. With lockdowns and general social distancing, not to mention the increase in work flexibility, COVID has had a meaningful impact on how we use the spaces in our home.
COVID isn't the first infectious disease to have an impact on home design trends either, with illnesses like tuberculosis, typhoid, cholera, and the 1918 Spanish flu having many impacts on trends such as the popularity of upholstered surfaces and the construction of more spacious suburban homes that included their own garden.
One example of a noticeable change in home aesthetic was removing all the plush surfaces associated with the Victorian era such as textiles in bathrooms, heavy drapery, wall-to-wall rugs, and wooden cabinetry. These features were replaced by materials like tile, porcelain, and linoleum as society experienced a growing awareness of germs, and in the late 19th century, people believed that dust carried disease. This is what caused an influx of material use that was much easier to clean and sanitise, along with white surfaces so any dirt could be easily spotted.
How has COVID impacted house design?
Now that Australians have become accustomed to working from home, remote learning, exercising in the home, and having to socialise in open air spaces, they are requiring homes that fit this new lifestyle. There has been an incredible increase in demand for resort style houses, since if they are going to be locked down, a lot of people want to feel like they're in their own private resort.
People have more time than ever to spend in their homes, meaning new little things people didn't used to want to spend the extra money on are becoming increasingly important to the modern Australian market.
Time restraints were the biggest thing that prevented people from building their own home in the past. The cumulative time it takes to go to display homes, talk to the design contact, choose colour schemes, and everything in between was too much for the average Australian to handle. But now more people are finding themselves with the time to think about what their dream home looks and feels like and are willing to engage in the time and financial investment to achieve this.
The most notable aspects of home design affected by COVID include:
Home offices
Following the need for people to be able to comfortably work from home in lockdown, many employers have become much more flexible with their work from home arrangements. This means more and more Australians are choosing to work from home for at least a portion of their working week, and while working on the dining room table may have been suitable for a few days, they are now seeking permanent home office solutions included in their home design.
Long gone are the days of spare bedrooms, many families are instead converting these extra spaces into home offices.
Home gyms
Even as gyms began to reopen last year, many people decided to continue their workout routine from the comfort of their own home. Despite an economic downturn, people have been spending large amounts on expensive at-home fitness equipment as they continue to workout at home.
As more people realise that they can have access to the same type of experience through virtual instructors and classes, they are continuing to prefer exercising without the gym commute. This has translated directly to a demand for home designs that consider space for a home gym or workout area.
Multi-use spaces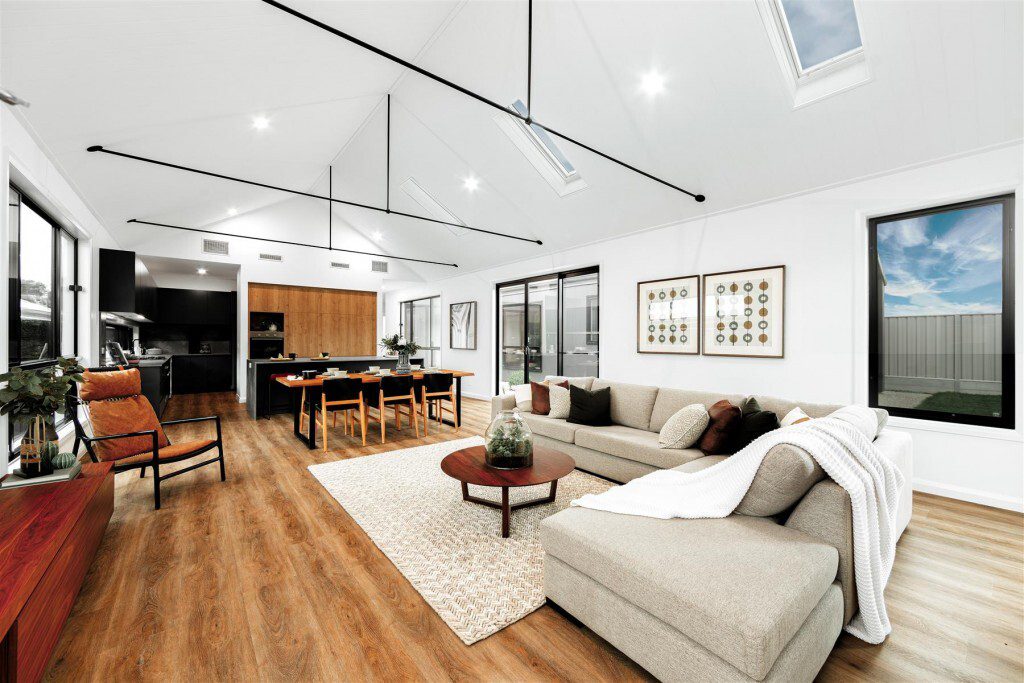 Following the same reasoning for the influx in demand for home designs that incorporate home offices and home gyms, many families wish to have their home include a multi-use space that can work as an office, gym, remote learning space, or recreational area. This comes in line with families wishing to bring more and more pursuits into the home.
Storage
Along with an increasing need to bring recreation into the home, comes the complementing increased need for storage solutions. People are buying more gym equipment, more recreational toys, more clothes from online shopping, and some are buying more long-lasting food and hygiene supplies – meaning modern home designs need an increased consideration for storage.
Focus on natural light
Another trend that has arisen from COVID is a bigger focus on getting better solar orientation. Families are more focused on how to build the home for winter sun, the summer sun, and their general orientation. This trend is proving great for customers, as having the right orientation can save money on power and makes the house more pleasant to live in.
Increased focus on outdoor spaces
The biggest home style trend that has come off the back of COVID is the request for resort style homes. These homes have an increased focus on outdoor spaces and tend to include central courtyards with a more cohesive indoor to outdoor design approach.
The increase in desire for liveable outdoor spaces came after lockdowns and people being stuck in home. Being able to enjoy the outdoors from their own property was considerably beneficial for their lifestyle, and this is something many people want to ensure they can replicate in their house plans moving forward.
Creating more functional and adaptable layouts
The increase in time spent in the home also meant an increase in need for spaces and layouts that are adaptable and incredibly functional. People are focusing more and more on practicality and being able to spend most of their time in the home. Basically, families now want their homes to function perfectly for their lifestyle and are less willing to compromise on practicality for aesthetics.
People are looking for more open space
Open space homes are also becoming more and more popular as people want a space to relax with friends and families. Social activities are also being brought into the home, and home designs are now expected to accommodate these events with large open spaces.
Less bedrooms and more open plans
People are having less of a focus on quantity of bedrooms and are instead designing with the priority of having a nice house to live in where they can comfortably spend their leisure time.
A lot of people are now pushing for less rooms and instead larger living spaces like kitchens, living rooms, and outdoor lounge areas. Overall, the number of bedrooms is decreasing for the average home, as spare bedrooms no longer seem necessary in lieu of home offices, home gyms, and recreational spaces.
To discuss a home plan that perfectly suits your lifestyle, contact your local G.J. Gardner office today.