Knockdown Rebuild
The Knock Down Rebuild Process: What to Expect
Understanding the knockdown rebuild process
If you like where you are currently living, but not the home you are in, a knockdown rebuild might be an appropriate solution for your family. The process involves pulling down your current house and using that particular area of land to construct a brand new one.
There are many reasons for choosing a knockdown-rebuild over a major home renovation. In many cases, it's simply cheaper and easier to choose a knockdown-rebuild – particularly if your home is older. In this post, we outline the knockdown rebuild process in 5 simple steps.
What are the benefits of a knockdown rebuild?
Knockdown rebuild homes allow you to have complete control over your project while benefitting from a more advanced design. In comparison to other renovation types, it is also a cost-effective option. A knockdown rebuild can be cheaper than moving or renovating. Renovating can be complicated, time-consuming and riddled with unforeseen delays compared to knockdown rebuilding. Construction aside, moving home requires you to pay stamp duty, which isn't the case during the knockdown rebuild process.

A knockdown rebuild also enables you to stay in the area you love. And as well as plenty of financial benefits, knocking down your home can have a positive effect on your lifestyle.
1. Check with the council
There's little point getting excited over a knockdown-rebuild if the local council (or government authority) won't let you. Most councils have strict rules in relation to knockdown-rebuilds, as they can impact the wider community. If you're living in a heritage-listed suburb, it's highly likely that your home can't be demolished.
Before deciding to knock down your existing home, it is essential to check whether your land is appropriate. The simplest way to assess whether you can do a knockdown-rebuild is to call the "planning and building" section of your local council. Although council websites usually provide information, it's best to discuss your requirements with a council specialist. Provided you're allowed to do a knockdown-rebuild, a direct call will help you understand what permits and approvals are required.
This will provide information about your land, such as its zoning and any limitations that can apply. The main aim is to ensure you'll have a smooth building process that is free from interference from various organisations or the government.
Application for the demolition approval
Various aspects ought to be considered while applying for demolition approval. Below are some basic guidelines that may be required within your state:
Include a demolition plan. The plan should outline the building to be demolished and the services which need to be disconnected.
Provide evidence of land ownership. If you own your home, and have lived there for some time, the local council ought to have records of this. If you have acquired the land recently, a settlement letter from your conveyancer or solicitor will be required.
Prepare a waste management plan. This should include suggested methods of material disposal. If you're not sure, you can always consult with the council about the different methods available.
Provide insurance details for the contractor licensed to carry out your demolition work.
2. Get expert advice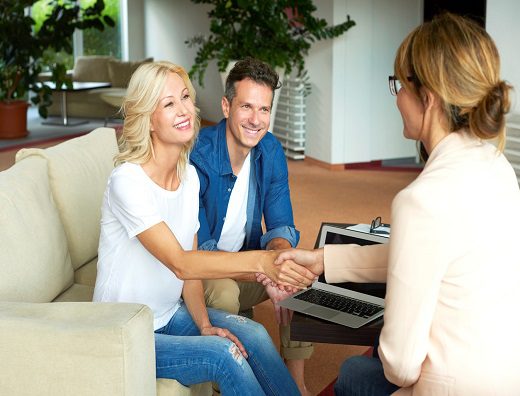 Once the Council has given you a tentative greenlight, you'll need to hire an experienced building professional – someone with an in-depth understanding of council regulations and processes. Such a person could be a structural engineer, a certified town planner or an experienced builder (the one ultimately building your home). Many large national building companies – like G.J. Gardner Homes – provide expert assistance in this area.
An experienced building professional should not only provide advice, but assist with organising the various permits and approvals required for the project. As part of their evaluation process, they'll seek to ascertain the following:
Are there any front boundary setbacks and easements on your property?
Do any council overlays or covenants exist on your property? – these typically relate to heritage, flooding, bushfire and flora protection.
Will the knockdown-rebuild disrupt traffic in your street? – if so, a traffic management plan could be required.
Does your new house design overlook or overshadow any neighbours?
Will the property's public access point (which could be shared with neighbours) change in any way?
Which utilities (gas, water, electricity, telephone) require disconnection and removal?
Do any large trees require removal? – a separate council permit may be required.
As you're probably starting to realise, getting expert advice during the early stages of a knockdown-rebuild is crucial.
3. New home design
Based on the results from your inspection and tests, you can finalise the design of your new home with your builder. Some builders will have previous projects you can view, meaning you can see the end product with your own eyes. Seeing a builder's previous projects can give you inspiration for your own design, and it can also aid you in choosing colour swatches and samples for your dream home. G.J. Gardner offers a range of award winning home designs that cater for families of all shapes and sizes, that take the tough choices out of the decision process.
When designing your new home, you will need to consider the following factors:
Block size, site condition and orientation of the site
Planning regulations, for example flooding conditions
Council controls such as covenants
Neighbouring properties for accessibility issues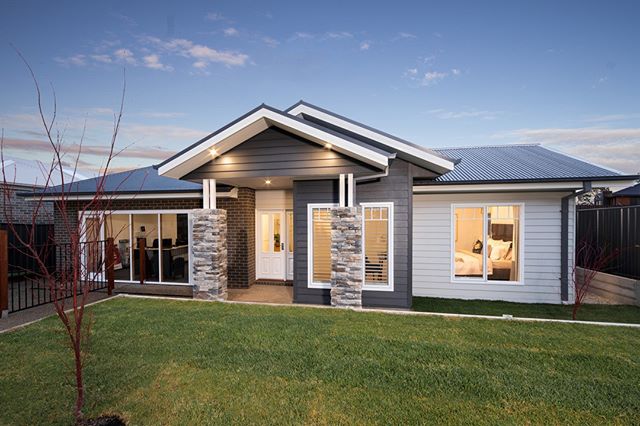 4. Organise the demolition
If you're dealing with a smaller builder, you may be required to find your own demolition contractor. A good small builder will usually refer you to an accredited demolition specialist – one that's licensed to conduct demolitions and remove asbestos (if necessary). You'll be required to provide the demolition specialist with a copy of your demolition permit from the council.
Prior to the demolition, your demolition specialist will need to notify the various utility companies (gas, water, electricity, telephone) of your intentions. It's imperative to give the utility companies enough time to disconnect and remove their infrastructure.
Once the demolition is under way, it's the demolition specialist's responsibility to remove all the waste material – from the house materials (concrete, timber, metal, glass) to the vegetation (trees, root systems, excess soil). Some demolition specialists will offer to salvage and recycle the materials being removed – a service that sometimes reduces the demolition cost.
All demolition projects require an Asset Protection Permit (to cover any damage to public property) and a temporary site fence (to protect the public). Once the demolition is completed, your builder can then start preparing the site for construction.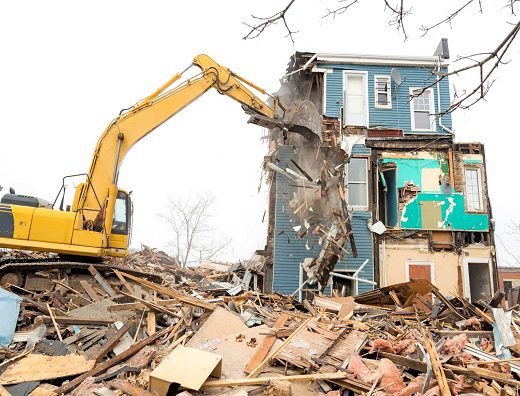 5. New home rebuild
Once the old house has been completely demolished and the site is ready for construction the new house build can begin!
How long does a knockdown take to rebuild?
Because it comprises several different aspects, it's hard to pin down an exact time frame. Generally, you should expect at least a year to complete the process, factoring in:
Gathering and researching quotes
Getting design and construction documentation, including town planning permits
The demolition of your existing property and building the new site
Potential pitfalls to bear in mind
Asbestos in your current property
Issues with drainage from the property
Problems with your sewerage infrastructure or ageing water
The land itself – what is in the ground matters, as does the lie of the land, especially when it comes to excavation and building costs
Any heritage listings or tree preservation orders
Any other available planning regulations that limit what you can construct on your land
A final word
On the surface, a knockdown-rebuild can appear daunting – but don't be discouraged. As Australia's number 1 rated national home builder, G.J. Gardner Homes takes care of the knockdown-rebuild process from start to finish. For further information on our seamless knockdown-rebuild process, please contact us for a friendly, no-obligation chat.