Choosing your Home
What to Consider When Building on a Narrow Block
Narrow Block House Designs
Despite having what may be a smaller lot, utilising the proper design approach can ensure that you are taking advantage of the full space. Smart design techniques, creative use of interior design elements, and some architectural knowledge can create incredible results from narrow spaces. Forget foregoing spacious living areas or sacrificing a top location or breathtaking view. It's time to think outside the box and start exploring the key design elements behind the most architecturally inspiring narrow block homes. 
As experienced home design experts, we're here to provide you with advice when building on a narrow block, along with six handy design tips to make the most of your space.
Are Narrow Blocks Becoming More Common In Australia?
Narrow block sizes are becoming increasingly common within Australian cities, and it looks like this trend is going to continue growing long term. People generally prefer to go bigger where they can, but due to the availability of land, block sizes are becoming smaller and smaller to meet the demand for housing. This means the trend is not being driven by the consumer but instead by developers and the local council. 
This, however, doesn't need to get in the way of building a large feeling resort-style home, which is why G.J. Gardner home designers have smartly designed smaller homes specifically for narrow lots that feel larger due to carefully considered architectural elements.
Key Narrow Block Home Design Features To Include
At G.J. Gardner Homes, we design our narrow house plans around six key principles to allow everyone a nice home that meets their budget. These features allow us to make the most of the site and be efficient through the use of space, light, and air.
1. Open Plan Living
This concept is potentially the most important in narrow block house designs! Ditch the dividers and let the kitchen, living room and dining room live as one. By unifying these areas, the space is optimised and natural light is able to bounce around at its own free will. Sliding doors can be used to open the space further to the alfresco area, providing space to entertain and enjoy with the entire family. Check out G.J Gardner's Hamilton 226 design if you're looking for a narrow block house design that utilises open space.
2. High Ceilings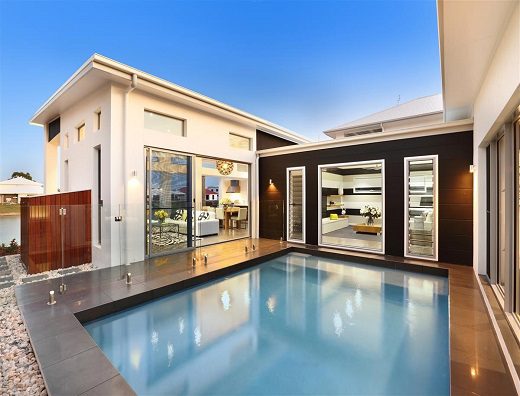 What's lacking in width will be made up for in height. Embracing the vertical space with high ceilings will allow even the smallest rooms to feel big and bodacious. 2.7 metres is the golden number, but don't be afraid to aim even higher. For a 2 story narrow block design, consider a void above the kitchen, dining or living area.
3. Let There Be (Natural Light)
Light is your friend here, and the aim of the game is to let as much in as possible. This can be achieved by cleverly placed windows, skylights, highlight windows and glass doors. The builders at GJ Gardner are experts when it comes to narrow lot house designs, and all floor plans are created to optimise space and generate a sense of openness. Rooms, window placement and the overall layout are skilfully planned to accomplish this.
4. Clever Use of Space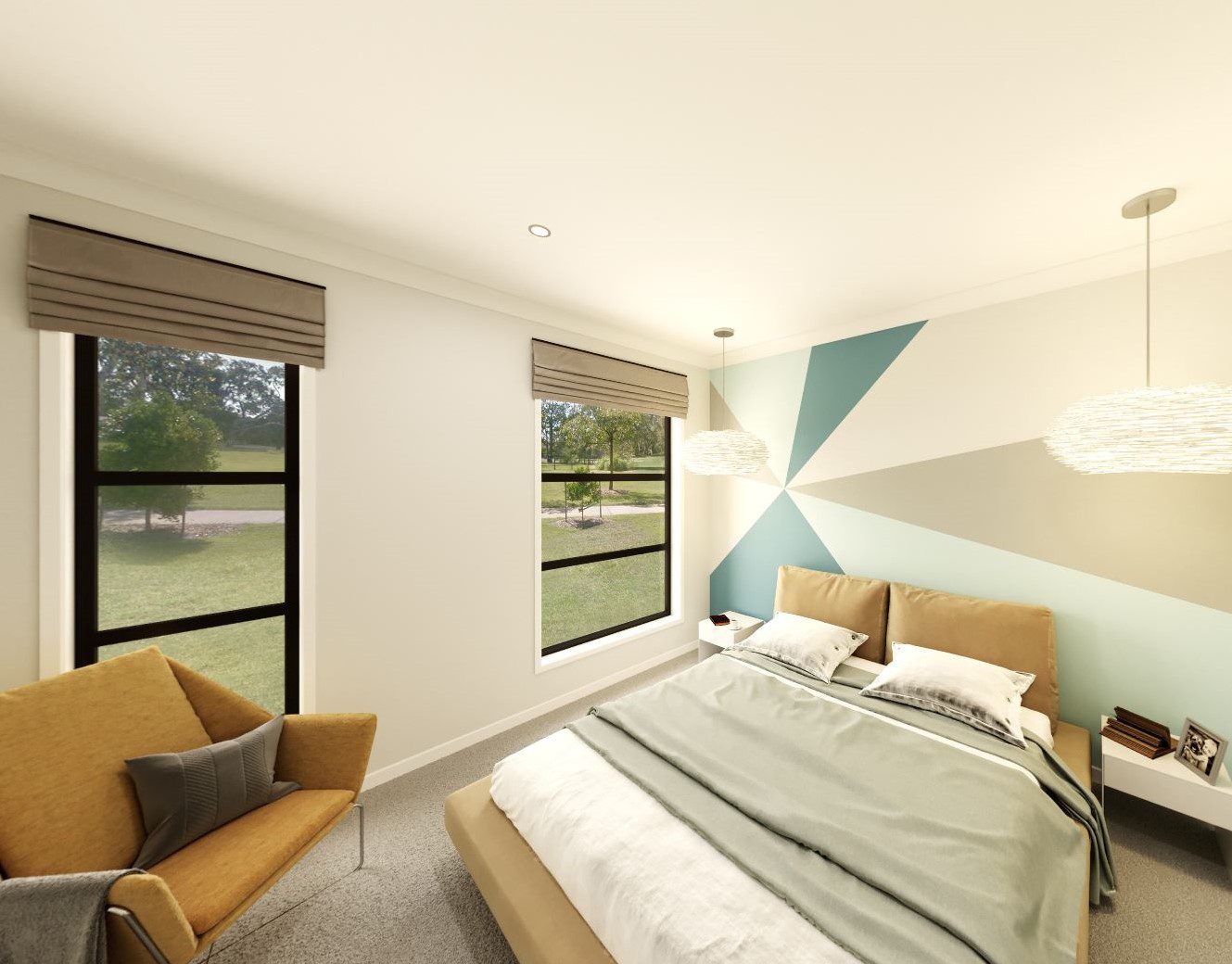 As mentioned earlier, there is no need to sacrifice in narrow block homes. Double garages, alfresco areas, a butlers pantry, family retreats and the number of spacious bedrooms your family needs; space is calculated to ensure everything fits and that no space is wasted. The key to perfect narrow block house plans is the functional use of space. Don't worry, storage space isn't forfeited either and additional space saving storage can be created with versatile choices in furniture.  G.J. Gardner's Kensington 270 narrow house block design is a great example of how to utilise an open space plan.
5. A Light Colour Palette
Give your home a light and natural feel with a neutral colour palette that uses white or off-white tones, blonde timbers and other earthy elements like woven fabrics for décor. Light colours will bring your narrow block home to life and will allow natural light to reflect throughout.
6. Impressive Landscaping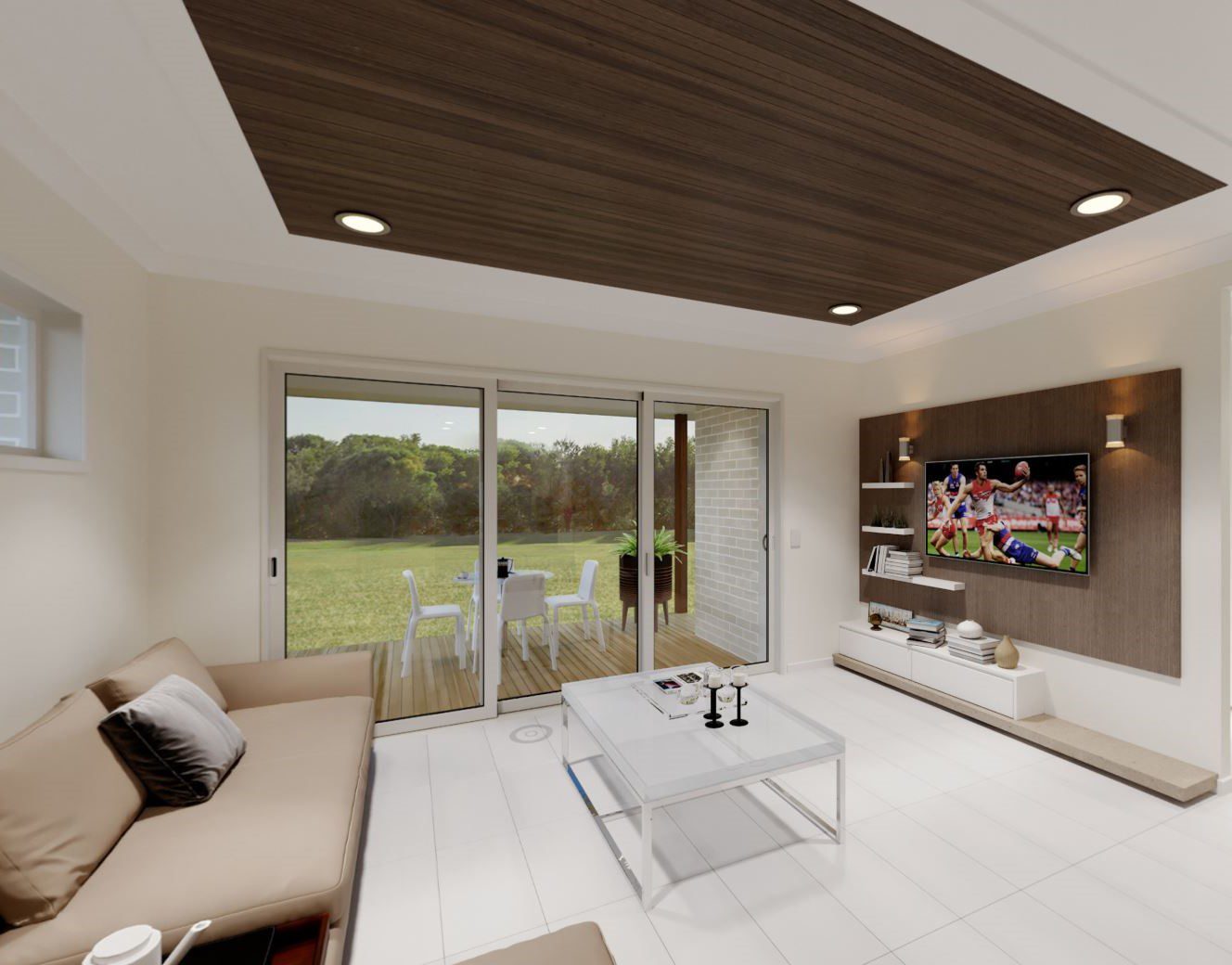 You may not have acres and acres of land to work with, but nonetheless, create an outdoor space that's a beautiful extension on your narrow block home. Install cavity sliding doors to your alfresco area, and make use of vertical gardens to grow your favourite veggies and herbs.
Are There Any Major Council Regulations That You Need To Consider?
The relevant council regulations are important to understand for all home builds, but extra care should be taken when building a larger home on a small lot – especially if you are building in a major city. These regulations can be difficult since councils want to protect natural sunlight and privacy. It is important to pay particular attention to:
Setback from each boundary: This is how close you can build to the boundary and will influence the footprint of your new home.
Building height and number of storeys: Can you build to two storeys to add more space? Even three?
Percentage of the land you can build on: These guides are intended to balance indoor and outdoor space and will guide the maximum footprint of your new home.
Impact on neighbours: There may be requirements around privacy, light, amenity and views of neighbouring houses.
Parking provisions: Including access, number of parking spaces, and their location.
It can be easy to build a nice house on a small lot that suits your lifestyle perfectly, it's just important to be realistic. When you work with G.J. Gardner Homes, we can explain your local guidelines and advise on compliant design choices.
Other Aspects You Need To Consider When Designing a Narrow Block Home
The design phase is crucial when you have a narrow lot, as there is less room for error than a traditional block. But modern designs for narrow blocks have come a long way and provide excellent liveability and comfort. Some design inspiration for a narrow block:
Start with a design that's been created for a narrow block: It's fine to customise, but it doesn't work as well to use a traditional design as your starting point.
Build up: If possible, add a second storey to gain additional living space.
Get creative with car parking: This might mean a side entrance to the house so you maximise parking real estate at the front, or alternatively putting parking at the back of the house if you have rear access. If you use one car more than the other, a tandem garage might be the go.
Decorate sensitively: The key is not to overdo interior decorations: less really is more! That means being restrained with furniture and cutting the clutter. Interior designers advise choosing a core palette of around three base materials and using these throughout the home to create a seamless, expansive feel. Make use of wall-mounted joinery in bathrooms: combined with wall-mounted toilets and frameless shower screens it creates the illusion of extra space.
Best Small Lot Home Designs 
At G.J. Gardner Homes, we offer a range of narrow block house designs created to take advantage of every available inch. Some of our best available small lot home designs include our Balmain 270 and Robina 125 designs. 
Check out the full range of G.J. Gardner Homes' house designs and talk to your local consultant about the best match for your narrow block. Get in touch with your local office today!