Designing & Inspiration
What is a Butler's Pantry, and Do You Need One?
Hosting a dinner party? No matter what you do, everyone always ends up in the kitchen. Your guests are ether chatting to the cook, making drinks, helping prepare food or getting in the way!
The kitchen is the heart of your home, and with the rise of open plan living, the heart is more exposed than ever before.
This isn't at all a bad thing, as it gives you the opportunity to consider your kitchen differently. Kitchens are now treated in a more sculptural way, and you want them to be aesthetically cohesive with the look of your living space.
So, if the kitchen is a thing of beauty, what about the dishes? Lunchboxes? Toasted sandwich maker?
Hiding all these things away is easy when you have the right kind of functional storage space, and with the modernisation of kitchen spaces comes the resurgence of a centuries-old tradition—the butler's pantry.
The history of the butler's pantry
Butler's pantries became popular from the 1850s onwards, primarily in affluent households with a butler and wait staff. In addition to a range of household duties, the butler was often responsible for managing the pantry items and serving food. 'Plating up' happened in the butler's pantry, and then meals were served in the dining room.
Throughout the late 19th century Butler's pantries started to become popular in middle class homes too. Although these households didn't have staff, this space was used by family members for storage and food preparation.
From the 1940s, storing and preparing food became easier. Fridges and freezers became popular and the pantry moved into a singular kitchen cupboard.
Bye, bye butler's pantry.
This feature has laid dormant in a home designer's toolbox for more than 50 years, until now.
Functional kitchen design
In recent years, butler's pantries have exploded in popularity. These days, a butler's pantry is less about accommodating wait staff, and more about functional kitchen design.
A butler's pantry will help you in three key areas, making everything from everyday meal prep to extravagant entertaining a breeze.
Storage
The butler's pantry is the perfect place to store and use big, bulky appliances. Things like stand mixers, coffee machines and juicers all belong in a butler's pantry.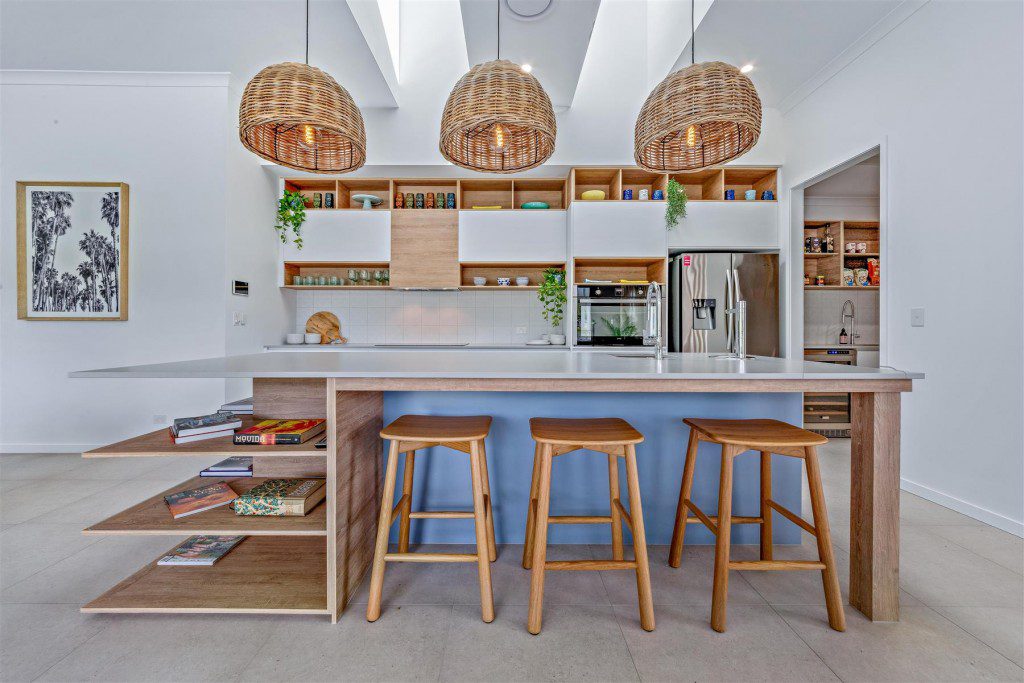 A butler's pantry helps keep your bench space clean and tidy: Palm Cove Estate Display Home
Preparation
A butler's pantry is the perfect place to do messy meal prep, before moving your ingredients into the kitchen to cook. Peeling and chopping vegetables, making sauces and assembling salads are all great butler's pantry activities.
Clean up
A butler's pantry is also the perfect place to go from dirty to clean. If you choose to add a sink and dishwasher into your butler's pantry, you can do all of your day-to-day kitchen cleaning out of sight.
The saviour of entertaining, a butler's pantry also allows you to hide all your cooking mess until after the night is done. After all, the last thing you want to see when you're relaxing with an after-dinner drink is a pile of dirty dishes.
Do you need a butler's pantry?
A butler's pantry might seem like a luxury, but we'd argue otherwise. 'Luxury' generally implies a degree of frivolity, but as we've proven, this home design feature is seriously useful.
View all G.J. Gardner's Home Designs with a Butler's Pantry.