Designing & Inspiration
Tips for Choosing the Right Tapware for Your Bathroom
The new bathroom is looking pretty schmick, and it's time to decide on the all-important details. Selecting tapware for your new bathroom is a bigger task than you might think. Taps for bathrooms must not only serve their basic function of providing water for washing and rinsing, but they also need to look good and suit your bathroom's aesthetic.
It can be easy to simply choose cheap and cheerful taps for the bathroom, but with so many high quality, contemporary options available, you'd be crazy not to find the perfect set of taps for your space.
What should I look for in tapware? There are several things to consider, including compatibility with your basin, shower or bathtub, colour and finish, and overall design.
Pairing your tapware with your chosen basin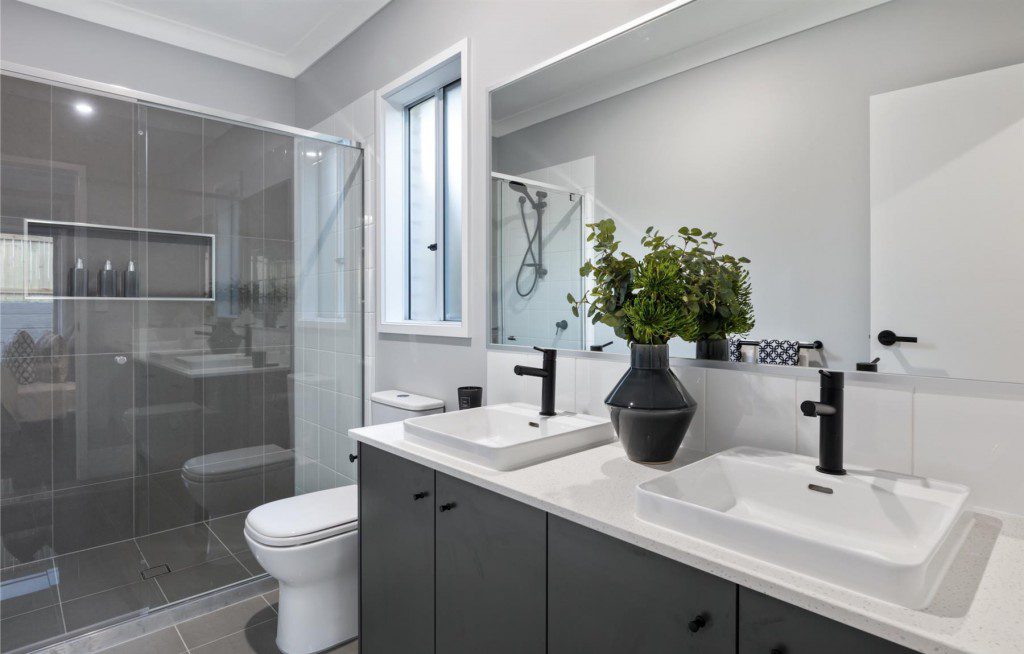 One of the most important things to think about when choosing tapware is the size and style that's best for your basin type.
Bathroom basin tapware is available in wall-mounted and top-mounted taps. Top-mounted taps for bathrooms are the most popular choice, with a huge variety of styles, including three-piece tap sets, mixers and pillar taps. Top-mounted tapware can either be mounted directly onto the basin or on a horizontal surface.
As the name suggests, wall-mounted tapware is mounted to the wall, which is great for creating more space around the basin. Wall-mounted basin taps are growing in popularity thanks to the range of sleek, modern designs.
Let's take a look at basin tap styles in more detail:
Three-piece tapware: This traditional type of tapware features a hot and cold tap with a separate spout. They're suitable for mounting on a basin or wall with three tap holes. 
Basin mixer: These mixers have a single mixing lever for hot and cold water flow and are suitable for single-hole basins.
Pillar taps: Pillar taps are quite a traditional style of tapware suitable for two-hole basins. They feature two separate faucets for hot and cold water. 
When making your choice, be sure to select a spout that is proportionately sized to the basin. A spout that is too long or too short can result in splashing and will make for a rather frustrating finish. For example, if you've chosen a deep inset basin, you'll require tapware with a longer spout.
Key things to remember:
Consider the depth of your basin
Determine how many holes the basin or wall needs for your preferred tap style
Choose a style that gives you enough space around the basin
If you're renovating or replacing old taps, you'll need to select the same set-up
Pairing your tapware with your chosen bathtub or shower
Similarly to your basin tapware, bathtub and shower taps are available in wall-mounted and top-mounted styles, along with floor-mounted taps for freestanding baths. Your range of options will depend greatly on the type of bath or shower you've chosen.
Let's take a look at shower and bath tap styles in more detail:
Mixer tap: Mixer taps feature a spout with a single handle that controls the water temperature and flow.
Three-piece tap: This type of shower tap features one spout accompanied by separate hot and cold taps. 
Bath/Shower diverter mixers: A single mixer tap can be used alongside a diverter if you have a showerhead and bath spout combination or two showerheads. The diverter allows the water flow to switch between the two. 
Freestanding mixers: A contemporary design becoming popular for freestanding baths, these mixers feature a minimalist bath tap that rises from the floor. 
You'll also need to consider the type of shower head you want to include. There are loads of options available today, including single-head, multiple, rain and waterfall showerheads. Choose wisely; this is the key to creating your ultimate shower experience!
Key things to remember:
Consider your style of shower or bath, do you have a separate shower, a shower/bath combo, a back-to-wall bath or a freestanding bath?
If you have a shower/bath combo you'll require a diverter
Think about your desired water flow, not enough or too much water pressure can ruin your shower experience
Colours and finishes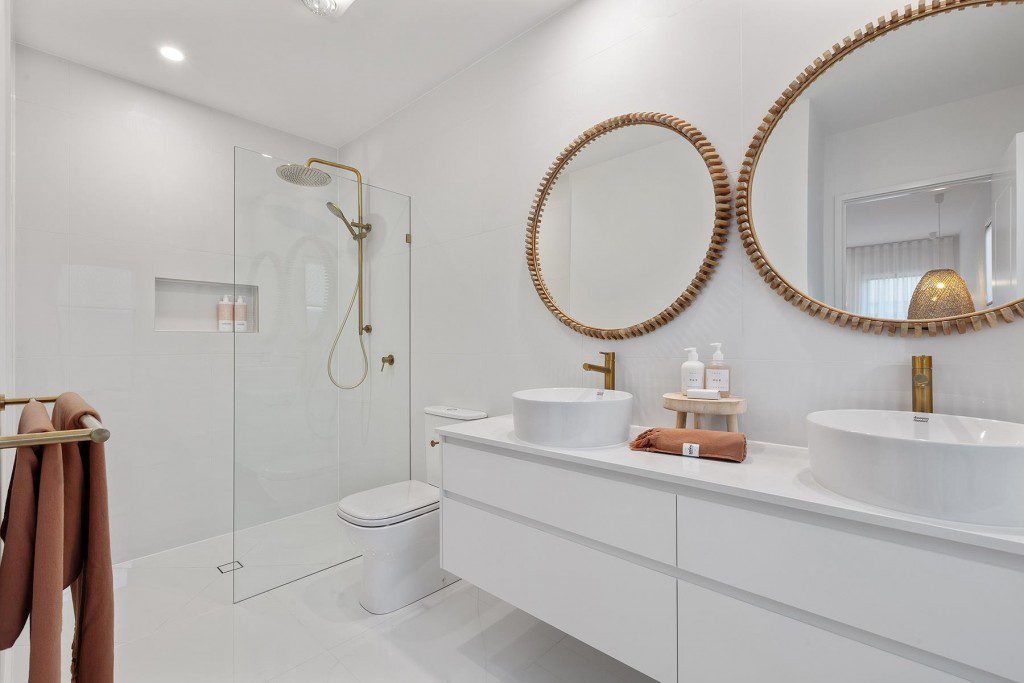 Consider the style of your bathroom holistically when deciding on the colour and finish of your tapware. What's your desired end result? Contemporary or traditional?
There are a range of materials to choose from when considering the finish, including stainless steel, brass, chrome and coated finishes such as brushed metals and matte black.
Here are some recommendations for specific styles of bathrooms:
Monochromatic, industrial – a coated finish such as matte black, nickel or rose gold
Modern, contemporary or sophisticated – a sleek design in stainless steel, chrome, matte black, brushed metallic or a bright colour
Traditional, country or heritage – brass, chrome, gold or a cream finish 
To make your decision easier, we suggest creating a bathroom mood board that includes styles and colours of tapware, bathrooms you're inspired by and any other interior design elements.
Consistency is key
Possibly the most important thing to ensure is that your basin, bath and shower tapware coordinates well. Consider the shape of your tapware along with your other bathroom fixtures. Is it designed with smooth, curved lines or angular lines? Strive for consistency across all fixtures to create a cohesive look and feel in the bathroom.
It also goes without saying that your tapware needs to be from the same family!
Need help choosing the right tapware for bathrooms?
Do you need some extra guidance in choosing tapware for your bathrooms? The team at GJ Gardner are happy to assist! We can help you decide on taps for bathrooms of all shapes and sizes. To get started, contact us and tell us about your current or new bathroom design.