Designing & Inspiration
Setting Up Your New Home
Once we've handed over the keys, it's finally time to set up your new home. With a space designed by our expert designers and customised to your preferences, it shouldn't take long to make this house feel like home. However, moving tends to be an overwhelming process and starting this new chapter right tends to benefit from planning and support.
G.J. Gardner Homes is with you every step of the way during building, and we want to ensure this supportive and thorough experience extends even after hand over. We've compiled the top things to consider when setting up your new home, so you can create a new living space that reflect your lifestyle and needs from the get-go.
From moving in and arranging furniture with finesse to setting up the utilities that make it liveable, this final stage of the new home journey is the finishing touch to your new life.
How to begin setting up your new home:
Finally setting up your new home is an exciting time, but many can attest it can often come with stress. From moving to unpacking, careful planning is always crucial to keep this process ordered and efficient.
Start by assigning each room a purpose, whether it's a comfortable living zone, a functional storage area or a master bedroom. Prioritise essentials like furniture first and make sure you have the basics you need for daily life like beds and dining furniture. Whilst the impulse might be to get us many belongings in at once, if you have the privilege of time, arrange your furniture to maximise your new home's features.
Furnishing and decorating your new space:
Furnishing and finalising your fresh home is a creative process that takes balancing both comfort and aesthetics. The design choices made throughout construction will naturally inform your home's decoration.
Our designers always recommend trying and strive for equilibrium, so avoid overcrowding the space while ensuring it feels welcoming and personal. Move over furniture or source furniture that aligns with your lifestyle and accessorise with family photos and art to add personal notes.
Simplify setting up technology and utilities:
Streamlining technology and utilities in your new home can help get you up and running in now time. Don't underestimate the power home internet and admin like change of address can have on minimising the stress of this time.
Begin by organising essential utilities such as electricity and water connections well in advance. Our modern home designs effortlessly lend themselves to smart home technology from energy-efficient appliances to remote-access security systems. Integrating these features can elevate your lifestyle and help make your home feel like the next era of you.
The team at Muval have compiled a comprehensive guide to setting up your NBN connection so you can get online with ease.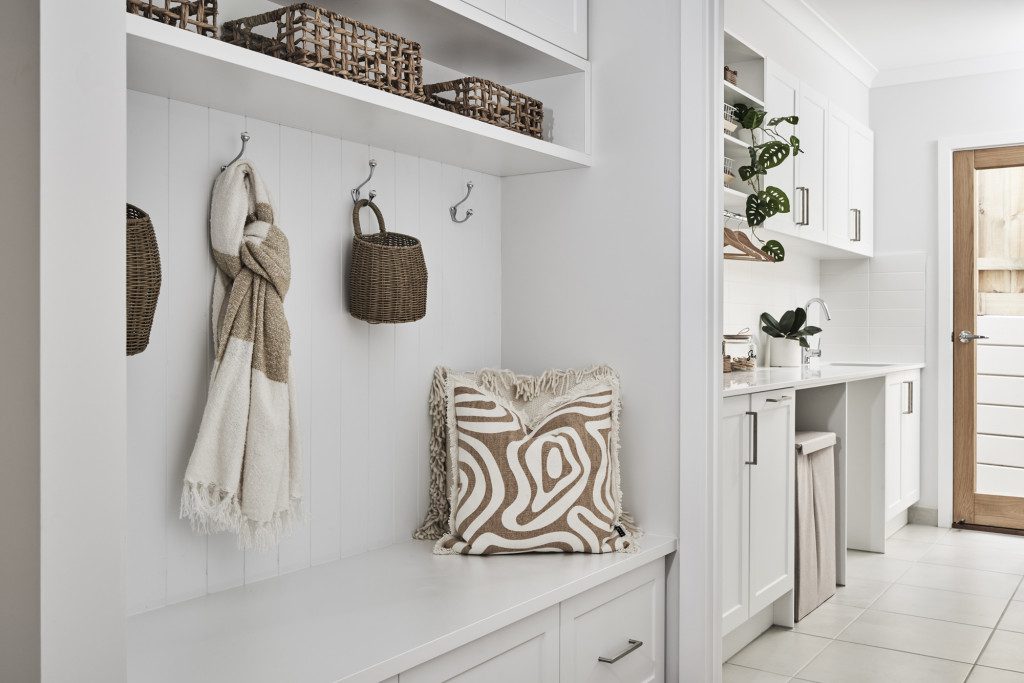 Common mistakes when setting up your new home:
Whilst the stress of moving homes is infamous, it's not uncommon to underestimate the commitment and planning involved in this process. Here are some of the most common mistakes we see setting up a new home to look out for:
Overlooking the budget: The set-up process, furnishings and decorations should all be included in your initial budgeting. This can help avoid financial strain during an already stressful time.
Buying everything at once: Rushing to fill your new space with furniture and items can result in poor decisions and impulsive buying. With this new home that's all yours, you have the time to consider all the finer details.
Ignoring functionality: While aesthetics is important and always exciting, neglecting functionality can lead to a home that looks great but doesn't meet your practical requirements. Remain mindful of measurements and manoeuvring to manage the move in process.
Ignoring lighting: Underestimating the importance of lighting can result in spaces that are too dim, too harsh or just unhomely. By investing in ambient and appropriate lighting you can create a balanced and inviting atmosphere in your home's earliest days.
Not personalising your space: While it's important to avoid clutter, a home devoid of personal touches can feel impersonal. Incorporate items that reflect your personality, experiences and interests so this new space feels like you and your family.