Designing & Inspiration
Kitchen Backsplash Trends
There are so many decisions to make when it comes to designing and building your new kitchen, choosing a backsplash can often be put on the back burner. While it's first and foremost a kitchen practicality, a backsplash (or splashback) is also an important element in the overall aesthetic of your space.
The kitchen design experts at G.J. Gardner Homes have explored the latest trends and gathered the best splashback ideas for kitchens in Australia. Whether your style is contemporary, classic or somewhere in between, we'll help you decide on the perfect backsplash option for your kitchen.
Trend One: Tile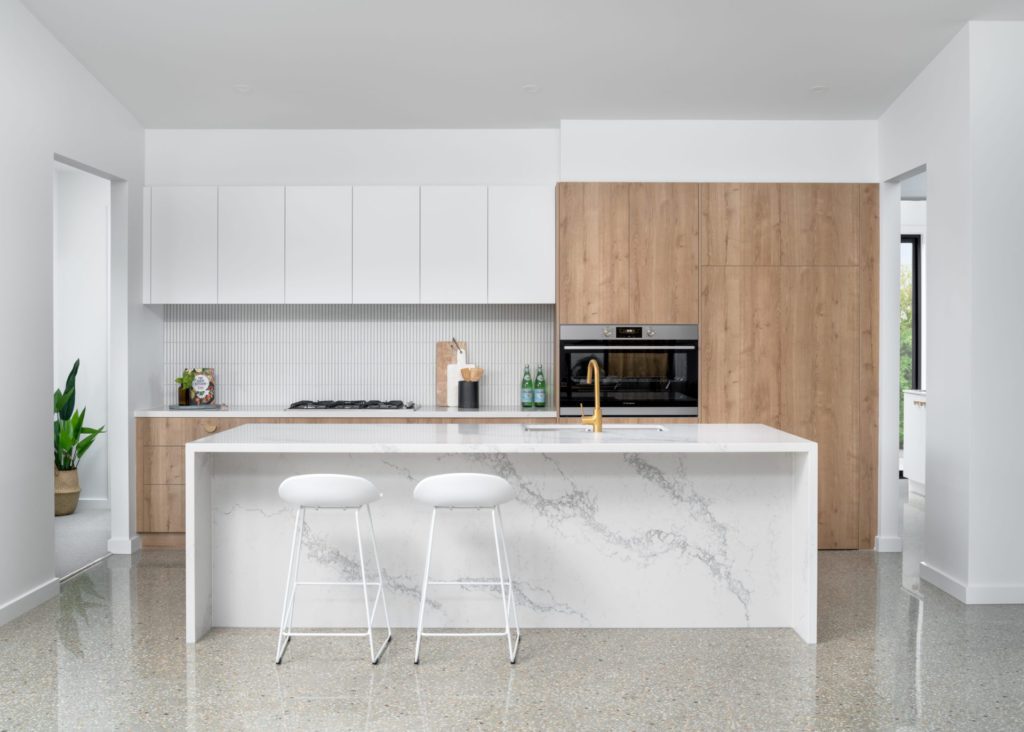 Tiles are crowd pleasers when it comes to kitchen splashback ideas, and there are no surprises why. Practical, easy to clean and available in a variety of shapes, sizes and colours; tiles are a great option that can be adapted to suit almost any style of kitchen.
Mosaic tiles
A mosaic tile design can be a show-stopper in the kitchen. Generally made from porcelain, ceramic or clay, mosaics can be used to create interesting patterns that will become the focal point of the room.
Subway tiles
Subway tiles are popularly staggered in a brick-like pattern and can be used as either a minimalist backsplash option or a bold statement, depending on the chosen colour. Plain white creates a clean and simple finish; however, if you'd like to be a little more adventurous when exploring splashback ideas, opt for subway tiles in a bright colour.
Textured tiles
If your kitchen colour palette is neutral, texture is the key to creating interest. There's a huge variety of patterned and textured tiles available in designs that are suited to every aesthetic. However, you can still embrace the textured trend if colour plays a strong part in your kitchen design. Create contrast with colour and texture for a modern finish.
Handcrafted tiles
We love handcrafted tiles for their raw, authentic characteristics. The kitchen is the heart of the home, and handcrafted details can help it to live up to the name. Handmade tiles come in a range of shapes, sizes and colours; and will give your kitchen a unique and personal finish.
Trend Two: Window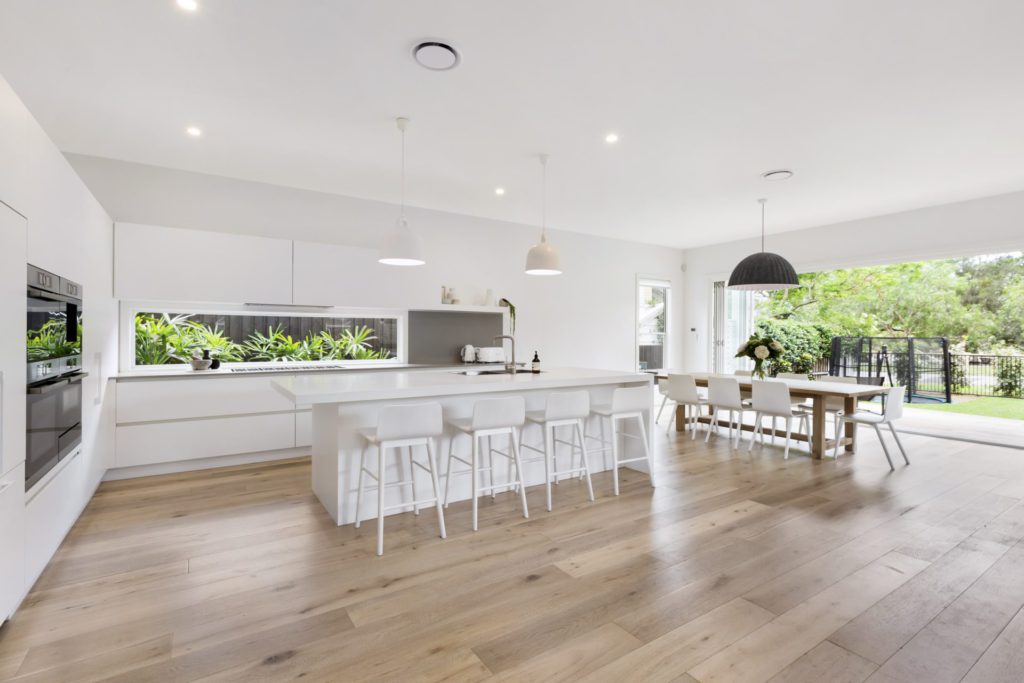 A window splashback is a great way to bring the outdoors in. Plus, it lets in natural light and helps to make the space feel bigger. A window splashback is a relatively new trend when it comes to kitchen design, and is an excellent choice if your outdoor area offers a scenic view or lush greenery.
There are a few options to choose from when installing a window splashback. Cut-out windows can be measured to fit the size of your area; otherwise, a benchtop to ceiling style window can be installed to make your kitchen a truly breathtaking space.
Trend Three: Stone
If you're not completely sold on tiles, a stone splashback is a great alternative. Stone is a natural material that we love to use in kitchens. It's durable, long-lasting and very forgiving when it comes to splashes of all sorts.
Sandstone is best suited in cool, coastal homes, whereas naturally darker stone like slate is complementary to a modern style home.
If your kitchen countertops are stone, you'll have the option to extend them up the wall to create a cohesive look. However, if you've used another material for your countertops, stone can be used to create a dramatic effect in your kitchen, thanks to its unique grain and texture.
Trend Four: Glass and Mirror
Similarly to a window splashback, glass and mirror options are an excellent choice for creating the illusion of space or brightening a kitchen. They offer a smooth, reflective surface that bounces light around the room and are free from grout lines or textures.
Choose from white glass, black glass or a completely reflective mirror to create your desired finish. Glass kitchen splashback ideas are minimal and ideal if your aim is to design a light-filled, contemporary kitchen.
We also love glass and mirrors for their ease in cleaning! A simple wipe down will remove any grime or watermarks, and you don't need to worry about grout.
Trend Five: Marble
If a luxe kitchen is more your style, a marble splashback is a must-have. Marble is timeless and sophisticated, durable and long-lasting.
Marble splashbacks come in several designs, including classic white and black, inverse black and white, or coloured marble. Pink marble is a major modern trend in new builds.
A word of warning from our design team – there is such a thing as too much marble. If you've opted for marble benchtops, we recommend exploring alternative kitchen splashback ideas such as glass or windows.
How to Pick the Perfect Backsplash
We've taken you through the trends; now it's time to pick the perfect backsplash. Before you make the all-important decision on what material to use, there are a few key points to consider.
Measure your space
How much space in your kitchen requires a backsplash? Each section above the counters should also be measured, and remember to measure each space between power outlets separately.
Your space's size will also help determine which design trend is best suited to your kitchen. Benchtop to ceiling style windows are beautiful in a big kitchen with higher ceilings, whereas mosaic tiles or bright-coloured subway tiles are better suited on a small surface area.
Consider your countertops
If you're at the stage of exploring splashback ideas for kitchens, you should have already decided on your countertop material. In most cases, a splashback will meet your counter, so they need to work well together in terms of colour and texture.
Stone benchtops and splashbacks are a perfect combination for a clean, seamless finish. When in doubt, choose tiles – they suit just about every type of kitchen countertop material.
Determine your budget
Your budget will also play a part in your backsplash choice. Glass and marble are up there with the most costly options, whereas tile and stone are available in various price ranges. Your choice of backsplash can also add some real value to your kitchen, so consider this if you're renovating or building an investment property.
Be practical
Lastly, but certainly not least, consider your lifestyle. Are you a gourmet chef, do your kids run the kitchen, or do you entertain guests in the kitchen often?
If you're a messy cook or cleaning isn't on the top of your to-do list, try to avoid porous materials or anything with grout. If you're clean or the kitchen isn't used as often, you can be a little more adventurous with your selection.
A backsplash is an exciting addition to the kitchen that should be considered carefully! We recommend doing your research and seeking design advice if you're unsure which material, colour, and finish best suits your space.
If you're building a new home, connect with a G.J. Gardner home design consultant. Our experienced team can collaborate with you to make your dream kitchen a reality. If you're simply looking to refresh your existing kitchen, take a look at our inspiration hub for home design and styling ideas.
If you're ready to incorporate backsplash into your home design, get in touch with your local G.J. Gardner office to learn more.
FAQs
What's the easiest backsplash to install?
If you're considering a DIY backsplash project, tiling is the easiest option to install in your kitchen. Before you begin, follow our guide to picking the perfect backsplash and ensure you've accurately measured the surface area you'll be tiling.
Do you have to match your backsplash to your countertop?
It's important to consider your countertops when choosing the perfect backsplash for your kitchen. Consider colour and texture when exploring your options and ensure your kitchen design is cohesive and considerate of all design elements in the space.
How high is a standard kitchen backsplash?
In Australia, the standard height of kitchen backsplash is 600mm for electric cooktops and 700mm for gas cooktops. These standards are important for fire safety reasons and are the minimum requirement. You are able to adjust the height of your backsplash; however, it needs to meet the minimum requirements.