Designing & Inspiration
Investment Property Design 
Your investment property design offers the opportunity to improve your long-term financial position by enhancing the rental appeal, increasing property value and the quality of your tenants.
From daily functionality to incorporating modern amenities, effective property design can make a significant impact on the success of your investment. By understanding market trends, tenant preferences and property objectives, you can transform your property into a sought-after space that generates long-term returns.
Finding an investment property design to maximise returns
When it comes to investment property design, a thorough approach can help you yield higher returns overall. These initial design choices won't only help you attract initial tenants, they can help minimise the cost of maintenance and keep your property popular long term.
Here are our tips to help you get started thinking about your investment property's design:
Your target market
Understanding your target market is crucial for designing an investment property that appeals to tenants. Conduct thorough market research to identify the demographics, preferences and lifestyles of your potential renters. If your property is located in an urban area, consider modern and sleek designs that cater to young professionals. For family-oriented neighbourhoods, focus on creating functional and child-friendly spaces. By knowing your target market, you can tailor your design choices, colour palette and amenities to align with their preferences, ultimately attracting the right tenants and increasing your property's rental potential.
Designing for functionality
A well-designed investment property priorities functionality. Consider the layout and flow of each space, ensuring that it caters to the needs of tenants. Open floor plans create a sense of spaciousness, while ample storage solutions minimize clutter. Incorporate practical features such as built-in shelving, organised laundry areas and versatile furniture arrangements. By designing for functionality, you create a property that tenants will find convenient and enjoyable to live in, increasing tenant satisfaction and retention. Design choices led by form and not function can end up requiring maintenance in the long run.
Understanding the area
Each area will have specific leading home design trends that have been influenced by the general demographics of the area. It's important to have a strong grasp upon your location to know who your tenant will likely be and what their needs will be. Whether it's families or students, knowing your area can play a crucial role in attracting potential tenants. Beyond demographics, your area likely has a neighbourhood aesthetic and it's important to build an investment property that understands those architectural elements. Not only attract tenants in the area but it also sets a positive tone for their overall impression of the property.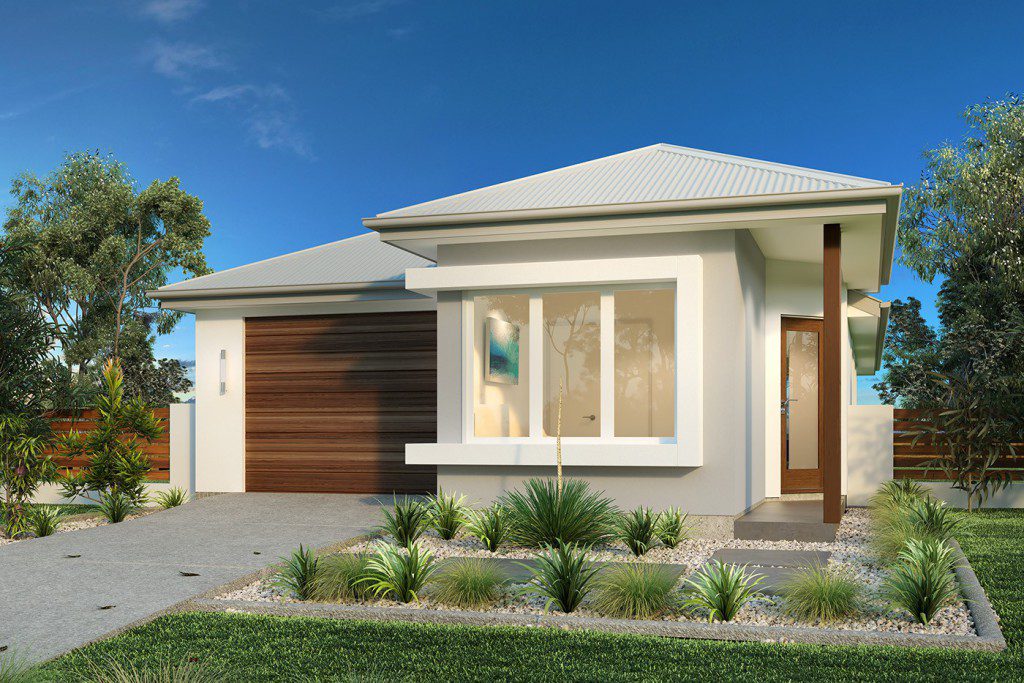 Creating an inviting interior
To make your investment property more appealing to tenants, focus on creating an inviting interior. Choose a neutral colour palette that provides a blank canvas for tenants to personalise whilst also creating a bright and airy atmosphere. When choosing your finishes, we recommend opting for durable and easy-to-maintain flooring materials that can withstand heavy foot traffic. You also want to pay attention to lighting fixtures to ensure adequate lighting and homely ambiance. Furnish the space with comfortable and stylish furniture that strikes a balance between practicality and aesthetics. By creating an inviting interior, you create a welcoming atmosphere that tenants will be excited to call home.
When building an investment property, it's important to design an interior committed to durability and functionality. This could include the adoption of materials like:
Vinyl plank flooring: Vinyl plank flooring is a low-maintenance and affordable option that is also water-resistant. It is a good choice for kitchens and bathrooms because it can withstand the wear and tear of everyday use.
White shaker cabinets: White shaker cabinets are a classic and timeless choice that will appeal to most tenants. They are also easy to keep clean, which is important in a rental property.
Frameless shower enclosures: Frameless shower enclosures are sleek and modern, and they give the illusion of more space. They are also easy to clean and maintain, making them a good choice for rental properties.
Quartz countertops: quartz is a durable and easy-to-maintain option for rental properties. As a man-made stone, it's less expensive than natural stone whilst easy-to-maintain and easy to clean.
Get in touch
If you're looking to invest in property through a new build, it's important to find a design that's going to let you reap all the rewards investment properties offer. Our G.J. Gardner Homes' team is experienced in building to rent and knows the necessary design process needed to cater to your location and goals. Get in touch with our friendly team today to learn about property investments today.