Designing & Inspiration
Importance of the Right Kitchen Flooring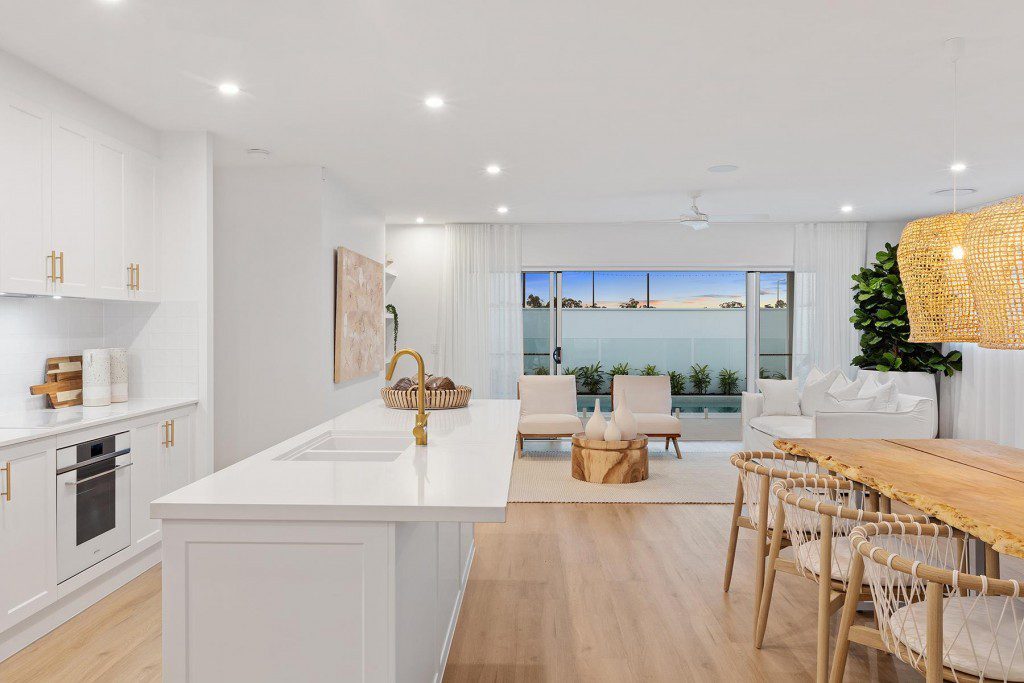 As the foundation to the central hub of your home, you can expect your kitchen floor to receive a workout from day to day. Finding the right kitchen flooring can completely transform your kitchen and living space and elevate its comfort and functionality. 
The kitchen is both your home's aesthetic anchor as well as one of the most frequented utility spaces. It is guaranteed to be walked on daily and get messy as you cook, whilst also being expected to perform as the heart of your home.
Overall, the right kitchen flooring will be durable, maintainable, and complement your overall home style.
Types of kitchen flooring
With such a wide range of materials available today, you will find a kitchen flooring option that will serve your home's beauty, functionality, and longevity.
1. Timber/wood flooring
Timber or wood flooring is a coveted favourite for most homes, capable of providing a classic and refined edge to your living space. Wood flooring has remained the foundation of homes for centuries, with a range of shades and finishes as well as high durability. Timber flooring could work as the flooring option for your entire home, creating continuity from room to room. Its classic look makes it adaptable to different home styles, from farmhouse to modern, giving you the flexibility to design your kitchen around the desired look and feel.
Due to timber and wood being natural materials, keeping these floors clean may require more regular care and attention. Wood flooring can handle vacuuming or damp mopping weekly, but it's important to remove excess water immediately to avoid decay and use products that won't be abrasive.
2. Vinyl
Vinyl is a popular and inexpensive kitchen flooring material. Crafted from PVC, vinyl is non-porous, hard-wearing and low maintenance. Its sound rates of absorption make it a great material for children, safe kitchens, and easy to clean. Vinyl is popular in spaces bound to be pushed to the limits, like homes with young children or pets.
Their wide range of styles masterfully mimics the look of coveted natural materials like stone, timber or concrete. This means you can get your dream kitchen look for less through a likely more functional material.
Vinyl is highly durable; in fact, it is often difficult to remove once installed. Moreover, the engineered materials can emit volatile organic compounds, which could negatively affect one's health.
3. Tile
Tiles throughout your kitchen is a highly functional flooring option that can effectively compliment benchtop, cabinetry and splashback choices. Durable and non-absorbent to water, spills, odours or bacteria, tiles have remained the preferred flooring for the wet rooms of homes. 
Long-lasting and available in a variety of colours, styles and finishes, the wide range of tiles available today means you can use tile flooring to enhance the overall style of your home. From intricate patterns to Tuscan-inspired terracottas, tiles are a great way to add a rustic touch to your home that can be easily extended into the alfresco.
Tiles are, however, harsh to stand on for long periods of time and are unsupportive to your legs and back. If you know you intend to spend leisure time cooking in the kitchen, the hard surfaces of tiles may take their toll.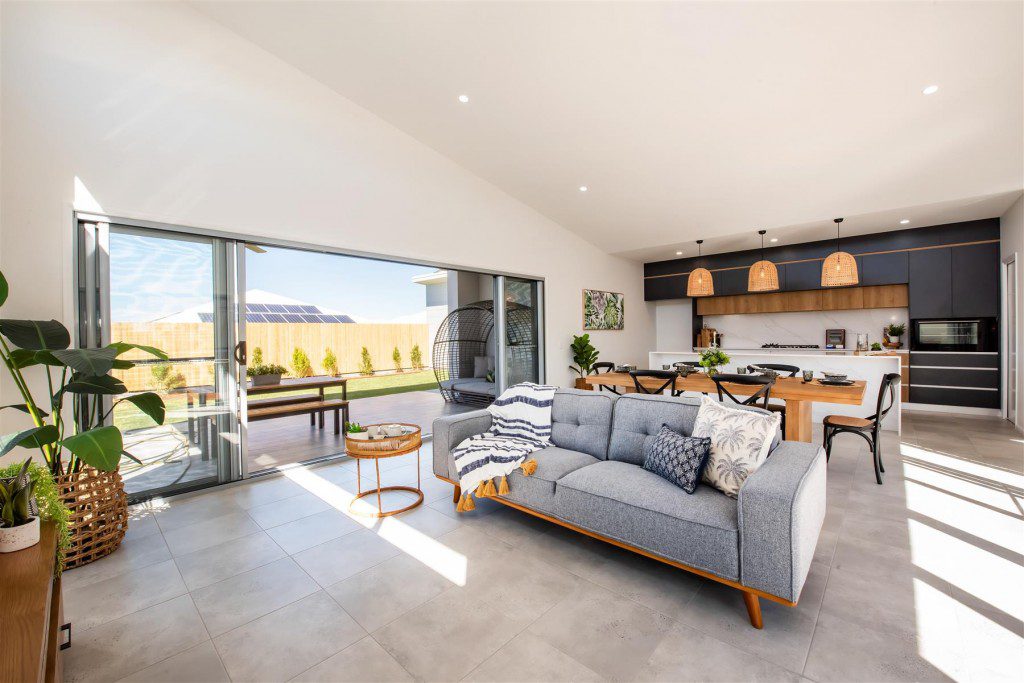 4. Laminate
Laminate flooring is commonly used throughout kitchens and is a great choice if you are exploring a hard-wearing, low-maintenance option. Laminate is durable and water-resistant, crafted from moisture-repellent layers and fibreboard.
Today, laminate floorings options are available in a wide range of appearances that often appear strikingly similar to natural timber flooring. They're a great choice if you love the look of timber floors but are resistant to the maintenance or care they require. If sealed right, you can expect a laminate kitchen floor to last a lifetime.
Laminate flooring however is not moisture-resistant and can be greatly damaged when saturated or water damaged. In cases of extended exposure to water, laminate is likely to warp and stain. As with other flooring options, laminates must be maintained with the right cleaning processes to ensure their longevity.
5. Concrete
Concrete flooring is currently on-trend, providing your home with a modern, sleek and minimalist foundation. Currently available in a range of types and polishes, concrete is becoming an increasingly popular choice for living spaces like kitchens.
With concrete flooring being the common choice for spaces exposed to the elements, it is highly durable and easy to maintain.
However, concrete is an unforgivable hard surface and will not be comfortable if you intend to spend extended time in your kitchen. Its texture and colouring are often cold and deny this heart of the home a sense of warmth. Slippery and susceptible to moisture, it is not uncommon for a concrete floor to settle and crack over time.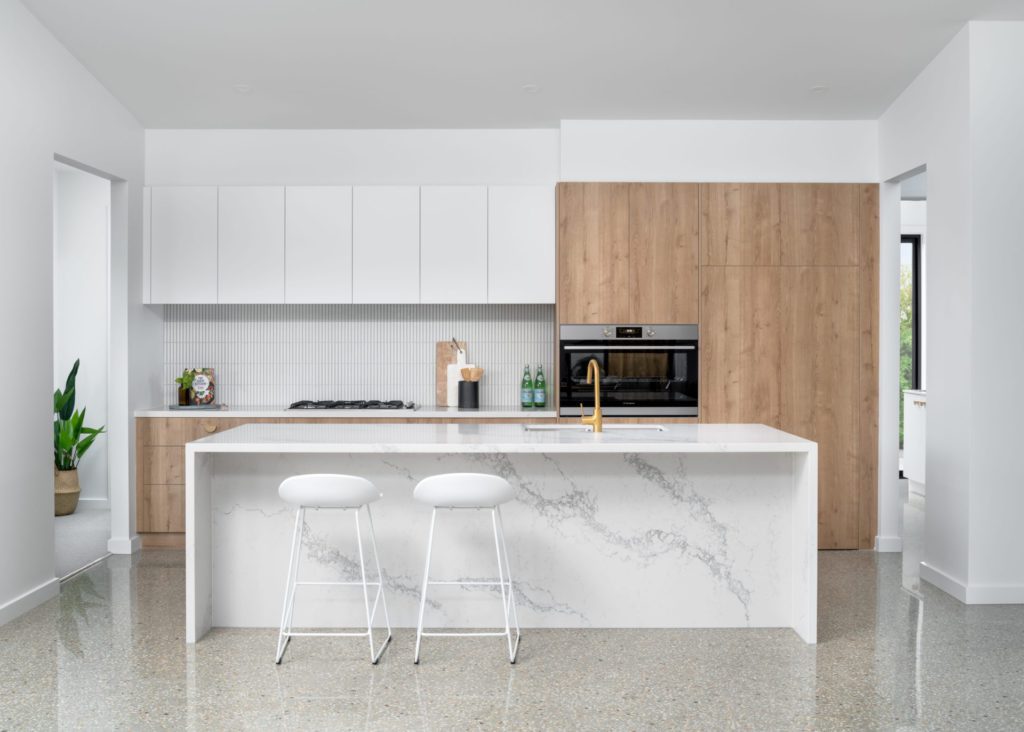 What to consider when choosing flooring
When considering what the right flooring option will be for you, it's important to set parameters in regards to style, maintenance and durability to provide some direction.
Ultimately, whilst most flooring options are available in a range of colourways or textures, they are not all suitable if you're trying to perfect a style and aesthetic for your home. What is great about flooring materials today is that you have such a wide range of options available to achieve the desired look at different price points.
Maintenance will be key to keeping your kitchen flooring looking beautiful and functioning at its best. We recommend considering how much maintenance you're prepared to invest in keeping the appearance of your floor, from cleaning, sealing and polishing. Some flooring options will be more convenient to maintain than others, so finding a material that both complements the look you're after as well as the effort you're prepared to give is essential.
In terms of durability, different surfaces react differently to spills, foot traffic or heat. Certain kitchen flooring options will be better suited to growing families or multiple pets and heavy use. Finding a flooring option that will ensure the longevity of your home overall and guarantee it'll last for the life you intend to live in this dream home.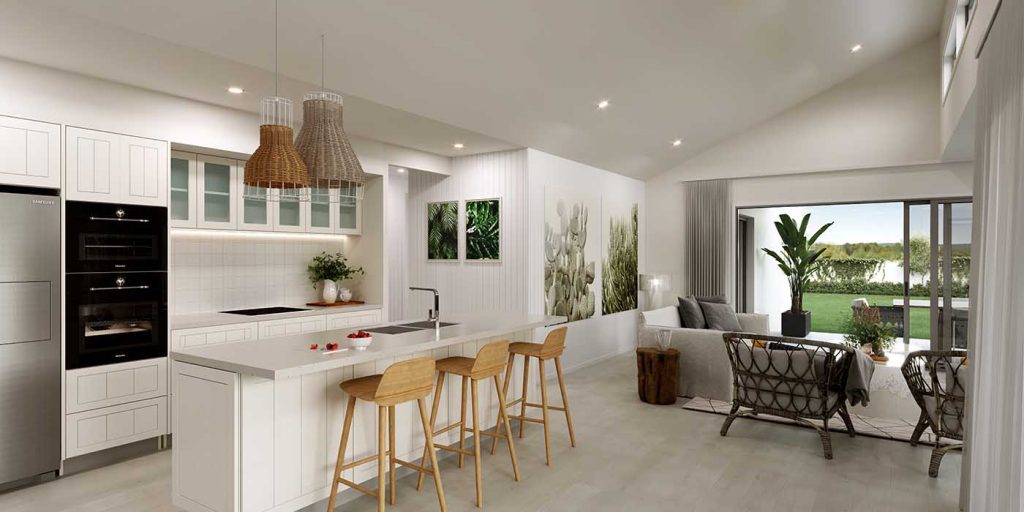 So, what's the right type of flooring?
Ultimately, the right flooring will vary depending on the home builder's needs and vision. We recommend exploring a wide range of styles, price points and materials to find the perfect kitchen flooring option for your home.