Designing & Inspiration
How to Choose The Right Flooring
Whether building a new home or renovating, there's so much to consider when it comes to flooring. Both functionality and style come into the equation, and it's important to find the perfect balance.
What is the best option for flooring? Every home is different! The most suitable flooring for your home comes down to a few key factors. We'll walk you through everything you need to know before making the all-important decision.
What are the different types of flooring?
There are several options to choose from, including soft flooring like carpet and natural fibres, and hard floorings such as timber, tiles and vinyl. We'll explore the pros and cons of the most popular flooring options, as well as their suitability for certain rooms in the home.
Carpet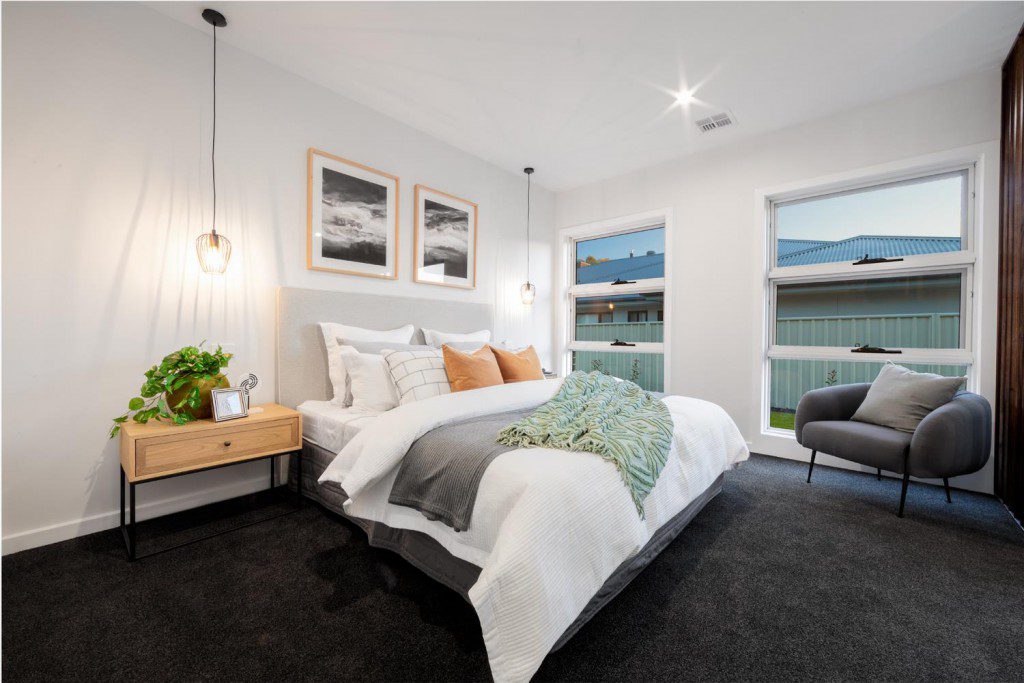 Carpet is comfortable underfoot, good for sound insulation and very durable. Non-slip and soft, carpeted flooring is a great choice for the elderly or for families with young children. While it's relatively easy to maintain, carpet can fall victim to stubborn stains like red wine and coffee.
Carpet is available in a huge range of colours and textures and can be used to either complement a neutral space or really make a statement.
Timber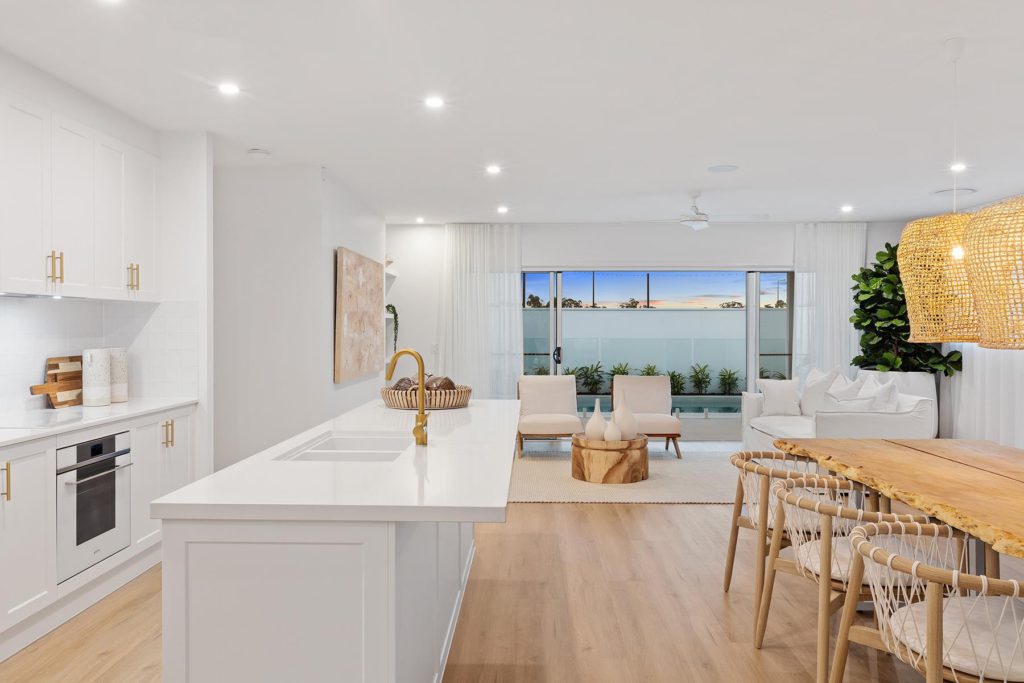 Timber floors are not only popular for their beautiful, natural aesthetic, but also for their ability to stand the test of time. If they're well-sealed, timber floors are resistant to spills and stains and are quick and easy to clean. However, in saying this, timber floors do require maintenance in order to age well. High traffic areas require buffing and resealing every four years or so, and larger scratches will need to be re-sanded, which can become quite costly.
There are several types of timber to choose from, ranging in thickness, colour and texture.
Tiles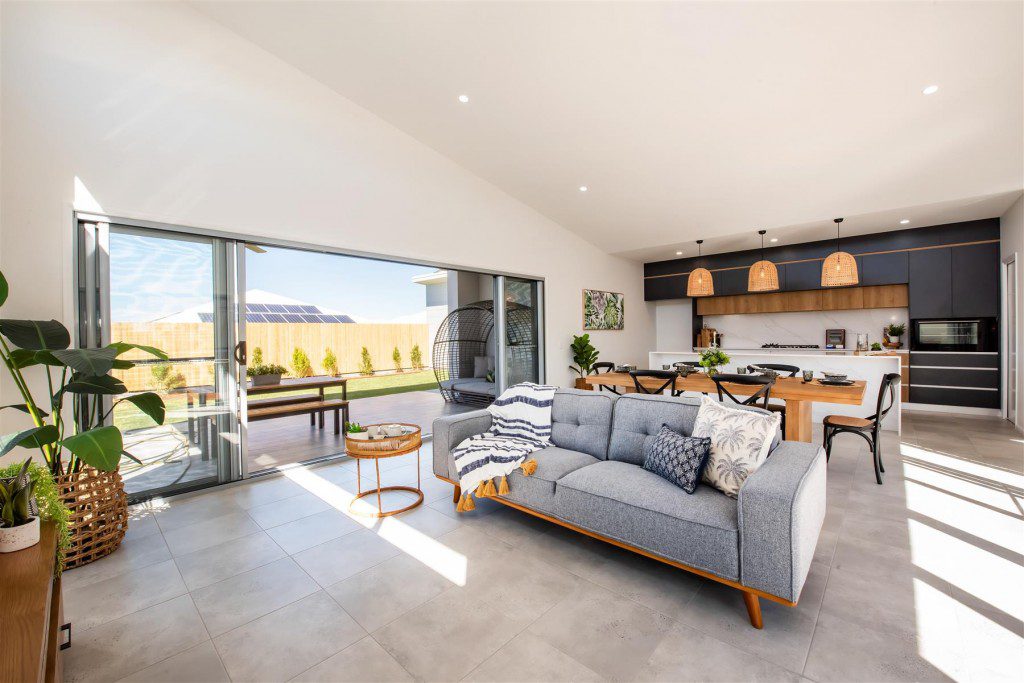 Tiles are durable, easy to maintain and cool under the feet – a plus if you live in a warmer climate. They can, however, be quite cold during winter. Ceramic and porcelain tiles are most commonly used in homes. Porcelain is best suited to high-traffic and outdoor areas, while ceramic works best indoors.
Tiles are often favoured in light shades, helping a room to look both brighter and bigger.
Polished concrete
Polished concrete is a more contemporary interior trend that's easy to look after and durable when sealed properly. Similarly to tiles, polished concrete can be cold underfoot during winter and remorseless when it comes to dropped glasses and crockery, or the accidental fall.
Laminate
Laminate is a very versatile flooring option that's suitable for every room in the home. However, laminate does require a moisture barrier beneath it when it's used in kitchens, bathrooms and laundries. You can easily achieve your desired look with a variety of styles including stone, ceramic and timber.
Laminate is easy to install, scratch-resistant and can withstand spills and stains.
Vinyl
Vinyl is a very affordable flooring option that's water-resistant, durable and low maintenance; however, it can be scratched relatively easily. Installation is very straightforward and it's available in a variety of styles, colours and textures to complete your desired look.
Key Things to Consider when Choosing Flooring
Style & Appearance
When you reach the interior design phase of your new build or reno, don't leave the flooring until last! It's one of the largest surfaces, so deserves some serious thought. If you're mid mood board and left wondering, 'how do I choose a floor colour?' You firstly need to have a good idea of the style you want to achieve.
A modern, moody aesthetic can be achieved with dark coloured carpet and a smoky coloured flooring in either timber, vinyl or laminate. A coastal vibe is nicely complemented by light or sandy coloured timber or tiles, while a country home can be brought to life through darker or red hardwood timbers.
Do some research on your desired style to explore your options and get some visuals.
Location
More often than not, a home will include more than one type of flooring. Some materials are better suited to different rooms according to their purposes. When asking the question- how do I choose flooring? It's a good idea to first ask – what room am I flooring?
Kitchen – Kitchen flooring needs to be fast and easy to clean. Tiles, polished concrete and timber are popular choices for the kitchen.
Bathroom – Flooring for the bathroom needs to respond well to water, meaning it needs to be both slip-proof and waterproof. Tiles are generally the best option, however, both the grout and tiles need to be sealed for a durable finish.
Bedrooms – Comfort is key in the bedroom, so it's no surprise that carpet is usually the go-to. Soft, warm and insulating, carpet ticks all the boxes for the bedroom.
Traffic Use
High traffic areas in the home require durable and resilient flooring. Both ceramic tiles and laminate are the best options for these areas. That's not to say other options aren't suitable for high-traffic areas, however, maintenance may be required more frequently.
Climate
If you live in parts of Australia that experience cool winters, carpet becomes even more appealing for bedrooms and living rooms. Tiles can become very cold underfoot in winter and it's a good idea to consider underfloor heating. If you're tiling an outdoor area, adequately sealed timber and tiles are generally better suited to areas that are regularly exposed to the elements.
Allergies
Hard floorings such as timber, tiles, vinyl and laminate are recommended for those who are sensitive to allergens as they're easy to keep dust-free.
Budget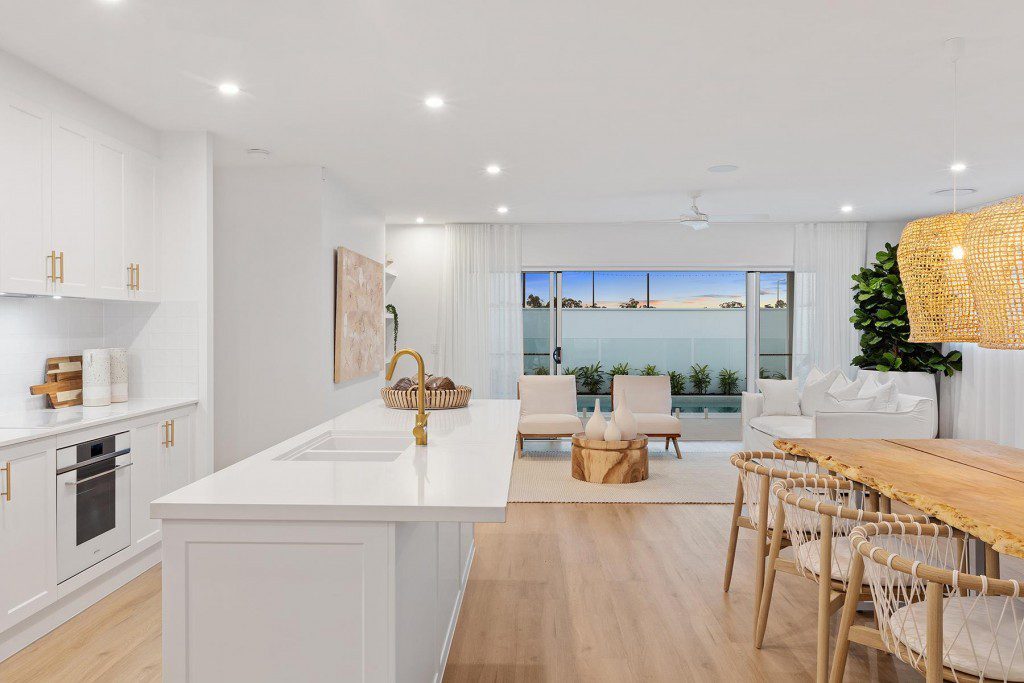 Budget is a major determinant for most and some flooring is undeniably pricier than others. If you've got your heart set on a certain type of flooring, but it's too expensive to cover your entire home, choose wisely and opt for cheaper options in other rooms. Laminate is also a very cost-effective alternative and can help to achieve a certain look while avoiding the price tag.
Genuine hardwood sits at the top of scale, vinyl and laminate are the most budget-friendly, and carpet and tiles offer a range of luxury and more affordable options.
Need help choosing your flooring?
If you're still undecided on what is the best option for flooring, get some expert advice from one of our team members. Get in touch with your local GJ Gardner Franchise, we're always happy to discuss your home design ideas.