Designing & Inspiration
How to Choose the Right Colorbond Roof?
In Australia, we wear our homes like a badge of honour. We want our suburbs, our streets and our houses to be the best they can be. They become a reflection of ourselves, our families and our lifestyles.
Nature and the surrounding environment can be part of the story but there is a culmination of essential factors that are a part of this pride.
Looking at the area, the materials, current trends and then combining it with the colours you love, can help make it YOUR STORY.
Where do you start?
What makes a house a home? What evokes feelings of home?
It used to be just a place to head at the end of a workday. Now our home has become the place where we spend our recreational time, a place to work or even a place for schooling. Our pride in our homes has never been more important as it is today.
We all have a different story but a very similar journey.
Whether you're a first home buyer, are looking for more room for the growing family, or if you're looking for a change of scenery to the city or the country, there are the same considerations. Once you decide to build or renovate, next come the different considerations. The exterior, layout and front façade holds some of the most significant design considerations. These are some of the things that give your home life.
Consider exterior surroundings and colours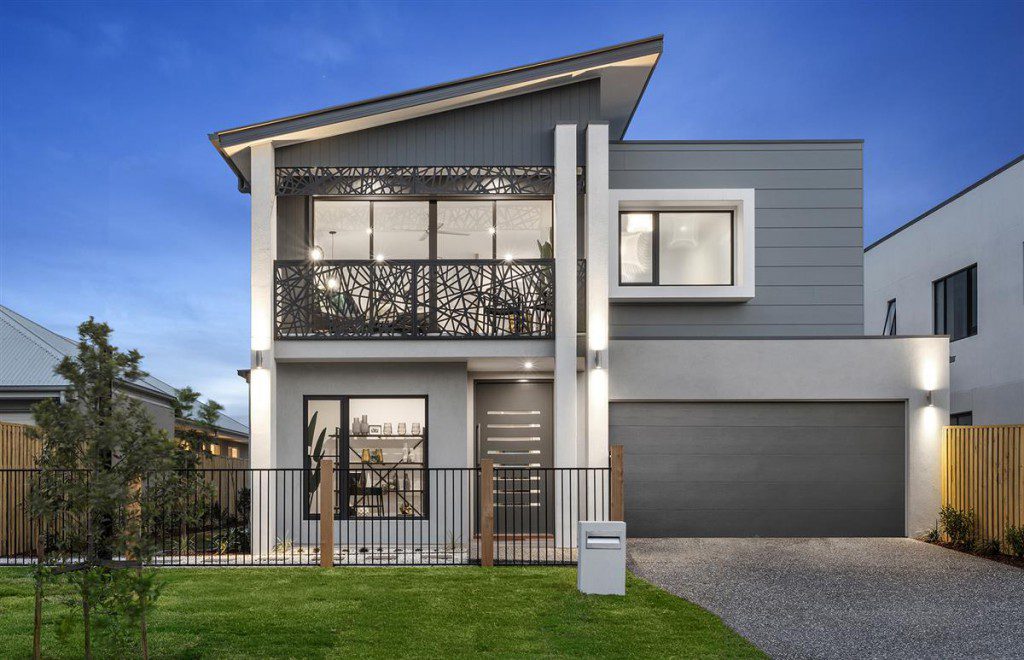 Firstly, for your home's exteriors, take inspiration from nature around you: the landscape, the area, be it mountains, the beach, the trees, the local area history. Whatever the inspiration is, make it the start of "your story". Your story is the palette of your exterior.
One of these choices is your roof, so the colour, shape, size is important as the beginning. The roof choice can be the anchor to a cohesive scheme. A Colorbond® steel roof gives you a diversity of choice: in colour, texture & style whilst still meeting the needs of the harsh Australian climate from extremes of heat and cold to dust, rain, wind and hail. It's for this reason that COLORBOND steel is assessed at outdoor sites around Australia, as well as in accelerated laboratory testing.
There is a range of exciting COLORBOND® profiles and choices to choose from. Taking inspiration from our Australian landscape, they enhance the linear feel and look of the roof.
The need for sustainable, lower maintenance materials is a driving factor in roof choice. Having a roof that will look beautiful, but will also stand the test of time is an integral decision for any home builder.
How to choose the right colour
Your colour choice is integral to the style, whether it's a hip roof, a skillion or a flat rooftop. The colour of your roof can complement the surrounding areas and ensure that your home works cohesively with nature.
According to Colorbond® colour consultant Christine McCoy, deeper colours work beautifully to anchor in lush surroundings and can work well with the native colours of the tree canopy,  landscaping and tree trunks nearby. Popular colours for lush neighbourhoods are Colorbond® Monument, Woodland Grey®, Wallaby®, Dune®. The echoes of the colours in nature are unmistakable and combined with warm natural materials like timber and stone, brings them to life.
Paler colours drawn from the coastline particularly inspired by our famous rolling, dunes, shells, spinifex grasses, the water itself are on-trend. This aligns with lighter, more coastal oriented designs and the added bonus of Thermatech Solar Reflectance technology which keep our houses cooler. Colours such as Basalt®, Windspray®, Shale Grey™, Surfmist®, Dune® are great examples.
What are the current roofing trends?
With the technology increasing the visibility of new and different looks, we have become more open to global exploration of the potential.
Our need for more tactile, natural materials, more openings into and out of our living areas, courtyards to bring in a little extra greenery have introduced the colours which create a cohesive flow from outside to inside. In light of global upheavals, it is no wonder that the trends in colours for interiors and exteriors are becoming expressions of a new hopeful, more sustainable view on building materials.
With trends leaning towards more harmonious, warm colours and textures, we have seen more customers gravitating to stone with irregular patterning – cladding, a feature blade wall, pillars. Cement in blocks or polished softly for flooring but terrazzo with its chips of granite, marble & glass and softly rounded and washed out renders, perfectly imperfect. Timber combinations in small amounts as accents to give a little warmth are an addition to complement the schemes.
Looking at these combinations, the new theme? Texture! Soft, nature-inspired, natural curves, lines, colours.
How do we put it all together?
Start at the top and work down to the building is my recommendation. The balance of colours, materials, textures is all about proportion. If your roof is large, this will be a dominant part of your scheme.
Combine and put it together on a board for a better overview of the entire home's style and design. The story is about your home, how you tell it is there for all to see on your façade, your colour choice, material choice and how it's delivered in the overall design.
Rules? Not really any rules except balancing it. I like to give this guidance: Not too much of one colour or if you like one colour then make it about different textures.
Bring a little bit of your inspiration from the exterior design to the inside styling e to keep the overall flow of the home cohesive. After all, we have learnt to take advantage of our outdoor spaces and even including internal courtyards.
The other and most important rule is to enjoy the process, from looking for inspiration, researching and obtaining samples. Put them all together and the colours and textures will speak for themselves as a visual prompt. This is the start of your journey.
Find the right roof for you!
If you have any questions or want to get started on building your dream home, contact your local G.J. Gardner office today for exceptional and friendly service.