Designing & Inspiration
How to Choose the Perfect Tiles for your Bathroom
If you're embarking on your first home building journey, choosing the right tiling for your bathroom can often leave you with more questions than answers.
This guide aims to provide a starting point for planning out your perfect bathroom. Complete with tips, tricks, and advice from some of our very own new home design experts, who know more than a thing or two about bathroom builds!
Tip #1: Preparation is Key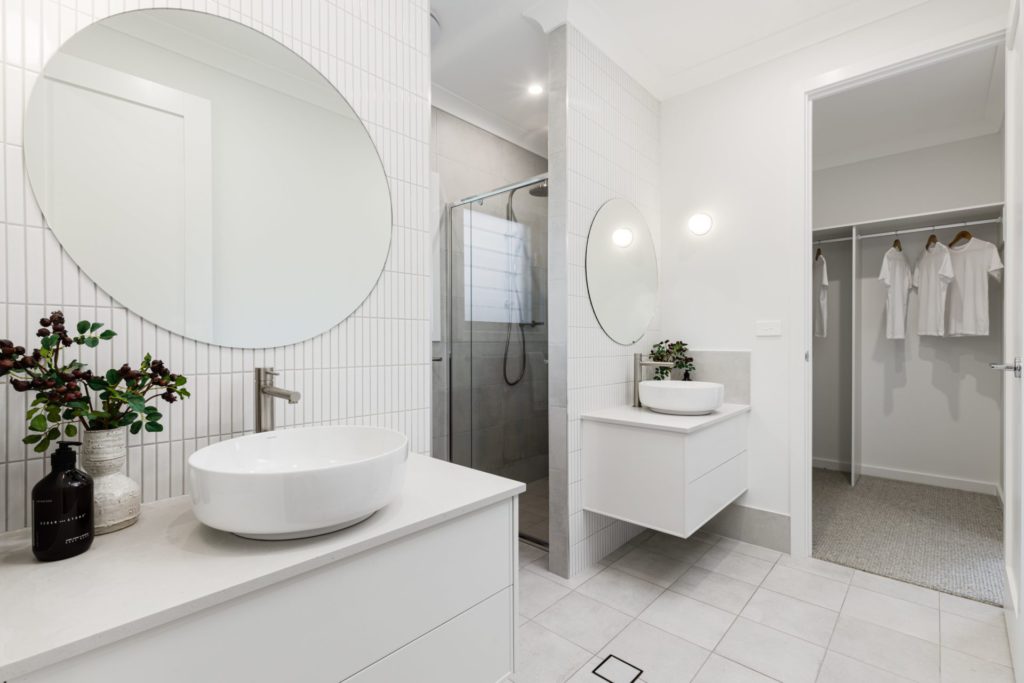 As the saying goes, preparation is key, and this applies to bathroom builds, too. Before setting foot into a showroom or tiling store, it's important to get your game plan sorted first. Creating a mood board is a great place to start, and Pinterest will become your new best friend!
A mood board can help you get a sense of the design style as well as specific elements you'd like within your space. It also lets you see how your bathroom's look and feel can reflect the rest of your home, to create a consistent and cohesive flow between your spaces.
At G.J. Gardner Homes, we have a Pinterest account with plenty of mood boards to get you into the styling spirit! Other places to find inspiration could include your favourite interior design Instagram accounts or tiling websites, lifestyle influencers and more.
If you're stuck on where to start, interactive quizzes are available online, so you can easily find your own tile style. This can give you the jumping board you need to dive into the other avenues of bathroom design inspiration.
Tip #2: Choosing the Right Tile Style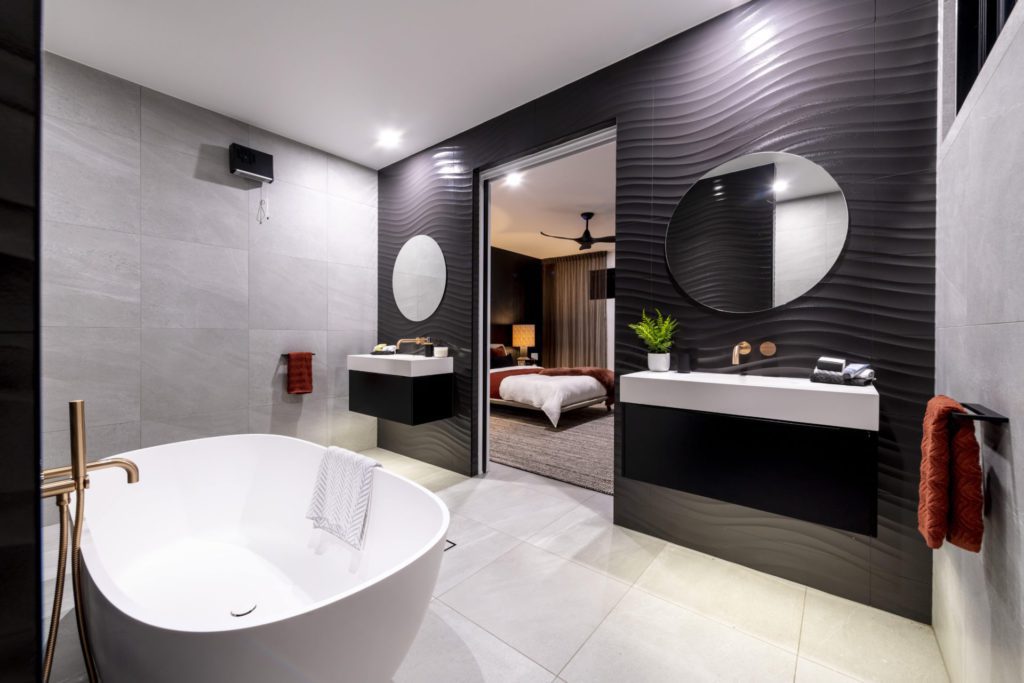 When choosing the right tile material to go with, it's important to remember function over form. Choosing a handmade tile might look beautiful, but it is essential to consider cleaning and wear and tear, especially in high traffic areas. So, let's break down the different types of tiles:
Ceramic Tiles:
Ceramic tiles are dense and non-porous; they are super durable and are stain, fire and slip-resistant. They are great for bathrooms with light to moderate traffic.
Porcelain Tiles:
Porcelain tiles are a hard and dense tile, even more so than ceramic tiles. They are great for higher traffic areas and pets. As they are easy to maintain, resistant to stains and scratches.
Porcelain and ceramic tiles are also easier to lay down and don't need regular sealing to protect the tiles.
Stone & Handmade Tiles
Natural stones are more porous than other tiles, which means they require regular re-sealing to protect the material from corroding. Harsh cleaning chemicals can also damage or stain this tile.
Mosaic Tiles
Mosaic tiles are hard to clean and maintain due to the many grout lines it takes to lay them. They are also known to be more slippery when wet. So be sure to check the slip resistance standards for if the mosaic tile is suitable for your bathroom.
However, this stunning tile would make a great backsplash or shower cavity accent for a pop of colour.
Tip #3: Scale to the Size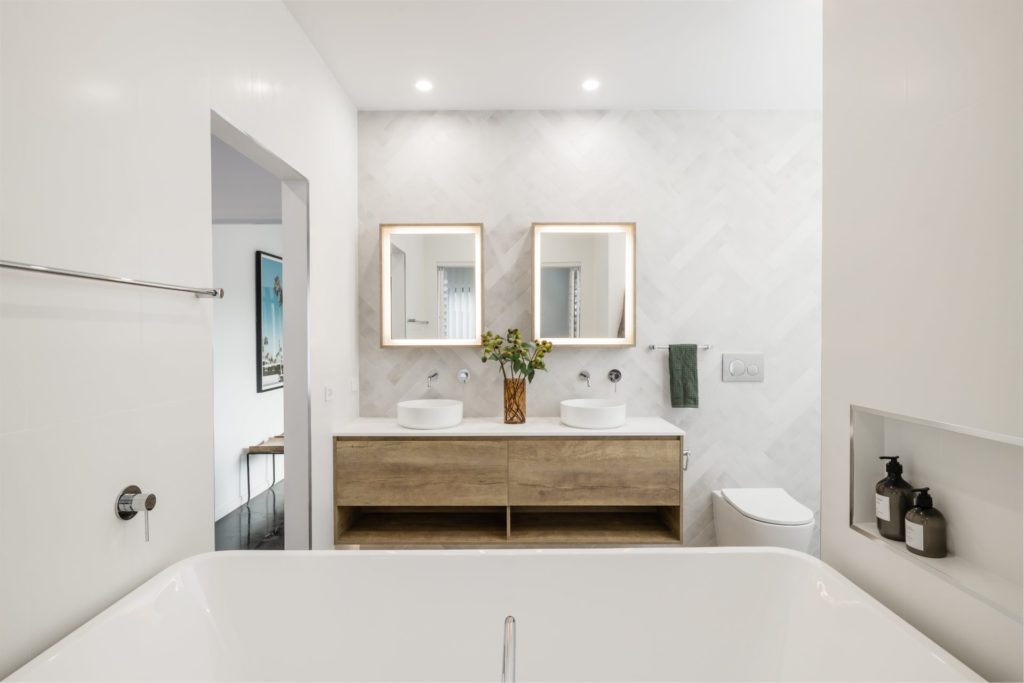 A key consideration when choosing your bathroom tile is the size of the space. For smaller bathrooms, large format tiles can make the room appear bigger. While lighter and neutral colours can create a brighter and larger feeling to the space. Floor to ceiling tiles can also draw the eye upwards and add height to your bathroom if it's on the smaller side.
While accent tiles in larger bathrooms can be used to create different zones, adding a different feature tile to the shower cavity can visually separate the room into sections, creating a more purposeful design flow.
Some mobile apps even allow you to plan out your space using AI and virtual reality. So you can try new colours with your bathroom's size and dimensions in consideration.
Tip #4: Choose Your Colours Carefully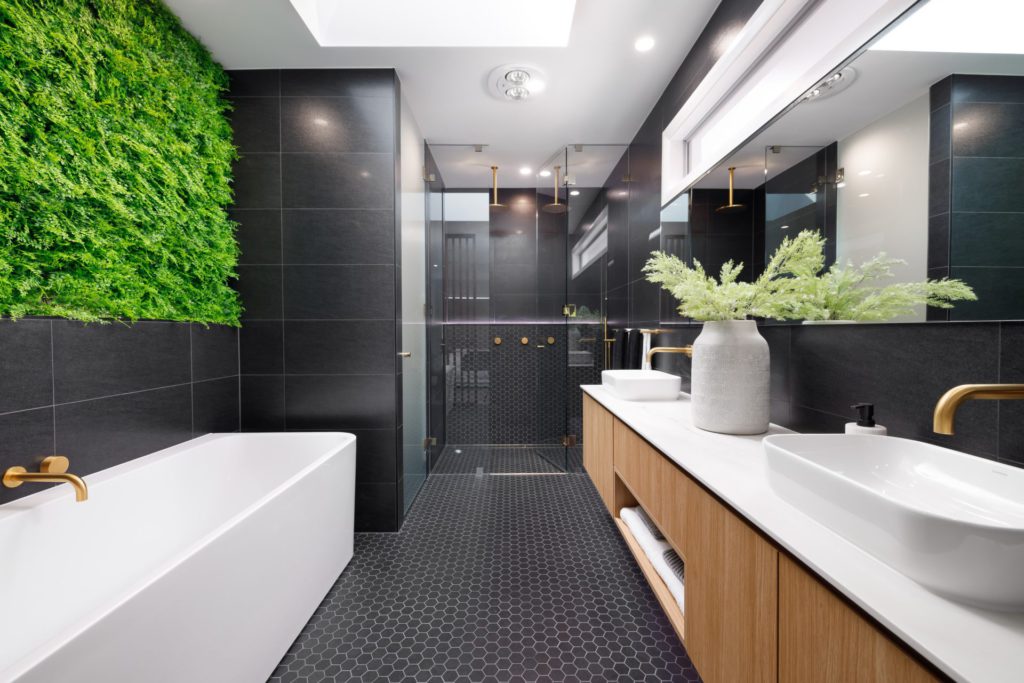 Colour can also create an impact in your bathroom. While darker colours can add warmth, drama, and ambience, they can also enclose the space. On the other hand, light colours add a simple yet sophisticated touch. They also can make your bathroom appear more open and brighter.
Tip #5: Shower Space & Drainage
Something that is not often thought about in the tiling picking process is drainage. Drainage points can break up the flow of your design. Large tiles will need more grout lines as they need to create a curve around a circular drain space while choosing a slip drain can create cleaner lines and is a more discrete option.
Tip #6: Try Before You Buy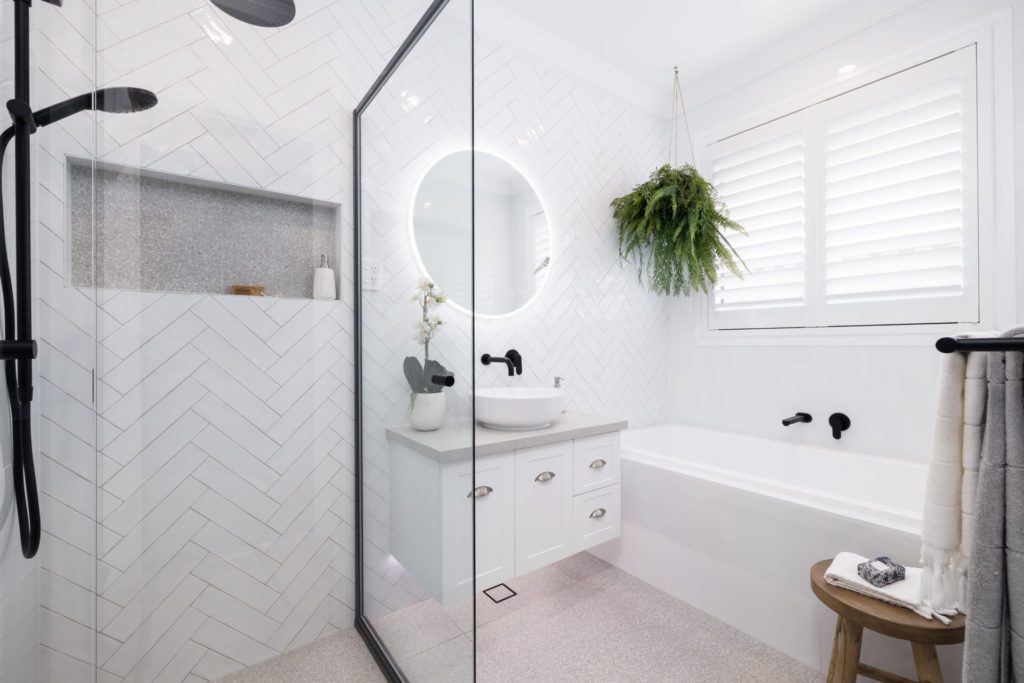 Once you understand your style, types of tiles, the right size for your space and colour, it's time to shop for samples!
When you first go into a showroom or trade store, you may be overwhelmed with options. This is where your mood board comes back into play! It will be a great reference point to show the staff when they ask what you're after.
Once you've come across a couple of different tile options, ask to grab a sample of the tile. This is great as you can get a sense of the tile's size too. After shopping around different stores (which we recommend), take the tiles home to your space. Sit them on the floor or by the wall where you're thinking about placing them in your design.
Check-in on them throughout different times of the day to see how the colour and finish might change. Turn on your lights in the bathroom to test how this changes the look and feel of the tile.
Tile Hack: You should choose no more than three different tiles to go into your bathroom. Any more than this, and the space can be overwhelming.
Tip #7: Measure Twice, Buy Once
After choosing your tiles, measure your space with the size in mind … and then measure it all again. Once you're sure you have got the correct measurements, then you can order your tiles.
Top Tiling Trends for 2022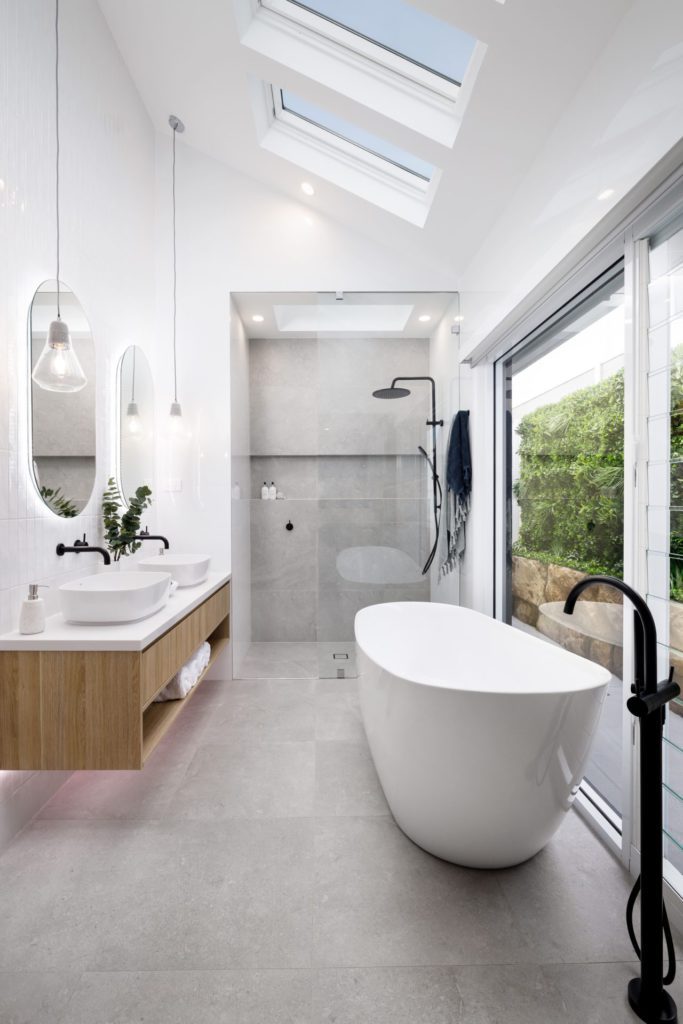 Below are some tiling trends we believe will continue well and truly into 2022:
Shelf Height Tiles: Taking the tile and continuing it from the floor to the vanity and shelf height has quickly become a top tiling trend. This creates a sense of purpose and style in the space.
Shiplap Panelling: Using vertical shiplap panelling in your bathroom can help to create a modern farmhouse or coastal feel to your space. It is also a very seamless design element and blends into the bathroom easily.
Let the tapware do the talking: Choosing an accent tapware colour such as brushed brass or bronze and pairing it with neutral tiling and colours can add a nice finishing touch to your space.
Powder rooms: As this is a smaller space, it's often a time people take risks. Whether it's a bold patterned tile or wallpaper, it can create an intimate and stylish space.
If you've read this far, you should be well on your way to creating your dream bathroom. Tiling is the perfect time to let your personality and sense of style shine through. So don't be afraid to take a risk or two!