Designing & Inspiration
Home Pool Design Ideas
With summer just around the corner and sizzling temperatures en route, the appeal of a pool in your very own back yard is only soaring. From relaxing weekends to night swims, the convenience and luxury of a home pool is unbeatable.
With G.J. Gardner Homes, our home designers and landscapers collaborate to create considered, stylish and safe pool designs. We work with your home's overall design style to create a cohesive outdoor area that seamlessly flows for superior alfresco living.
This swimming season, explore our leading home pool design ideas to get you envisioning your dream outdoor area.
Pool courtyard
Courtyards continue as one of our leading home design choices. By breaking up your classic floorplan with an outdoor space, you maximise the feeling of space and light throughout the rest of your home.
Our Mandalay 335 is loved for not only incorporating the courtyard into the design but using this space for a home pool. With a pool place in the heart of the home, the Mandalay is a summertime haven that's perfect for warm climate locations.
The pool courtyard design is a great way to adopt a pool into small lots, without the need for a large yard space. Situated within the home, this pool idea increases the look of the rest of the home as the serene look of water reflects light and adds to the space's visual depth. By keeping your living space in such close proximity to the pool you can also benefit from natural cooling and the ambient sounds of water.
Simple and secluded
A home pool lets you enjoy the relaxation and bliss of swimming from the privacy of your home. Many of our pool designs opt for secluded locations so you can enjoy peaceful swims.
Homes like our Monash 390 have incorporated a pool away from your alfresco space but still well-connected. This lets you enjoy private swims whilst still making use of your outdoor areas. A great option for big families, this pool design is simple in size and shape for a classic backyard pool. But its location means you don't have to compromise on the rest of your outdoor space, with plenty of room for playtime or entertaining.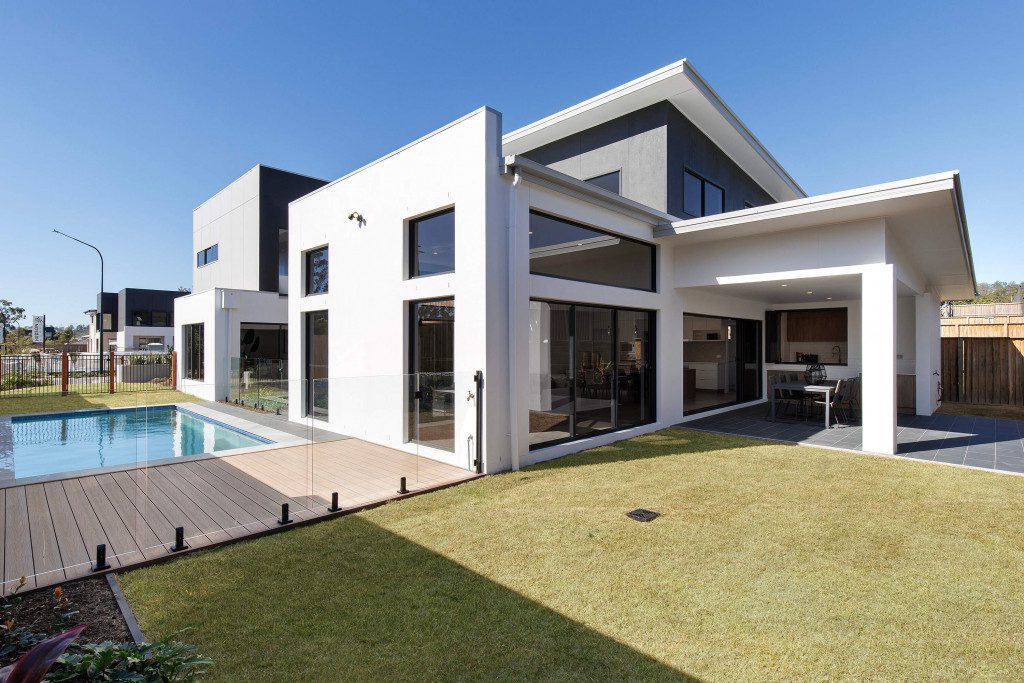 The entertainer's dream
A home pool is bound to gain some attention and one of the leading home pool designs is to situate it within the ultimate entertaining space. From garden parties to family swims, the addition of a dining area and outdoor kitchen into your pool fencing offers a total outdoor haven.
Our Long Bay 243 home boasts a generously sized pool, paired with garden space for playing and multiple undercover dining and cooking areas. The addition of entertaining space lets you maximise the use of your pool, whether you're swimming or just enjoying the serenity of the water. Make use of this in-home oasis year-round with spaces to swim, unwind and host.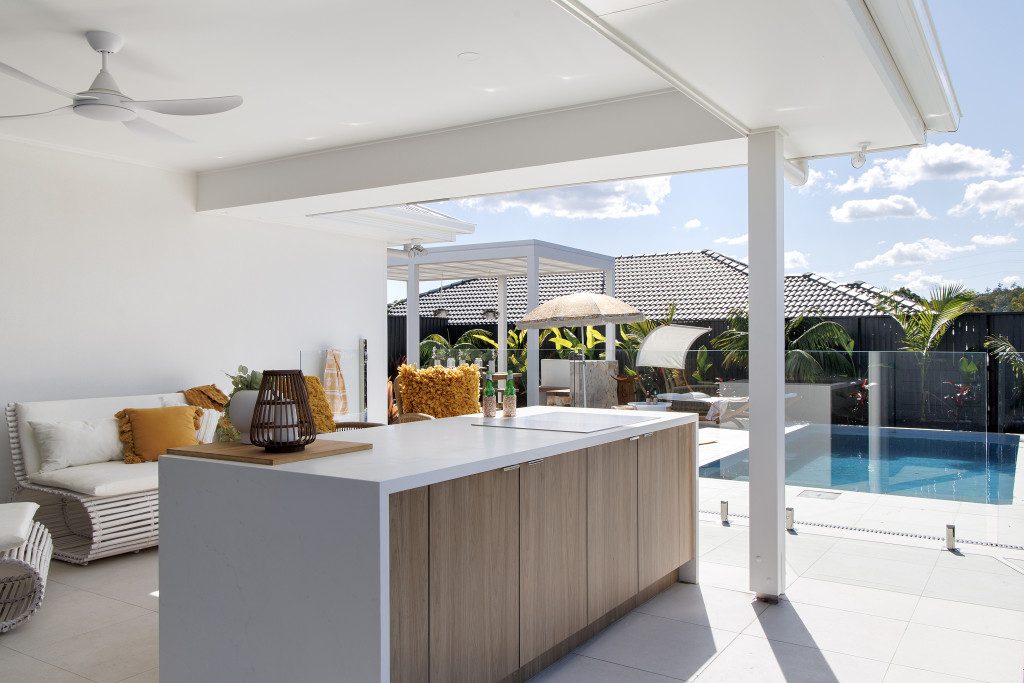 Luxury lap pool
One of the leading benefits of an at-home pool are the fitness and exercise opportunities. Swimming remains not only a great source of relaxation but a great source of good health. A long and thin pool design lets you achieve a style that's best for swimming laps.
Our Samsara 296 home's pool features a lap design with a touch of luxe, including cascading side steps and expansive surrounding alfresco spaces. Through considered landscaping and details, we can achieve the functionality of the lap pool with a stylish flair.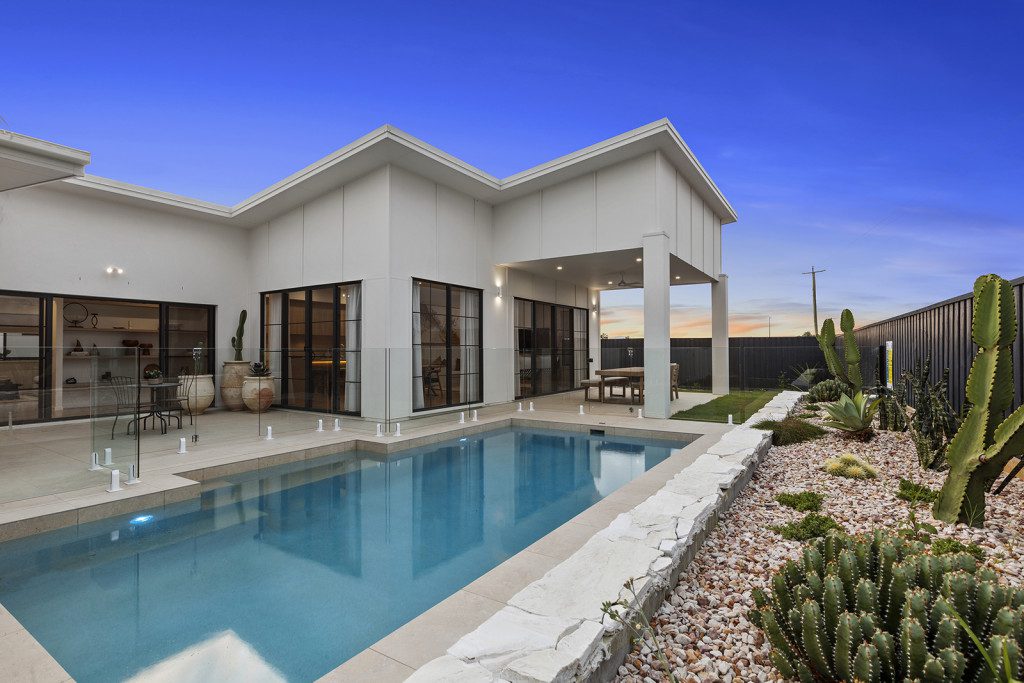 Cool and curved
An untraditional pool shape lets your home pool achieve a contemporary design that elevates your outdoor space. A curved pool shape softens the look in comparison to your typical rectangular shape. In fact, a curved pool tends to blend more seamlessly with the natural landscape for a more harmonious and natural look.
With our Beachmere 287, the curved pool design adds a dynamic touch to the outdoor space. The artistic and organic look of this curved pool complements the bohemian design style of the Beachmere and creates a cohesive feeling from the indoors to outdoors.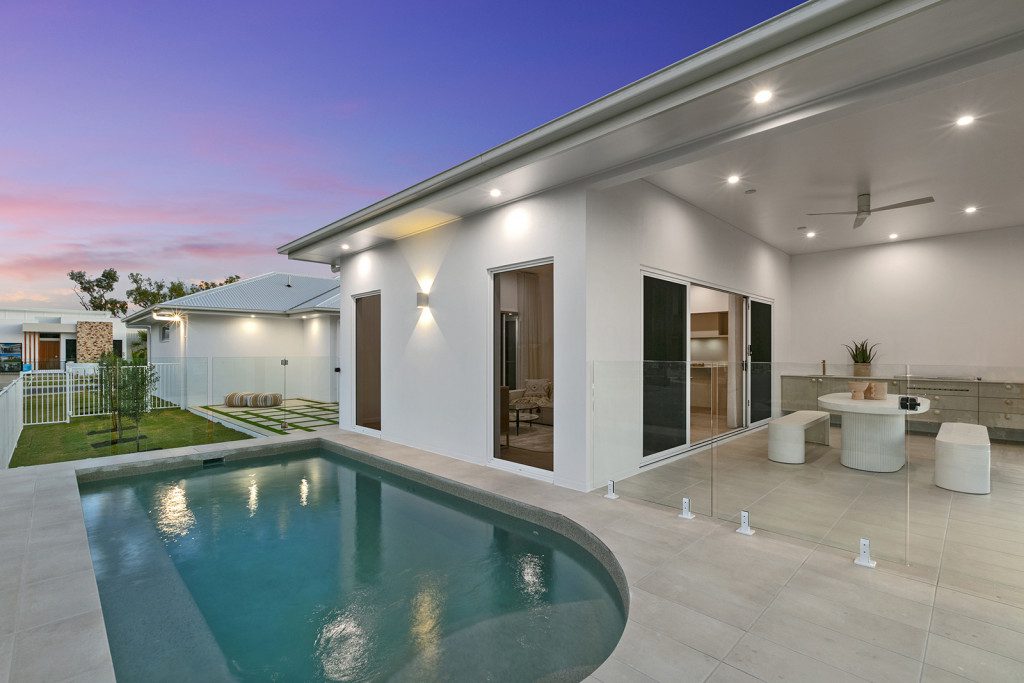 Does your dream home have its own pool? Our friendly G.J. Gardner Homes team is here to chat you through our wide array of leading designs and find a pool that works with your vision and budget. Reach out today to learn more about our home designs.