Designing & Inspiration
Hamptons Style Flooring
Hamptons style has long been embraced by Australian home design trends; despite being sourced from a coastal community all the way on America's East Coast. With its relaxed look and emphasis on natural materials and open spaces, it's no surprise that the Hamptons style has found a second home with Australian families.
Building the perfect Hamptons-style home takes attention to detail for every element of the home from the façade to the flooring. As your home's foundation, flooring has a powerful effect on your home's overall cohesion and feel. By opting for Hamptons-style flooring in your home design, you can incorporate the core colours, materials and textures of Hamptons design from the ground up. With G.J. Gardner Homes' wide range of home designs and customisation options, you can achieve the perfect Hamptons-style flooring for your home, no matter your layout, budget or preference.
What is Hamptons Style
The Hamptons style has taken the world by storm, staying one of our most popular home design styles for multiple years. What keeps Hamptons style trending is its classic home feature, which can be effortlessly adapted and adopted by all lifestyles.
The elements of Hamptons design aim to create a warm and inviting atmosphere that's perfect for entertaining, relaxing, and enjoying the simple pleasures of life. These include white, bright and neutral colours, open and airy spaces and the use of natural materials to keep a connection to nature throughout the home. Learn more about Hampton style homes here.
Hamptons Style Flooring Types
In Hamptons homes, the flooring is an opportunity to add warmth and texture to the home without affecting the timeless and airy feel. In living areas, Hamptons homes incorporate light-coloured options to achieve that relaxing and peaceful feel it's famous for. However, in utility spaces, the Hamptons home design style proves its functionality. With tones like grey, navy and blue being the home design's most popular accent colour, these spaces are a great opportunity to create depth and interest through the use of classic patterned tiles or unique stone textures.
Here isour most popular G.J. Gardner Home Hamptons style flooring looks.
Hamptons Style Hardwood Flooring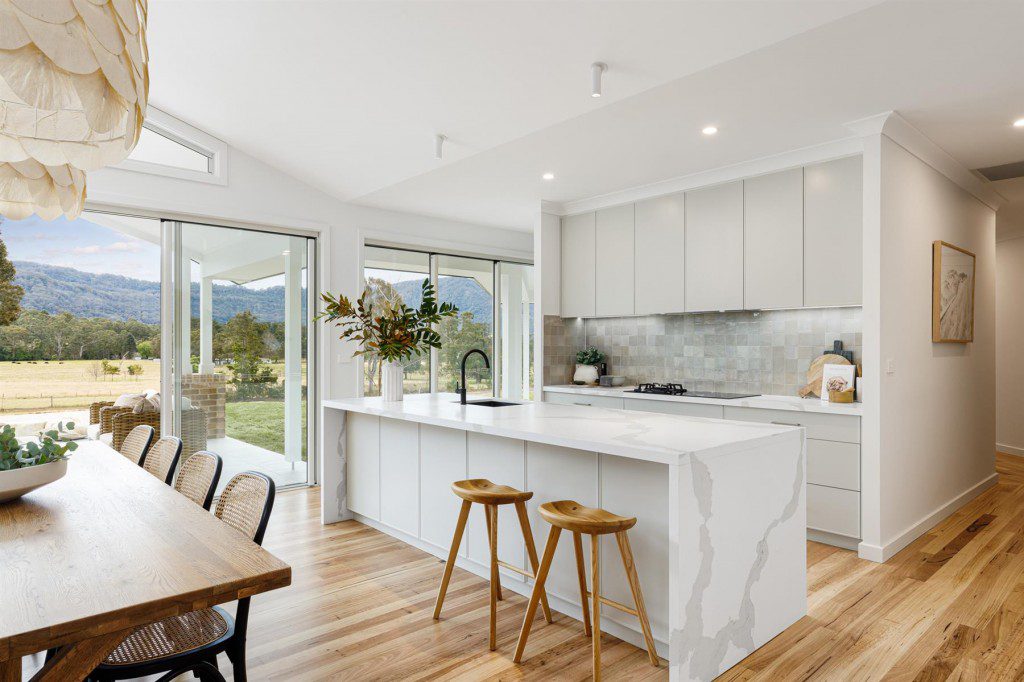 Hardwood flooring throughout your home always creates a luxe look, and paired with other Hamptons design trends, it creates a truly stunning space. With hardwood flooring, you add an element of nature to your home through the floor. The most popular hardwood types for a Hamptons home includes white oak, hickory, and maple in a wide plank style, which is finished with a white or grey wash or stain to keep that light, airy feel. Through this Hamptons flooring style, you can add texture and depth to the space in a subtle and seamless way depending on how the hardwood is laid. A herringbone pattern throughout creates a barely-there movement in the space and lets the unique tones of the wood be showcased. Hardwood is also a famously durable flooring option, as it stays naturally resistant to scratches and dents and can be sanded and refinished as your home ages. Although a major investment, hardwood floors make for a timeless home that will only enhance your Hamptons style and can even complement any new look as well.
Hamptons Style Vinyl Flooring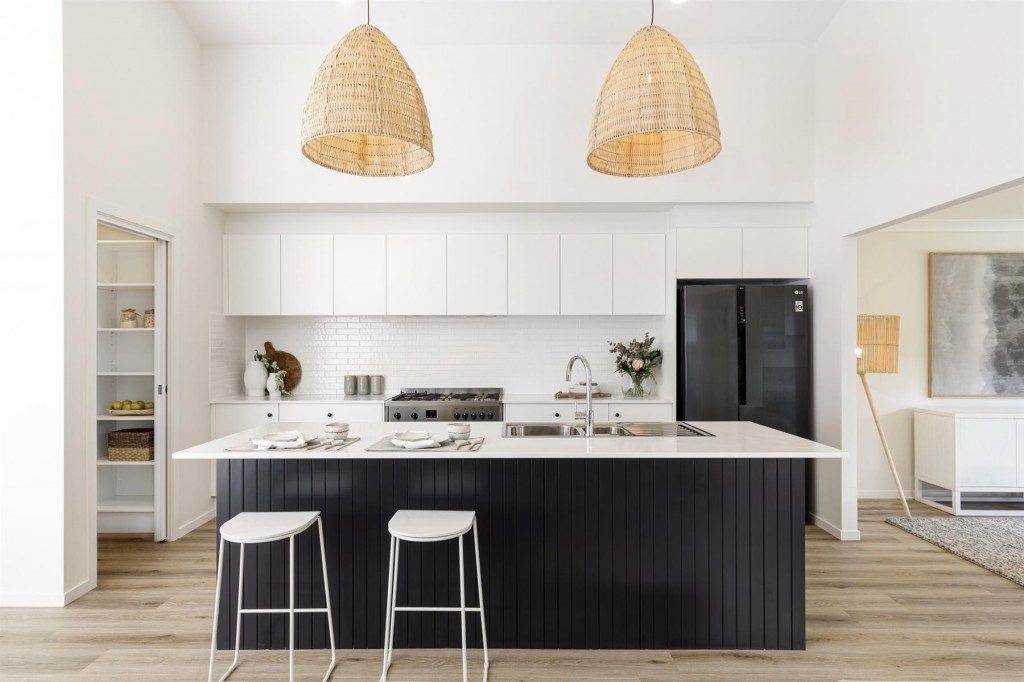 Thanks to today's construction innovation, vinyl flooring lets you achieve the look of hardwood floors without the price tag. Vinyl flooring mimics the unique texture, look and colour of hardwood through a vinyl material instead. G.J. Gardner Homes' vinyl flooring options perfectly capture the Hamptons look, with light toned wood looks that will bring texture and dimension to any space. Just like hardwood, vinyl is highly resistant and durable to all of life's chaos. In fact, the synthetic material makes it easier to clean and more comfortable to stand on. Hamptons style vinyl flooring offers you the natural look of hardwood that's more economical, with more versatile ways to install and customise.
Hamptons Style Tile Flooring
Hamptons style tiles embrace the coastal theme of this design style. Tiles are an iconic part of the Hamptons style and were originally embraced for their functionality. As many of us can attest, tiles are ideal for sandy feet and beachside living. Best suited to laundries, kitchens and bathrooms, Hamptons style tiles tend to stay a neutral colour or incorporate those deeper accent colours like navy or grey. The tiles themselves can create interesting patterns like herringbone or feature a unique and ornamental design. As a flooring material that's famously durable, tiles are great for families as they're resistant to water damage and stains. Hamptons style tiles are a practical flooring option, that lets you incorporate the design's colour palette and bright look.
Hamptons Style Stone Flooring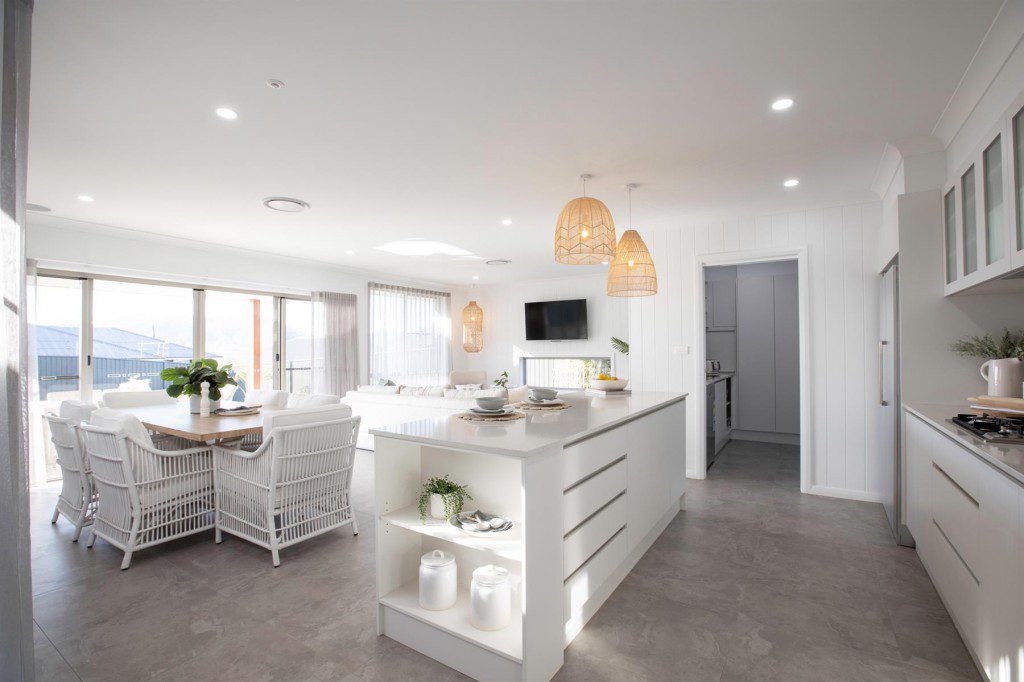 Stone flooring is widely known to create a refined and elegant look, due to its always one-of-a-kind appearance. With Hamptons style homes, stone flooring is a popular way to keep that connection to nature. Stones like marble, limestone, or travertine offer your space a subtle texture in a range of light and neutral colours. From your living space to areas like bathrooms and laundries, stone flooring emulates the core ideas of Hamptons design by providing a luxury look that lasts. This flooring type is known to be long-lasting and provides the perfect durable foundation that can withstand spins, scratches and stains. In a Hamptons-inspired home, stone flooring provides a great flooring solution that will add value and beauty to your home for years to come
Hamptons Style Carpet Flooring
Whilst Hamptons homes are famous for the hard flooring options, there's still the opportunity to integrate this design style through carpet. Light-toned carpets in creams, white or natural weaves create an airy and bright space, whilst the soft texture creates warmth and comfort. Carpet flooring is the perfect option for a Hamptons home's bedrooms and keeps these personal spaces comfortable and cosy through the famed Hamptons colour palette. G.J. Gardner Homes boasts a wide range of carpet styles so you can find an option that's in your budget and Hamptons home look.
How to choose the right flooring for your Hamptons style home
Hampton's home design style is so popular due to its adaptability and can be easily achieved no matter your budget or preference. Get in touch with our G.J. Gardner Homes design experts today to learn more about our range of Hamptons style flooring options, and which one will be right for your home.