Designing & Inspiration
Feature Wall Ideas
From considered cabinetry to aesthetic accents like feature walls, the true secret to creating beautiful homes is in the details. There's a medley of minor edits, tips and hacks we make from the initial planning to the final finishes that end up enhancing your home.
With each G.J. Gardner Homes project, we want to embody your personality throughout the space so the home can truly feel like you. A feature wall is a great way to add flair and flavour to your space, whilst keeping the integrity of the overall design and layout. Even better, feature walls are easy to change and transition as your taste naturally changes.
Cost-effective, creative and customisable; the feature wall is the ultimate addition to any home's design. Whether adding depth or letting your experience a style without the commitment of the whole room, feature walls are one of G.J.'s favourite design techniques.
What are feature walls
This design detail involves decorating one wall differently from the other walls of the room. Feature walls are usually executed through a different paint colour, panelling or wallpaper to create a unique and bold look. Easy to integrate, feature walls can work across the home from utility spaces like the kitchen and bathroom to even bedrooms and living spaces.
At its best, a feature wall is a simple yet stylish way to transform your space through unique colours, textures and patterns – without any major commitment of time and labour as well. Through a singular feature wall, you add visual interest to your home which draws the eye and creates a one-of-a-kind look to your home's most essential spaces. By contrasting against the rest of the room, the feature wall serves to create a sense of depth, making the room feel more cosy or spacious depending on the style you choose.
Feature walls ideas
Due to their versatility, a feature wall can be utilised anywhere throughout your home and through a wide range of materials. From wallpaper to tiles, you can find the right material for the location.
Painted feature wall: simple and affordable, a different shade of paint on one wall is a convenient way to try the feature wall look.
Wallpaper feature wall: with patterns and texture that can mimic a range of looks from classic scenes, metallic finishes and even brick or wood, wallpaper is a great way to elevate your space with a one-of-a-kind look.
Wood panelling feature wall: when left natural or painted, wood panelling creates texture and depth on the wall through a traditional look or geometric design.
Stone feature wall: as a beloved feature of mid-century home design, a stone feature wall is a great way to add natural materials into your home. Stone offers unique colours and textures to transform the space which can work in utility and personal areas alike.
Tile feature wall: most popular in kitchens, bathrooms and laundries, enhance your classic tile splashback to a feature wall. Due to its water resistance, tile works best for these wet rooms, providing both an aesthetic and efficient look.
Feature walls in living room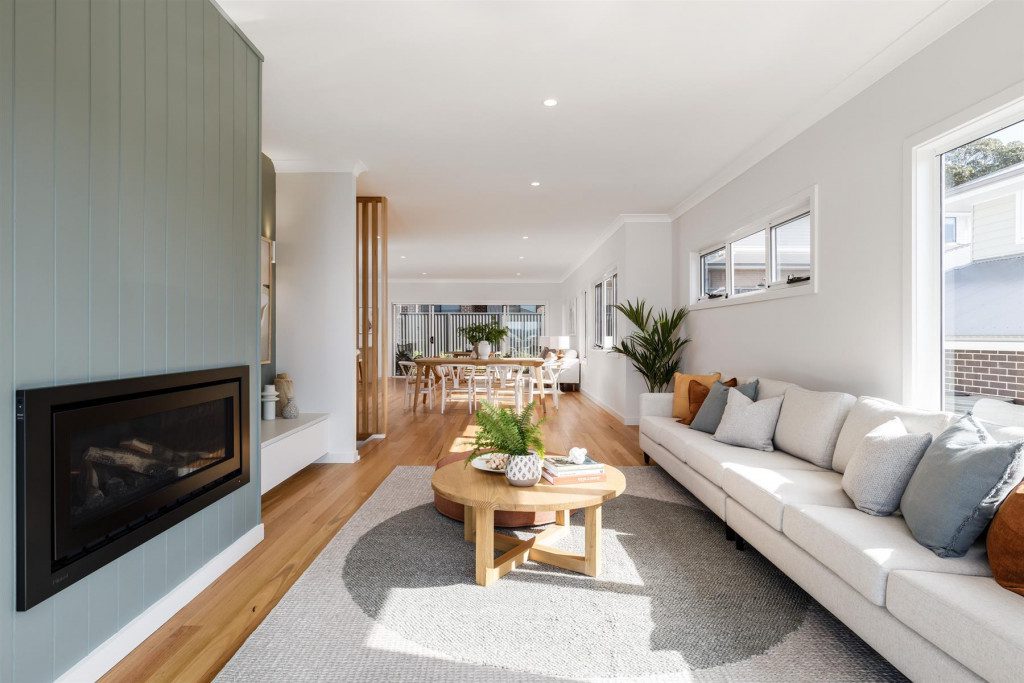 G.J. Gardner Homes has been embracing open plan living throughout our home designs, so many of our living rooms now share the space with the kitchen and dining room. A feature wall in your living room can help to define the space by creating contrast against the rest of this central hub.
Materials like panelling, stone, wallpaper and colours can help to transform the feel of your lounge room. A living room feature room adds an elegant and bold look to create a unique and intriguing final look.
Outdoor feature walls ideas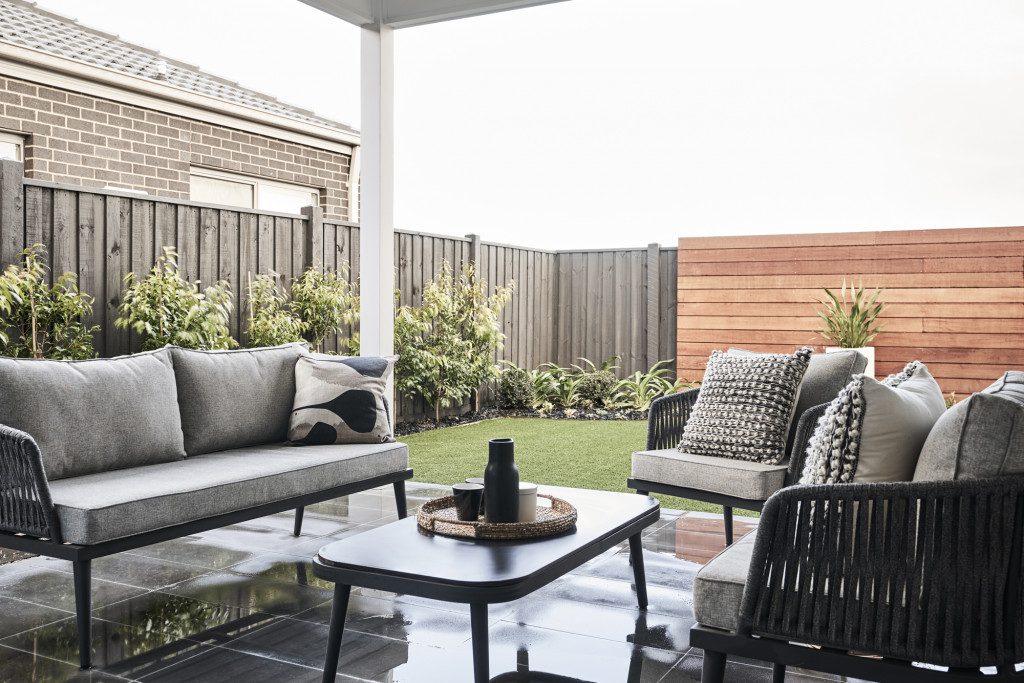 In the outdoor areas of your home, a feature wall is functional as well as aesthetic. Durable materials like tile and stone can combat the elements, resisting chips, cracks or deterioration. A stone or tile feature walls let you add a design aspect to your outdoor area to elevate the alfresco area. Depending on the style, this feature wall can set the tone of your home's outdoor entertaining space.
A stone feature wall creates a Hamptons look that could continue the interior style to the outdoors, whilst a tile feature wall offers a coastal look for an all-year summertime feel.
Bathrooms with feature walls
In this wet room, a feature wall is a great way to level up the typical splash back look with bold colours, finishes and textures. For a more eclectic and editorial look, a wallpapered feature wall in your bathroom adds a unique elegance. Alternatively, stone and tile feature walls are a great fit for your bathroom, ready to withstand water and steam.
Through a bathroom feature wall, you can reimagine the classic look and style of the common bathroom. With these one-of-a-kind detail, your bathroom can finally rival a sanctuary with a luxurious and elevated look.
Master bedroom feature walls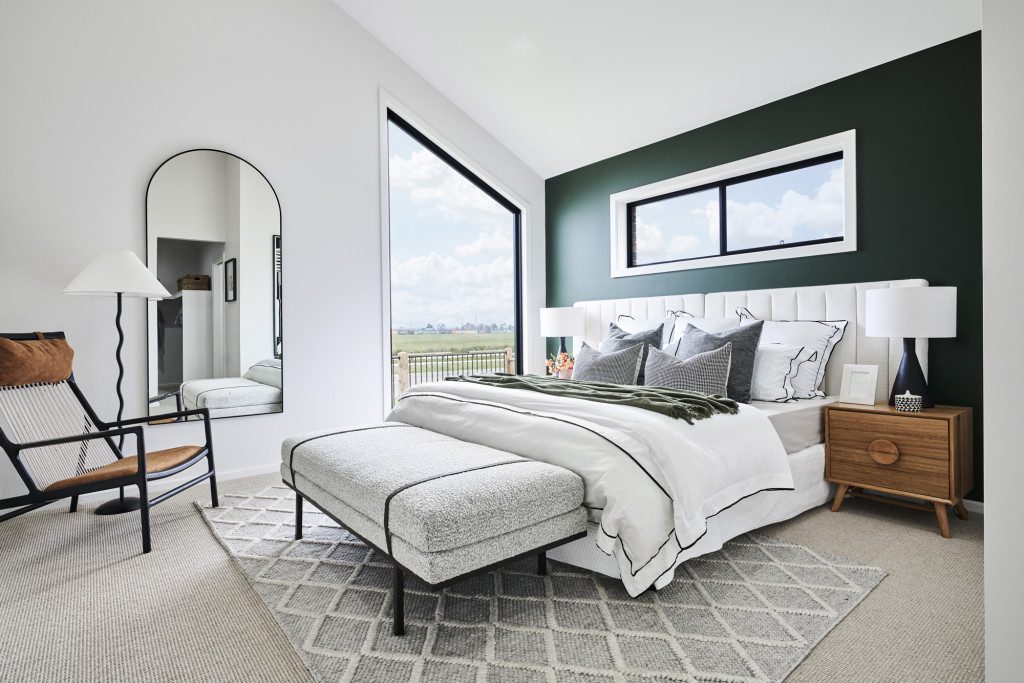 In the bedroom, a feature wall can help act as a headboard, creating contrast with the rest of the room. There's no limit to the materials and styles you can use in the master bedroom. Everything from tiles and stone to wallpaper and wood panelling can work effortlessly in this space.
A geometric wood panelled feature wall continues to trend in master bedrooms, providing a dynamic look. Beyond the range of styles and finishes, you can opt for, a wood-panelled feature wall can help absorb sound as well, providing a dually functional and fashionable service.
How many feature walls can you have
When it comes to these final design details, G.J. Gardner Homes believes it's always up to you! There's no limit to the number of feature walls that'll work in your space, and our design team is ready to work with you to find the best way to use this style.
To learn more about our design approach, get in touch with our friendly G.J. Gardner Homes team today.