Designing & Inspiration
Designing An Outdoor Entertaining Area
Entertaining in Australia usually means one thing – the outdoors. No matter the season, time of the day or size of the outdoor area, we tend to naturally congregate outside when gathering with family or friends.
If you're especially fond of hosting backyard barbecues, afternoon drinks or dinner parties, your home outdoor entertaining area should provide the ultimate atmosphere for you and your guests.
Whether you'd like to create an extension to your indoor living space, an alfresco dining area or a simple space for backyard seating, we've gathered the top outdoor entertainment area ideas in Australia.
Before you dive into designing your new space, let's explore the key points you need to consider.
Let's pick the layout
When deciding on a layout, it's important to first think about the main purpose of your outdoor entertaining area. Do you mostly barbecue, gourmet brunch or shake cocktails? You'll want to design a space that compliments your entertaining style with a layout that's suited to your needs.
If an outdoor kitchen or barbecuing area is a must, create a multipurpose layout by dividing your space into zones separated for cooking, eating and drinking, and relaxing. Encourage flow throughout the space by keeping an open area in the centre.
If you're limited by space or your entertaining style is a little more laidback, you can create an intimate layout with a few small seating areas for leisurely lounging.
Mapping out the materials
You can build a modern outdoor living space with materials such as timber, stone and concrete, which can also be weatherproofed to withstand the elements.
If your outdoor entertainment area is going to be an extension of your home, use the same materials to create architectural cohesion. For more inspiration, read our blog on connecting indoor and outdoor spaces.
Say goodbye to overgrown grass or unsightly pavement and introduce durable and functional flooring that compliments your interior style. Timber decking can add natural style and warmth to your space, or if you're looking for durable, low maintenance alternatives, consider polished concrete or stone. For an eco-friendly option, ask your builder about using reclaimed timber or recycled wood.
Picking the right plants
Impress your guests with a beautifully planed garden. Greenery will not only create a calming atmosphere, but it will allow you to create a true outdoor experience.
If you don't plan on dedicating your weekend to landscaping, or you aren't the most promising plant parent, opt for native plants. Australian natives are truly breathtaking and will naturally thrive in your backyard- no special treatment required.
Trending vertical gardens are also easy to maintain and can have an impressive effect on your outdoor entertaining area. You can start with a few simple climbers or completely cover a wall in foliage. If you'd prefer to keep things simple, potted plants are a stylish option. Incorporating potted plants into your landscaping makes a yard not only more low-maintenance but also more versatile. Potted plants are an easy way to add colour to different parts of a yard and can be moved as necessary. Why not plant a few of your favourite herbs for a green finish that's both fragrant and functional.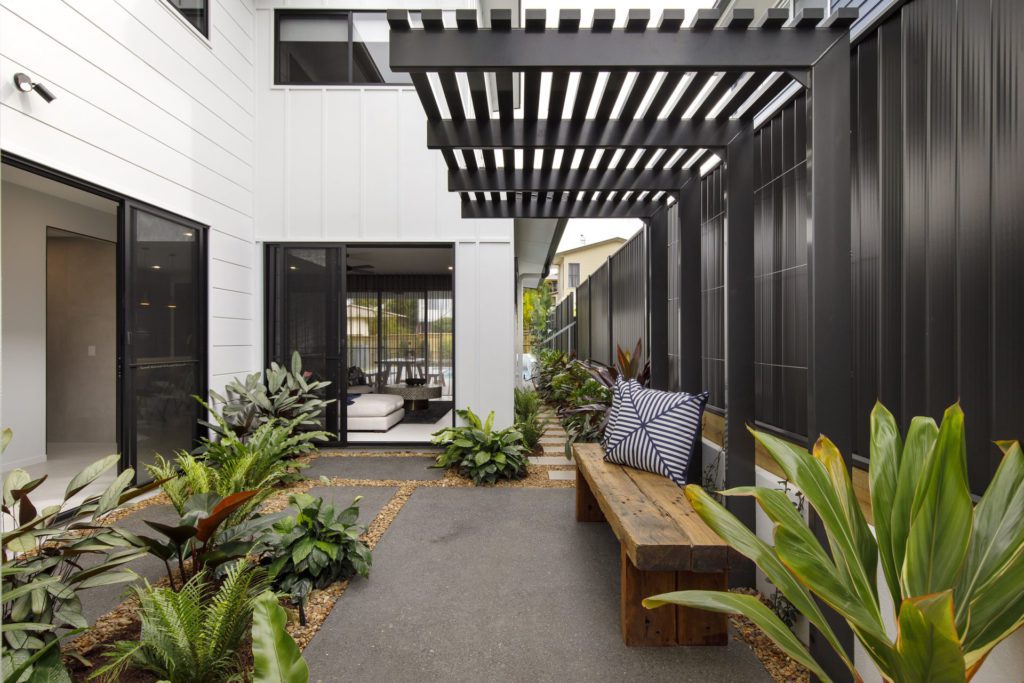 Talking Tech
We've come a long way with outdoor entertainment area designs, and they'll now, more often than not, include tech features to enhance the comfort and functionality of the space.
Lighting, audio, fans and wifi can transform your space into the ultimate entertaining area. Include fans or heating if you entertain in every season, install an outdoor theatre if you stream sporting events and be sure to extend your wifi to the outdoor area for an uninterrupted connection.
Smart home technology can add even more value to your entertaining area with automation and energy-saving features. If your garden is your pride and joy, you might want to invest in a smart sprinkler system to schedule your watering.
Start designing your dream outdoor area
There's no better space to relax, unwind and entertain than in the great outdoors. Build a seriously great outdoor entertaining area by considering the layout, materials, greenery and tech features. If you're interested in building your dream outdoor space, team up with one of our new home design consultants, who are experts in collaborating with clients to design and build their dream homes.
If you're simply looking to upgrade your existing area, take a look at the outdoor entertaining area ideas on our inspiration page.
Contact your local G.J. Gardner office to learn more or to get started on adding an outdoor entertaining area to your home design.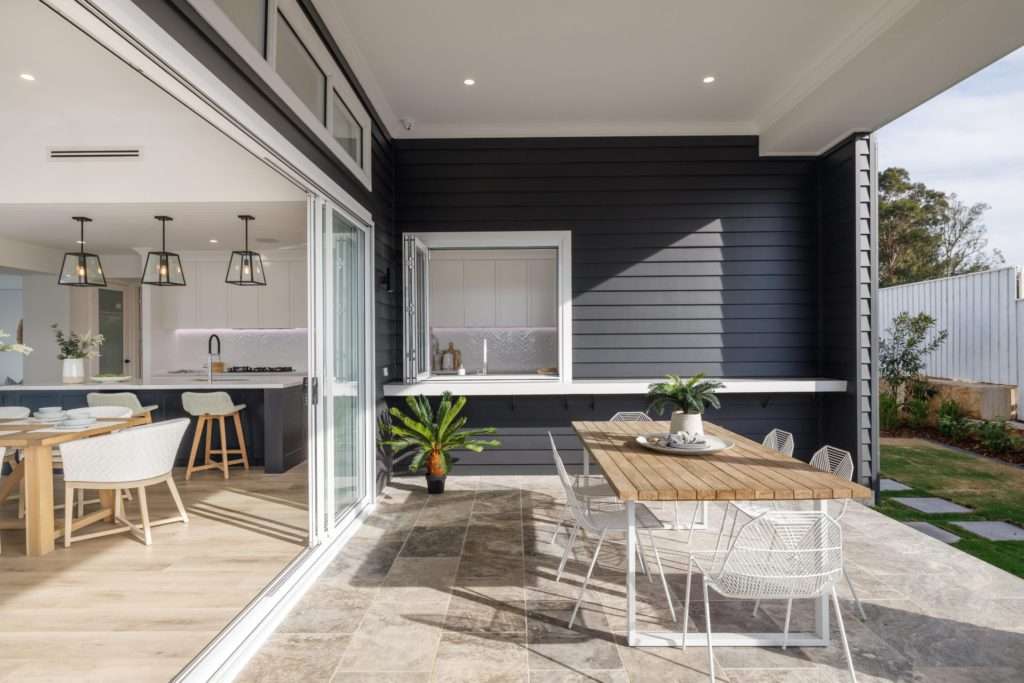 FAQs
How much does it cost to build an outdoor entertaining area?
The cost of an outdoor entertaining area will depend largely on the size of the space, whether you're upgrading an existing area or starting from scratch. You will need to consider the cost of materials, labour, landscaping and any additional tech features you want to include to enhance the space. Speak to your local G.J. Gardner office to organise a personalised quote.
How do I style my outdoor area?
Your outdoor area should be an extension of your interior design. Choose furniture that's suited to the size of your space, consider comfort and views when positioning and opt for long-lasting materials and textured fabrics that are suited to outdoor living.
Mimic your indoor colour scheme and decor to create a cohesive look, and use plants to make your space calm and inviting.
How can I make an outdoor area more inviting?
Outdoor entertainment designs can be made more inviting with various building and decorating elements.
Use materials like timber for natural warmth or install a fireplace or pit for cosiness in winter. Colour and pattern, lighting and comfortable furniture can also help to create a welcoming space.
Try to avoid clutter with furniture that doesn't suit the size of your space. Choose chairs and tables that allow the area to flow and don't block entries or pathways.
What makes a great outdoor space?
Great outdoor entertainment areas are defined by functionality, comfort and style. Your dream space will be one that's perfectly suited to your lifestyle. It should include all the features that are important to you and should align with your entertaining style.
Ensuring that your outdoor space suits your lifestyle will allow you to make the most of the outdoor space available. Consider how you want to use the space, is the focus entertaining large groups for a Sunday BBQ that would require a large dining table? Or will the area be used for sunbathing, lounging and afternoon drinks?
A G.J. Gardner consultant can collaborate with you to come up with design ideas that are best for your home and lifestyle.