Designing & Inspiration
A Guide To Modern Hamptons Style
For a while now, an exclusive beachside community on the other side of the world has had a disproportionate impact on the look and feel of Australian homes — and there's no sign of it stopping.
You guessed it, we're talking about Hamptons.
'The Hamptons' style is continuing to make waves across the Pacific by influencing home designs Down Under.
Maybe it's the timeless sensibility, maybe it's nostalgia, or maybe it's the movies.
Or perhaps it's a combination of all three, with a convenient connection to the light and breezy Australian lifestyle. A sophisticated yet beachy feeling often shines through, creating an effortless coastal vibe.
Say g'day to Modern Hamptons
In Australia, our interpretation of Hamptons is often a contemporary one, taking the traditional American vibe and turning it on its head. This 'Modern Hamptons' style is about putting your own personalised spin on a proven trend, often through bending the rules when it comes to colour.
Modern Hamptons is a popular look because it blends the traditional Hamptons-style elements with a contemporary and refreshed colour palette.
The Modern Hamptons colour palette

Traditional Hamptons style is earmarked by a muted colour palette featuring blue accents. Modern Hamptons, on the other hand, isn't afraid to be bold.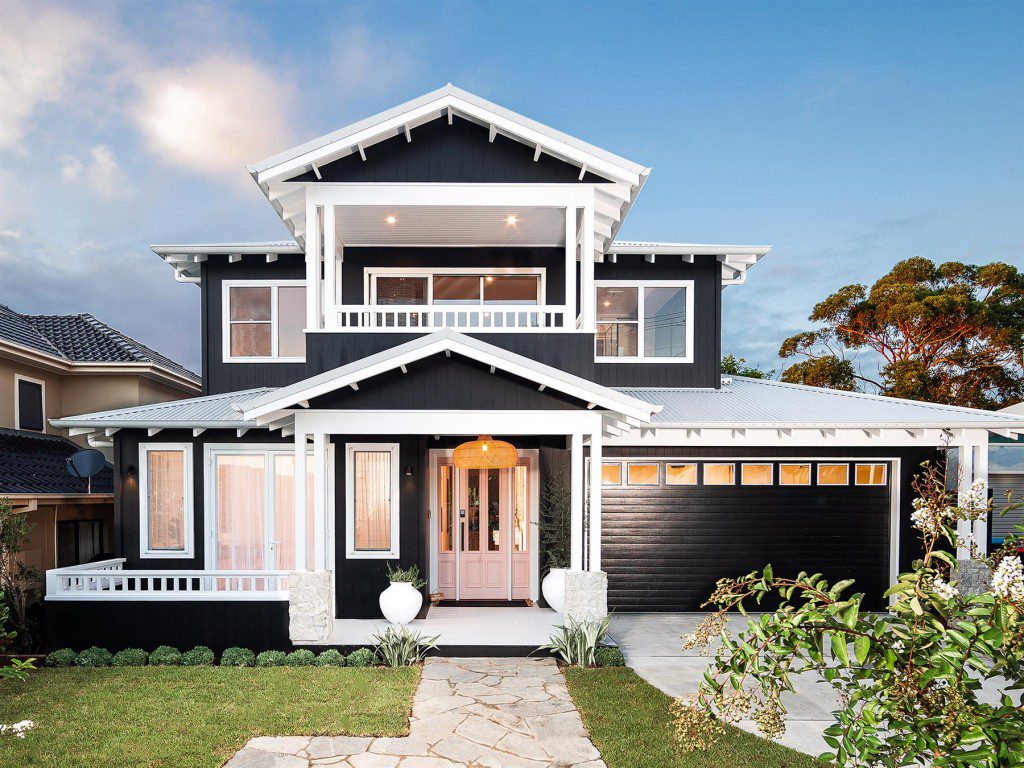 Take the Freshwater home design. The facade of this display home in Sydney's northern beaches uses traditional Hamptons textures like wooden VJ panelling and stone, with contemporary colours like black and pale pink.
It brings a contemporary feel to the facade and, combined with the black panelling, makes for a richer overall impression.
The colours you choose are up to you — whether it's moody, striking, calm or neutral, ensure you're incorporating natural textures to keep the Hamptons vibe alive.
Modern Hamptons textures
Natural materials will always be a mainstay of Hamptons design – think wood, stone, linen and marble. You can incorporate these textures in spades throughout your home, from the exterior to the interior including furniture, surfaces and finishes.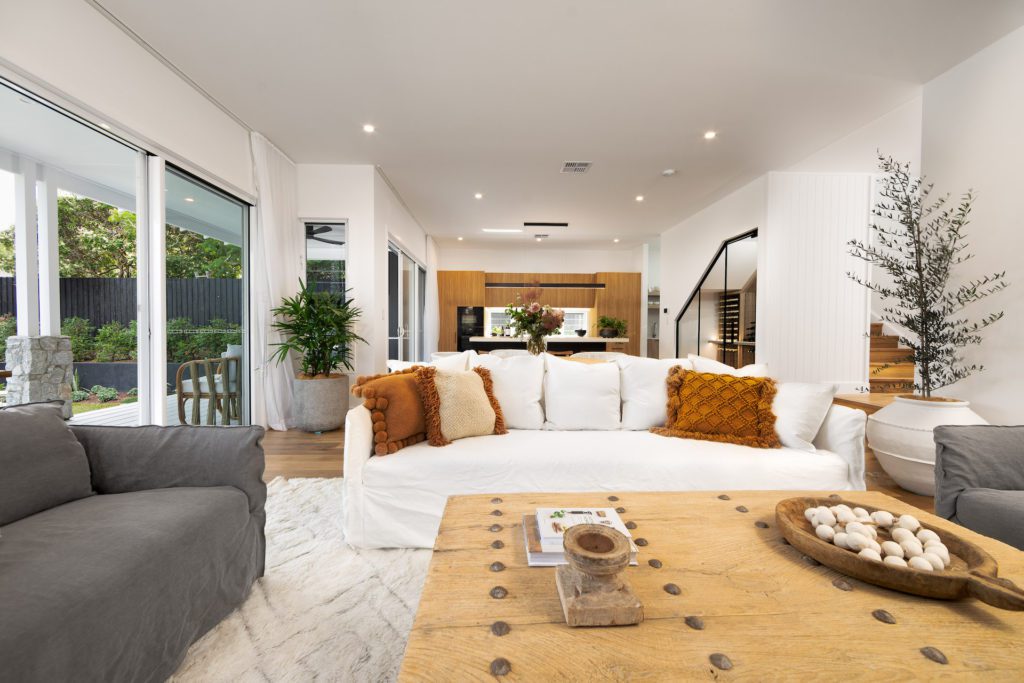 For a contemporary take, consider incorporating on trend textures like:
Matte black metal
Brass, anthracite or brushed nickel
Polished concrete
Indoor greenery
Finishing touches
The key to styling a Modern Hamptons home is honouring the traditional approach (think pendant lighting, linen furnishings) using a contemporary and creative interpretation.
For example, you might stick with traditional wooden and marble textures for your bathroom and kitchen surfaces, but opt for warm metal finishings with clean lines to modernise the look.
Rather than the traditional nautical prints and driftwood, you might choose a woven grass wall hanging or an abstract print in your chosen colour palette.
Planning your Modern Hamptons home
Colour, texture and styling will get you 90% of the way there, but in order to really succeed you can't consider these elements in isolation. You need to have a plan.
It sounds obvious, but taking the time to consider all the surfaces, finishes and inclusions across your home will help you achieve a cohesive Modern Hamptons look.
Want to work with our design team to plan your dream Hamptons home? Contact us.
Our Hamptons Home Designs