Designing & Inspiration
2023 Kitchen Design Trends
Our open plan home designs make kitchens the heart of the home to gather, cook and unwind. Our most recent design have embraced 2023's leading kitchen design trends to create modern and stylish looks that you'll love.
From our growing emphasis on sustainability to our updated kitchen classics, 2023 has seen an array of exciting new trends dominating our kitchen designs. With the ultimate balance of form and function, our kitchen designs features refreshed and revived details for the perfect home design.
This year, design trends have emphasised clean lines and fresh colourways to make our homes feel beautiful, airy and luxe. With the time we're spending at home increasing, our home designs are looking more elevated and deluxe. Discover our guide to 2023 kitchen design trends.
Kitchen Design Trends
Modernised minimalism
Our latest minimalist kitchen designs offer classic clean and sleek lines with a monochromatic colourway. The minimalist approach makes your kitchen clean and clutter-free from the foundation with white benches and black details. The simple classic look of a minimalist kitchen creates an enhanced functionality
This 2023 kitchen design trend has taken inspiration from classic Scandinavian design, an approach that's always committed to functionality. Black cabinetry minimises the looks of wear and tear whilst the minimalist look keeps this central part of your home clean and clear.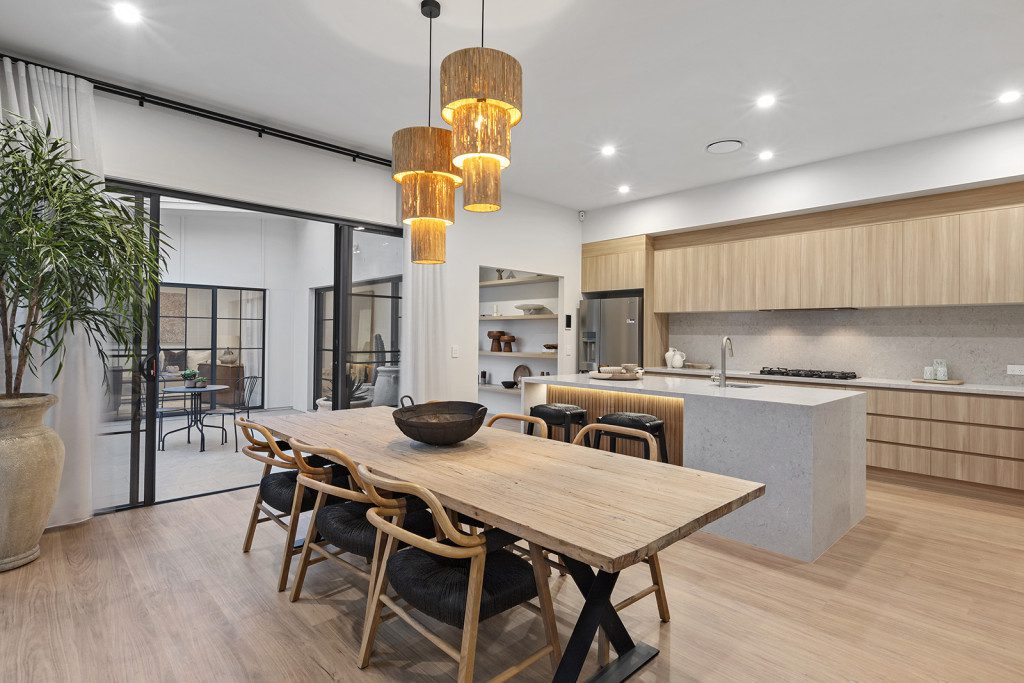 Warm woods and earth tones
Another leading trend incorporates natural materials into kitchen designs, letting elegance seamlessly merge with practicality. With this design, nature takes centre stage through the likes of timbers, oaks and stone or even inspired by materials like vinyl.
This trend has been designed to accommodate the busiest of families with the durability of natural materials. Discover an array of colours, washes and finishes to achieve an organic and warm feeling throughout this major hub of the home. By 2023, natural elements in the kitchen remain one of the leading kitchen design trends as Australians seek to incorporate soft and inviting elements into their home.
Colourful cabinetry
This year, colour is being infused into our kitchens after several years dedicated to white and sleek kitchen designs. Colourful cabinetry is the latest kitchen design trend that lets you incorporate bold and expressive hues into your living area. From dark navy blues to muted greens, colour cabinetry can energise your kitchen to make an immediate impact.
The trend of jewel tones in the kitchen space steps out of the traditional kitchen designs to create a charming atmosphere. The colour in your kitchen becomes a focal point, capturing a sense of both style and spirit.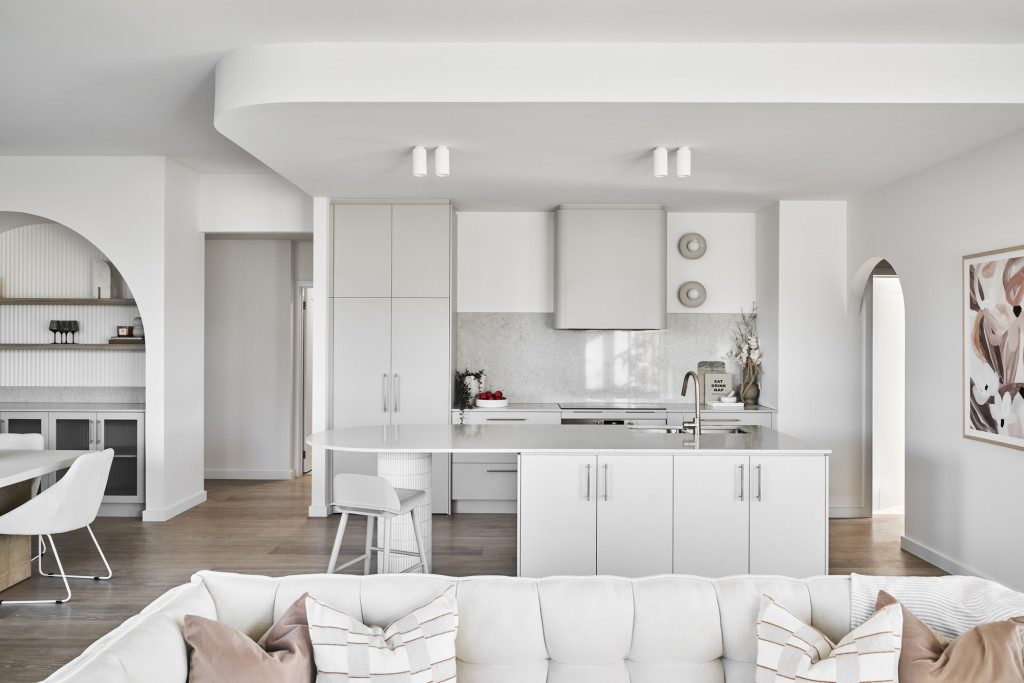 Textured white
2023 has seen an update to the common design choice of pure white kitchens by adding the flair and intrigue of textures. Textured white cabinetry includes the likes of raised panel designs and textured finishes like tiled splashbacks.
Textured white cabinetry offers a versatile canvas for personal expression and design flexibility. It effortlessly complements any interior style, from modern and minimalist to farmhouse-inspired or coastal chic. From vibrant backsplashes and elegant countertops to eye-catching fixtures, creating a visually balanced and harmonious look whilst maintaining that classic white look.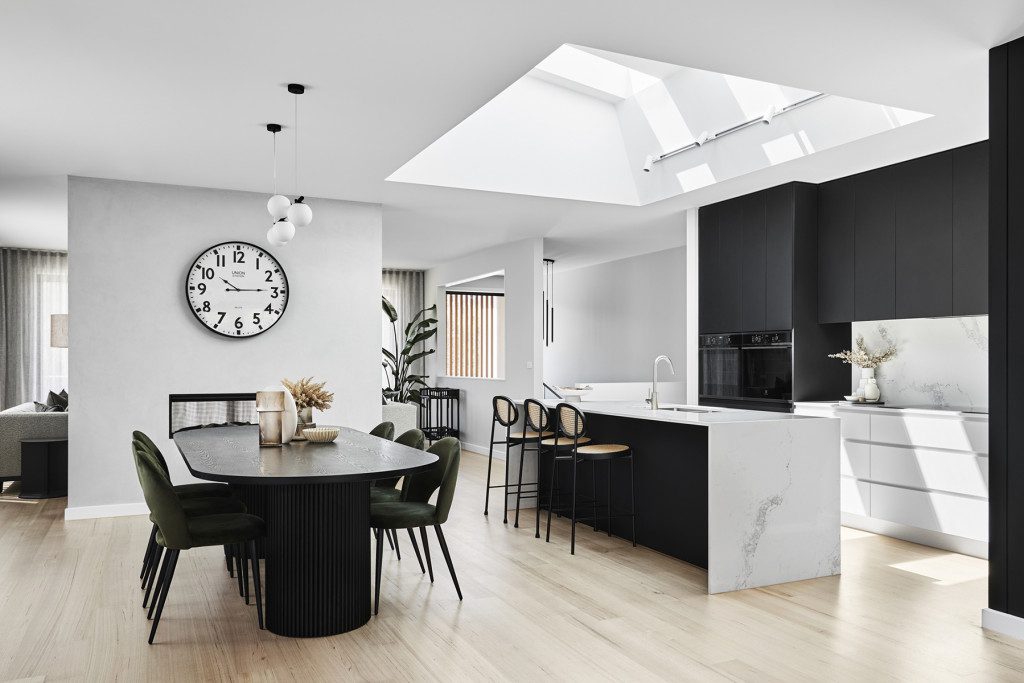 Illuminated spaces
Natural light continues to be a force within the design world as Australians are interested in enjoying the benefits that come with light-filled spaces. The strategic use of skylights and carefully positioned windows create an inviting and uplifting ambience and has become a leading kitchen design trend.
The use of skylights over your kitchen maximises brightness in your kitchen and living space without taking up crucial wall space. If your home design allows for it, oversized wall windows or clerestory windows are another must-have in your kitchen design. Abundant daylight is an increasingly essential ingredient in the design to create a welcoming and energised space.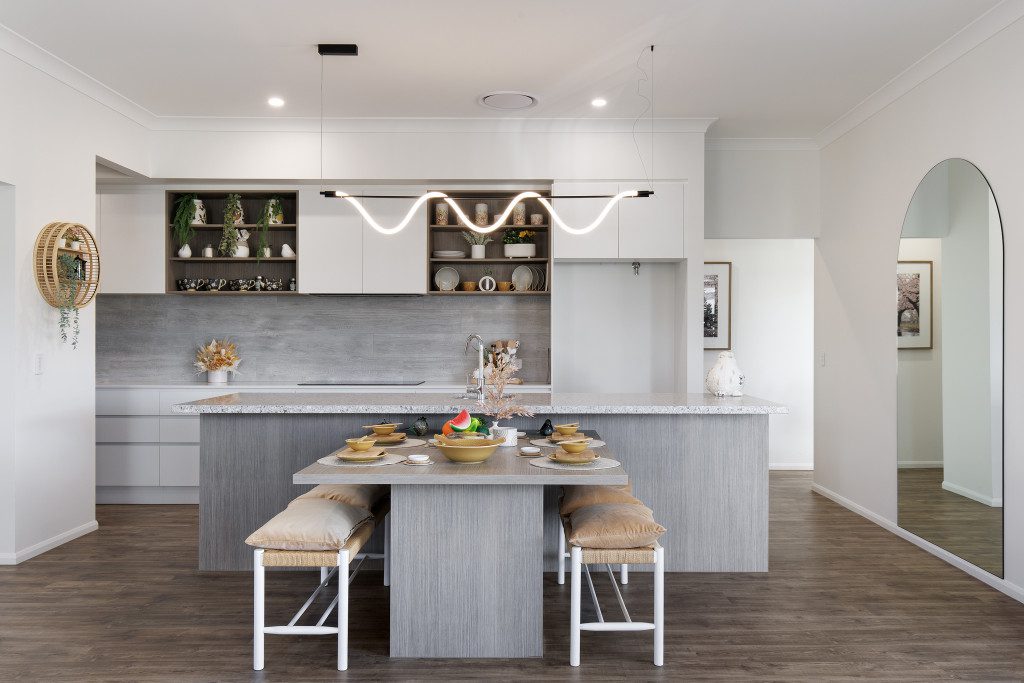 Family-centric kitchens
As the kitchen continues to become the central gathering place for families, family-centric design is beginning to trend. These design approaches seeks to make the kitchen functional and comfortable for everyone by promoting a sense of connectivity and fostering meaningful interactions.
This kitchen design trend seamlessly integrates the breakfast bar or low table into the overall kitchen layout, ensuring a harmonious flow between cooking, dining, and time together. Whether it's a weekday meal or a special occasion, these family-centred kitchens nurture a sense of unity and create a welcoming atmosphere for all.
Get in touch
Looking to learn more about the latest kitchen design trends of 2023? Reach out to your local G.J. Gardner Homes office and our friendly team can take your through the leading materials, finishes and details in our current homes.