Sustainable Homes
G.J. Gardner Homes Works with Fifteen Trees to Reduce Carbon Footprint
In close partnership with Fifteen Trees, G.J. Gardner works with community groups to give back to the environment.
For over nine years, our G.J. Gardner franchisees have worked closely with Fifteen Trees and local environmental groups to plant over 76,711 trees to reduce the overall carbon footprint created by building homes.
Across Australia, our dedicated franchises have turned out year after year to give back to their communities and uphold the G.J. Gardner Homes values.
Our values and the G.J. Way of doing things aren't just limited to building you a quality home but also extend to servicing and positively impacting our local communities. Our builders are a significant part of their local communities. They collaborate with social groups like Fifteen Trees to ensure that we are doing our part to make their local areas an enjoyable place to live for many generations to come.
Want to find out more about Fifteen Trees and how you can support the cause? Find out more below.
The Fifteen Trees Story
With core values such as permanency, transparency and credibility, Fifteen Trees embodies the true Aussie spirit of giving back.
Founded in 2009 by then high school teacher Colleen Filipa, Fifteen Trees has continued to grow and flourish.
With a background in environmental science and experience working with her local LandCare and other sustainability groups, Colleen knew that environmental group always had to fundraise to buy trees and heavily relied on volunteers to get the work done.
She wondered if companies could help pay for the trees and work with these community groups to help the environment. From here, Fifteen Trees was born.
Alongside teaching full time and having small children, Colleen started reaching out to companies asking how many cars they had in their fleet and would work out how many trees they would need to plant each year to reduce their carbon footprint.
From here, the social enterprise continued to grow and evolve. Alongside their work with G.J. Gardner, Fifteen Trees also collaborates with functions, events, conferences, airlines and flights to plant trees and reduce their carbon footprint.
The Fifteen Trees Impact
To date, Fifteen Trees has helped plant over 200,000 trees across Australia and New Zealand and is now even helping plant trees in Uganda.
Established in 2009, the company operates with a small team of 6 and a host of native nurseries and community groups across Australia.
Fifteen Trees works with community groups, schools and local networks, where the locals can get actively involved with the tree planting and give back to their communities.
They only purchase trees from local and native nurseries to ensure that the trees get the best chance of surviving after planting. The local nurseries go out at certain times throughout the year to collect seeds from trees in the area. This ensures that all of the planted trees are indigenous to the site and will help the native animals thrive.
In collaboration with the local groups, Fifteen Trees plants trees on creek beds, sides of roads, reserves and even on private property. Wherever there is a need for local trees to revive the surrounding areas, Fifteen Trees can help organise a planting day.
So far, Fifteen Trees has helped plant over 250,000 trees in Australia and New Zealand but are working towards planting over 1 million trees.
The Environmental Impact So Far
With a focus on small communities, Fifteen Tree's impact is felt Australia wide. Even a few trees in a small community can make a significant difference in the lives and animals in the area.
Fifteen Trees is continuing to grow, and its partnerships with companies like G.J. Gardner are helping the impact show Australia wide.
G.J. Gardner's Partnership and Impact
Kicking off their partnership in 2013, G.J. Gardner's relationship with Fifteen Trees has continued to grow over the years. What started as a brief conversation with Master Franchisee Ross Morley, the partnership with Fifteen Trees has expanded to include over twenty-six franchisees across Tasmania and Victoria.
From Launceston in Tasmania to southern Victoria and up through central Victorian – thousands of trees have been planted with the help of G.J. Gardner franchisees.
For every home that the partnering franchisee's build, fifteen trees are planted in the local community to help reduce their impact on the environment and to help reduce their carbon footprint.
By the end of 2021, G.J Gardner will have donated over $380,000 to buy trees and will have planted over 76,770 trees across Tasmania and Victoria.
With trees being planted in almost every state in Australia and New Zealand, the impact grows every year. In the nine years that G.J. Garnder Homes franchisees have been partnering with Fifteen Trees, we have collaborated with:
26 independent native nurseries
45 Sites, including reserves, parklands, roadsides, school grounds, riverbanks & properties
30 Community groups
Not only do our franchisees donate money to purchase the trees, but they also join the community groups in planting native trees in their local area.
Alongside Master Franchisee Ross Morley, franchisees from across the country have picked up their shovel and have given back to their community.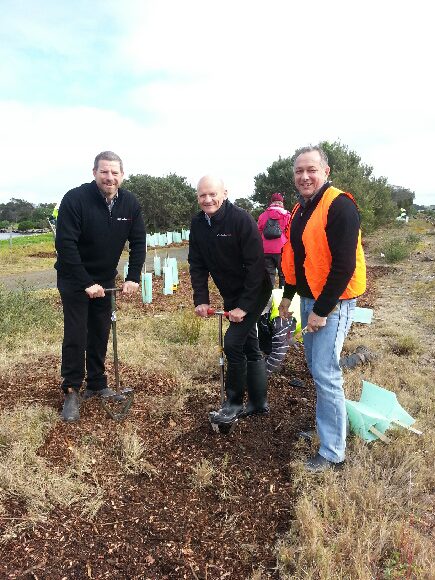 G.J. Gardner Trees Planted Per Year
| | |
| --- | --- |
| Year | Number of trees |
| 2013 | 3,300 |
| 2014 | 5,355 |
| 2015 | 7,181 |
| 2016 | 8,520 |
| 2017 | 8,235 |
| 2018 | 11,310 |
| 2019 | 11,865 |
| 2020 | 7,725 |
| 2021 | 13,080 |
Want to Get Involved?
Learn more and find a local tree planting near you at Fifteen Tree's website.