Building with G.J.
Feel the Joy Building
Did you know home buying ranks as one of the most stressful times in your life? Whilst the end result definitely pays off, home buying and building is most often a labour of love, requiring plenty of planning, care and patience.
Our clients are making major financial, emotional and time commitments every day, so in turn, we're committed to ensuring they feel the joy during this time as well. For many, building a home is also a once-in-a-lifetime experience. How many people get to witness their dream home becoming a reality? It's seeing the site of many future memories take shape that really makes it feel worthwhile. That's why G.J. Gardner Homes wants our clients to truly feel the joy building.
The G.J. Way
Over the past 40 years, G.J. Gardner Homes has been distinguished for its unique and renowned approach to building. It's what we call the G.J. Way.
We provide you with a streamlined, engaged and transparent process. Through upfront pricing plans and no hidden costs, you enjoy the peace of mind and project oversight to feel confident during this process. We want you to feel involved and hands-on, so the final product can be everything you envisioned.
Why do we do this? Because this is your future home and we want you to feel included and empowered throughout the design and construction stages. The G.J. Way relies on collaboration so your home can be customised to suit you and your family's needs. Through our decades of home building, G.J. Gardner Homes has seen the highs and hardships of the home building journey and have used this experience to craft such a unique building experience.
Across the country, our franchisees are dedicated to taking the G.J. Way on every project so you can enjoy this premium experience no matter where you live across the country.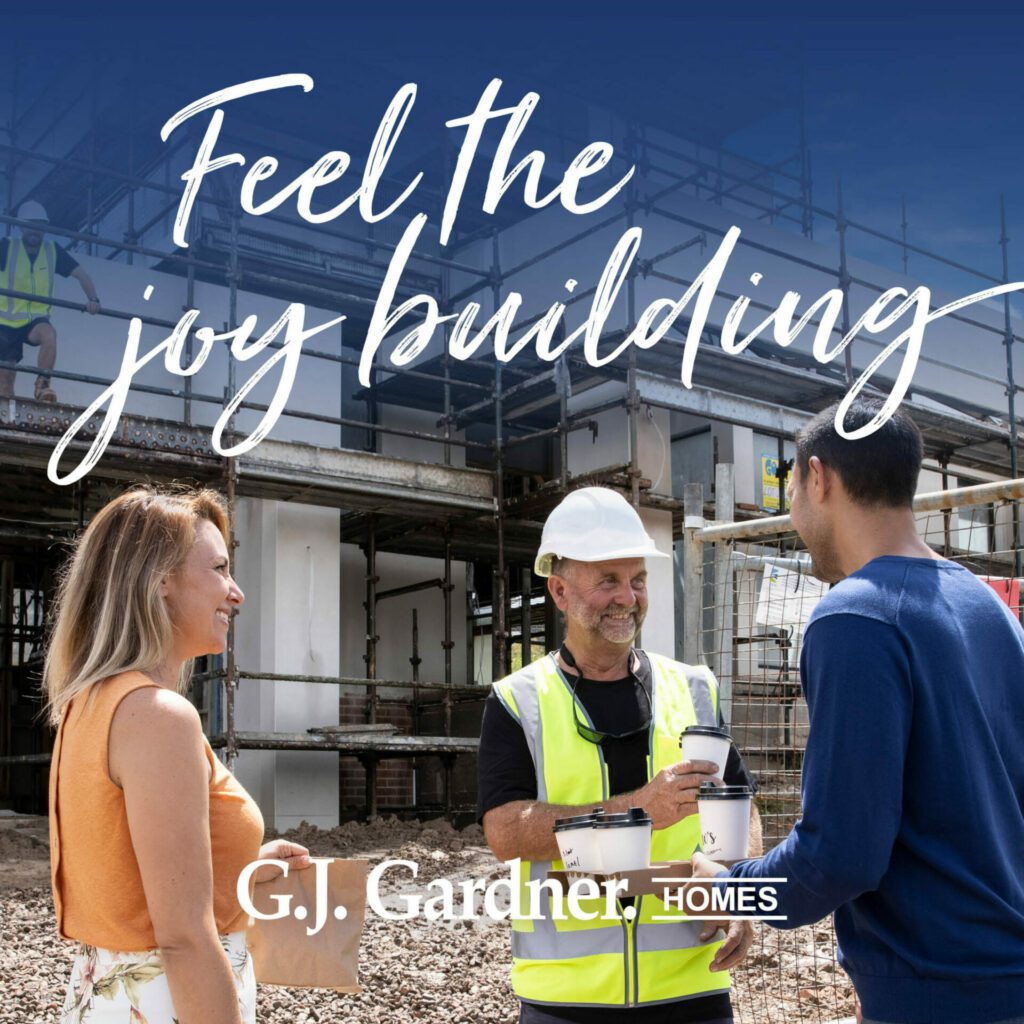 Feel the Joy Building
From initial viewings to signing on the dotted line, building a home is actually a twenty-two-month journey. Whilst the end result is always exciting, G.J. Gardner Homes want to ensure the joy extends every step of the way over what could be nearly two years.
With every stage, you and your family are exploring the options and making the decisions that'll decide what will be your forever-home. Every step has a lasting impact on your future daily life, and there's naturally a lot of emotion and elation that comes with these moments.
Through our wide array of layouts and styles, you have the freedom to play, create and customise. With different colours, finishes and styles to pick from, you get to work alongside our designers to perfect how your home will look and live. G.J. Gardner Homes' commitment to sustainable building also offers you the joy of knowing your home has future generations in mind and is being built to last.
G.J. Gardner Homes wants you to feel the joy building. From collaborating with local franchisees to the final handover, joy is one of the major emotions of this process that shouldn't go uncelebrated and is there at every part of the journey.
Feel the Joy Building Today
Get in touch with our friendly team today and make the first step of your home-building journey. Find your local office now.