Cost to Build
Construction Loans Australia: What are they, and how do they work?
Looking to build your dream home in Australia? If so, it is essential to understand the specific loans that can help you on your home building journey.
What Is A Construction Loan?
Construction home loans are a specific form of home loan intended for people commencing a new home build or undertaking major renovations instead of buying an established property. These loans were specifically created for home builders to withdraw instalments of money from a pre-agreed loan amount at various stages of construction. These instalments are commonly referred to as progressive payments or progressive drawdowns.
How Do Construction Loans Work?
Construction loans and traditional home loans are intended to serve the needs of different customers and therefore operate differently. When purchasing an established home, the purchaser needs a single payout of money to purchase a property. This is why a traditional home loan is a single lump sum of money borrowed from a financial institution, specifically for financing the purchase of an established home.
However, due to the nature of building a home, the financial needs associated with the purchase change. When building a house, customers require different amounts of money at different periods throughout the construction process to pay for the various contractors, suppliers, and trades used. For this reason, construction home loans assist the borrower by providing progressive payments at determined stages of the construction process.
How Do Progressive Payments Work?
Once you have been approved for your construction home loan and the building has commenced, lenders will make progressive payments throughout the various stages of construction. These payments will typically be paid directly to the builder after each stage of the build.
Stages of construction:
1. The slab down or base stage – This progressive down payment is to help lay the foundation for your build. It can include measuring out the site, excavating foundations, pouring the footings, under slab drainage, and moisture barrier protection.
2. The frame stage – This loan amount is to help raise the frames of your house. This stage can include erecting external and internal support structures and trusses and running conduit for electrical and plumbing services.
3. Lockup stage – At this stage, the money loaned is intended to secure the property. This includes finishing the external walls and installing windows and doors. After this stage, the house should be able to be locked and is safe for the internal tradesman to enter the house and begin the internal fit-out.
4. Fit-out or fixing stage – This amount of money is to complete the fit-out of the home, including all internal fittings and fixtures. This can include plumbing, electrical, plaster boarding, initial cabinet installation, tiling, and architraves.
5. Practical completion – This drawdown amount is for the conclusion of all contracted items such as finishing all carpentry, electrical, plumbing, painting, detailing, and cleaning. Effectively after this stage, you should be able to move in and live in your new home.
In some instances, a builder may request a deposit before any planning occurs, so it is feasible to negotiate with your lender an advancement on your first progressive payment. We would recommend having additional funds on standby to keep the construction moving forward.
What Are The Benefits & Costs Of Construction Loans?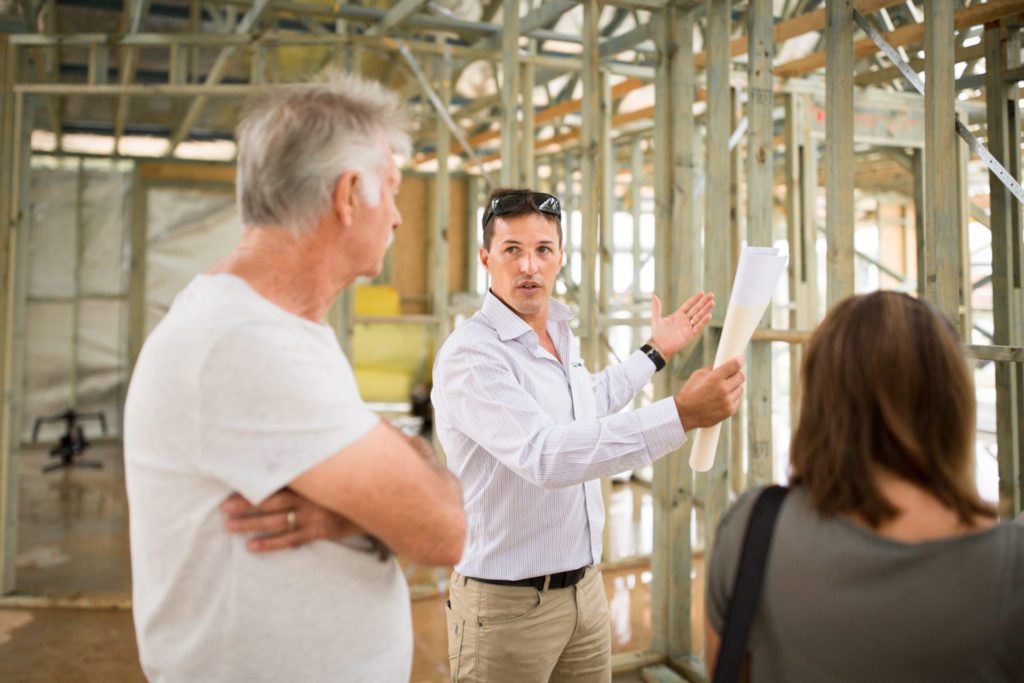 Benefits of a construction loan:
Reduced Interest Payments: You only pay interest on what you have borrowed rather than the entire loan amount. For example, if only $250,000 has been drawn down on a $400,000 loan by the third progress payment, you will only be charged interest on the drawn down amount and not the additional $150,000.
Financial Protection: A construction home loan allows a controlled release of funds that are to be used for the corresponding phase of construction. This ensures that you do not draw down more than you need and that you do not exceed your construction budget.
Additional Payments: Lenders generally allow additional payments into your construction loan, enabling you to reduce your balance and pay less interest.
Cons of a construction loan:
Availability of Funds: Unexpected costs can arise that require additional capital expenditure to rectify. If you have limited funds budgeted for these, it may be challenging to request early withdraws from your progressive payment plan, leading to a halt in construction.
Building Delays: Work carried out will usually need to be assessed before a release of payment, creating time delays and frustration.
Additional Requirements: Due to the increased complexity of a home loan, the time taken from applying for the loan and being approved for the loan could extend over a long period of time. This time will also involve back and forth between yourself, the builder, and the lender.
How To Get A Construction Loan?
Obtaining a construction loan is different to getting a traditional home loan and requires additional documents and approvals before a loan is granted.
Typically, you will need to provide the lender with documents including various council permits and plans, a copy of your fixed-price construction contract and any insurance documentation. Like a home loan, you will be required to provide details of your income and expenses to satisfy the standard lending requirements of your lender.
Following this, a property appraiser will usually assess your constructions plans to estimate the expected value of the dwelling. This is to provide the lender with detailed information on the value of the property upon completion of construction. This will be considered in approving the loan. Further property assessments and inspection may be required during construction.
A loan offer will be given if your loan is approved. A deposit will then be required like other home loans – the minimum is 5%, and if your deposit is less than 20%, you will be required to apply for a lender's mortgage insurance.
During construction, you will be required to confirm that work has been completed at the respective stages of the build. In some circumstances, you may be requested to provide an invoice for the cost of the job done.
Constructions Loan FAQs
What per cent do you have to put down for a construction loan?
The minimum is 5%, and if your deposit is less than 20%, you will be required to apply for a lender's mortgage insurance.
2. What is the average interest rate on a construction loan?
Average construction loans are around 2.5 – 5%, which are typically higher than traditional home loans.
3. How do banks value construction loans?
Bank's value a construction loan on either the completion value or the land price plus construction value – generally whichever is lower.
4. Is it harder to get a construction loan than a mortgage?
Yes, obtaining a construction loan is usually more complicated. This is because more requirements and permits are needed to be obtained.
5. How long does a construction loan take to approve?
Since council permits could take between 1 – 4 months to be approved, constructions loans could take up to 6 months.
6. What are the qualifications for a construction loan?
Requirements include: a signed builder's contract, a quantity surveyor report, the council approved plans, builder's insurance, and normal home loan lending requirements.
7. Do you make monthly payments on a construction loan?
Before construction is complete, you only make interest repayments. Once the building is complete, you will begin to pay monthly repayments like a traditional home loan.
8. What is an owner-builder loan?
An owner-builder loan is designed for people that wish to build/renovate their own home without the expertise of a licensed builder.
Building Your Dream Home
If you have any more questions about construction loans or are looking to build a home that perfectly suits your lifestyle and needs, contact your local G.J. Gardner office today.