Designing & Inspiration
Six Kitchen Benchtops and Which One is Right For You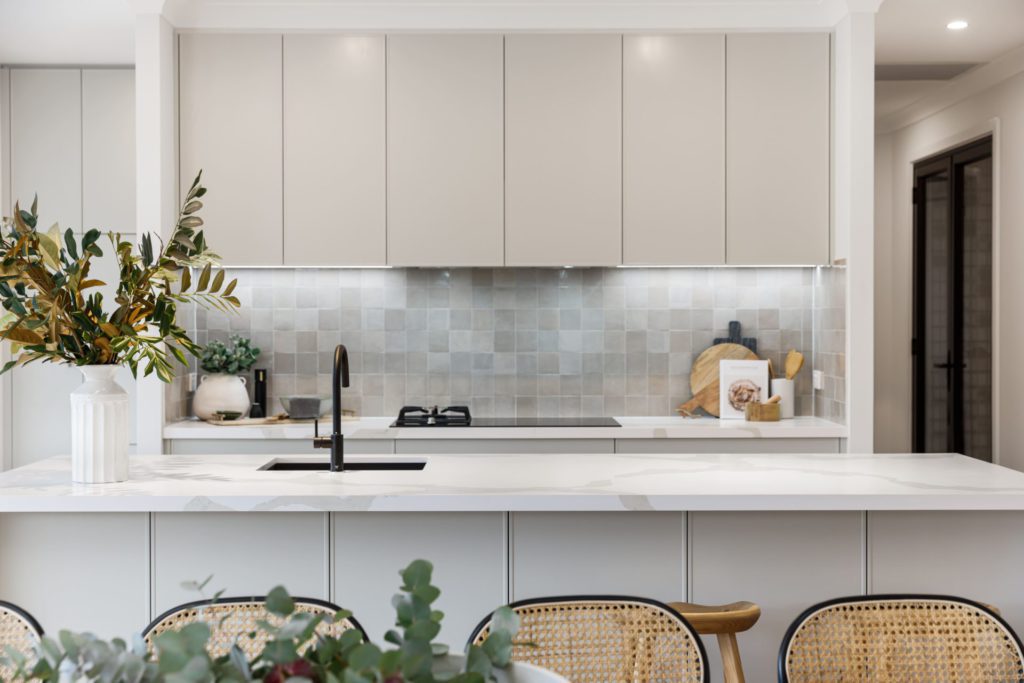 Kitchens are the heart of the home – as the central hub of your home, we know the kitchen living space is where you're bound to make the most prized family memories. With open plan living growing in popularity, the kitchen is becoming part of your centralised living space, often visible from your living and dining areas. 
Here at G.J. Gardner Homes, it's the details and final touches that truly make your dream home a reality. Benchtops are a hugely important part of your kitchen design, able to enhance both functionality and feel. Finding a benchtop that will compliment your overall home design as well as work best with your family's lifestyle and budget is essential to the home building process. Our expert team and their experience working with a range of materials and families are ready to guide you through your kitchen design and find what benchtop works best for you.
1. Granite
A more upscale benchtop option, the natural stone of granite can be identified by its unique neutral tones and interesting pattern design.
Granite's muted colour offers your kitchen an elegant and elevated look, with a wide range of naturally formed patterns. This benchtop material is highly durable and perfect when wanting to build long-lasting homes as long as not exposed to certain acids. Difficult to scratch and easy to be cleaned, a regularly sealed granite is ideal for family homes. Easy to clean and tough against even the most rigorous cooking; granite is an excellent investment in your family home's future.
The diversity of the natural tones and patterns of granite means you can find a unique and complementary benchtop for your kitchen.
2. Engineered Stone 
Engineered stone is a man-made benchtop material crafted from resin and minerals. Unlike natural stones, engineered stone is not heat resistant; however, it gives you more customisation in the design process. This material comes in a variety of styles, including flat colours, natural-like stones and other more unique personalised finishes. With a silky rather than solid touch, engineered stone is easy to clean and remove stains from.
These engineered stones are available with UV resistance, making it great if you intend to have an open plan living space connected to the alfresco area. Plenty of sunlight is a great way to elevate your kitchen, and using a benchtop that is durable against the sun will ensure you can enjoy this flowing space. Unlike natural stone, it doesn't require to be sealed but is as durable.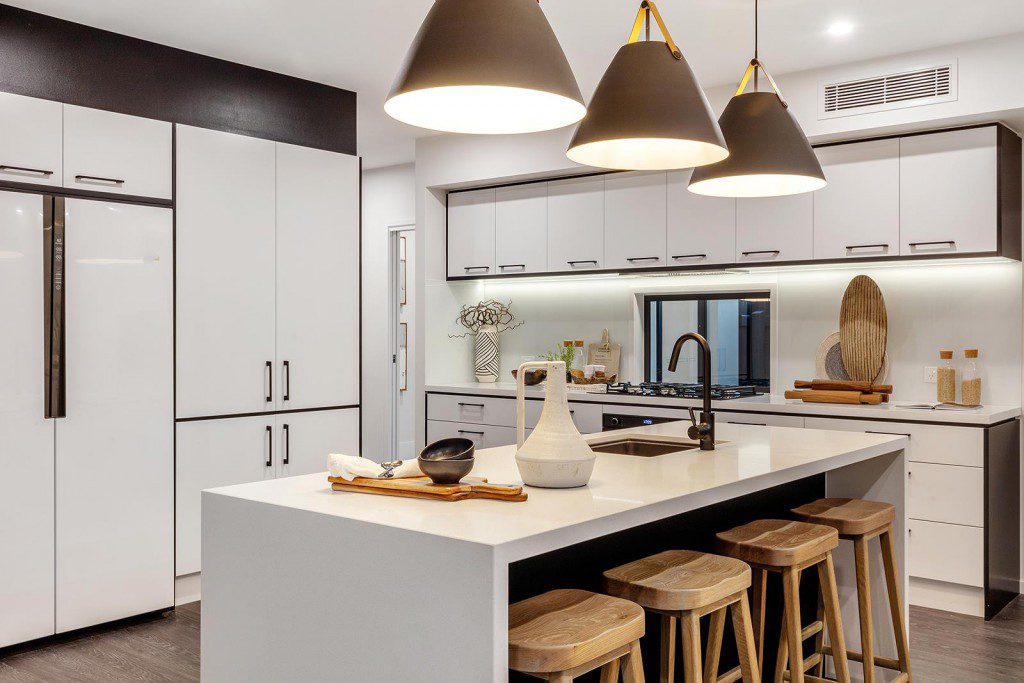 3. Laminate
Laminate benchtops have been crafted from a combination of plastic, wood and fibreboard – mimicking the unique look of natural stones. This material is favoured for its modest price point and versatile collection. High-quality laminates are known to be durable, long-lasting and ultimately gives you a luxe look for less.
Capable of resembling metals to stones, laminate is an ever-popular kitchen benchtop option that is easy to customise with a wide range of finishes and tones. Laminate is simple to clean and at its best, is resistant to surface wear and stains so it's great with kids. Low maintenance and easy to find a laminate to work with your home's style, laminate is a great way to design your dream kitchen within your budget.
4. Marble
Timeless and elevated, marble benchtops continue to be a symbol of luxury for your home design. As a natural stone, each marble surface is unique, with its veining and patterning. Its cool touch and ability to not conduct heat have made marble kitchens soar in popularity, and it adds an elevated, modern and sleek look to your kitchen that can be easily adapted to your home's style.
Although upscale in price, marble is porous and can easily stain as well as soft and prone to etches, scratches and chips. Ultimately, marble can be a challenge to maintain, and its beauty will come with some effort and care. However, when looked after, marble can last a lifetime and make your kitchen feel truly beautiful and luxurious.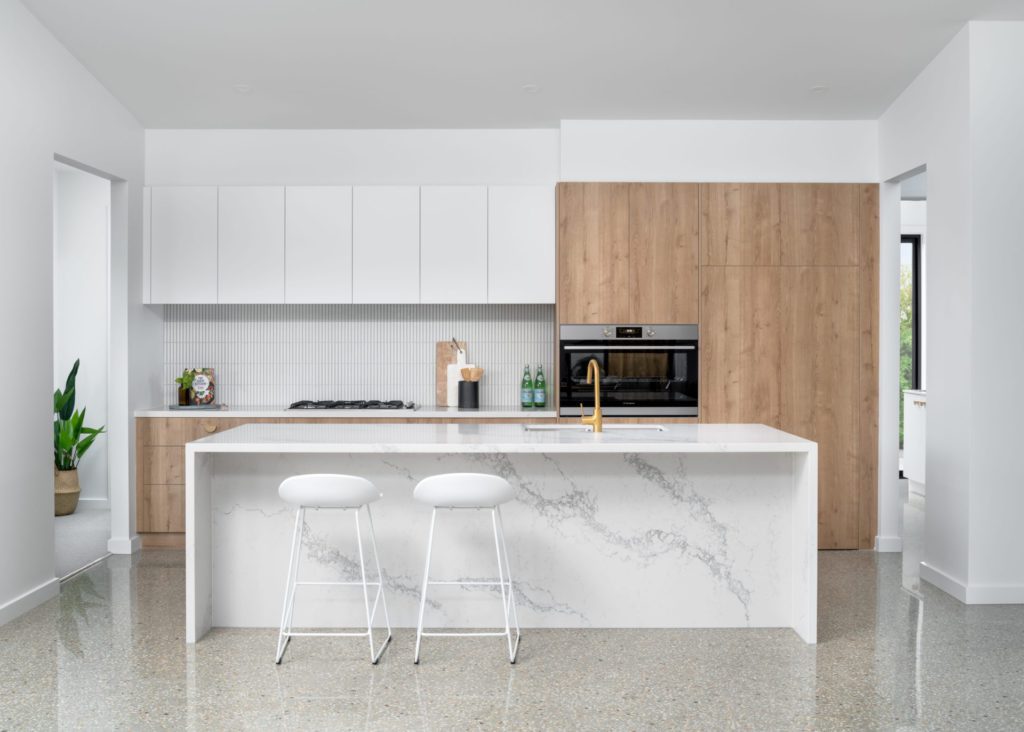 5. Timber
Timber benchtops are a great way to enhance your home's rustic and earthy feel. Ideal for coastal inspired homes yet with plenty of modern variations, timber is a classic kitchen benchtop material.
Timber benchtops are at a medium price point and are known to last. A material that can easily be repurposed or recycled, timber benchtops are easy to clean when well sealed. However, timber is a soft surface, particularly in comparison to other stone kitchen surfaces and benchtops.
In some cases, the stains, nicks and general wear can enhance the rustic appearance, in most cases, they require more effort and time to maintain. If you know you like to cook freely or have a growing family, timber might not be as convenient to preserve the initial look. 
6. Dark Toned Surfaces
Whilst Hampton styles and bright white kitchens have remained on trend for the last few years, dark-toned benchtops, whether timber, marble or stone, have emerged as the latest kitchen trend. Inspired by the muted and sophisticated look of Scandinavian design, using dark tones for your kitchen benchtops lets you bring depth and modernism to your kitchen space.
A departure from your expected airy white spaces, dark-toned benchtops can hide all sins and wear amidst their dark tone. They are subsequently easier to keep looking clean and unlikely to take on stains or damage like lighter surfaces.
Dark toned benchtops could be perfect for your home, particularly if you intend to embrace a more modern, minimalist and dramatic theme to your home. 
How to know which benchtop will be right for your lifestyle
Whilst our diverse range of benchtops gives you the freedom to design a kitchen that feels right for your family; we know it can be overwhelming to find where to start when making the final choice.
We'd recommend starting by establishing the size and budget allotted to creating your kitchen. This will help determine the styles, finishes and materials that can work within those parameters. Understanding space and size can help inform which materials will complement the space and find a solution within the budget.
As your kitchen is likely to function as the central hub of your home, you naturally want it to work with the styles, themes and colours of the rest of your home. This will serve to create continuity and ensure your home feels unified. Whether you're building a Hamptons-inspired home, or something more modernist and minimalist, our range of benchtops can enhance its style.
Finally, we recommend what materials and appliances will work best with your family and lifestyle. Thinking about how often you cook, the maintenance you're willing to commit and how it will be used can help you pick a benchtop that will be suited. Our expert team is experienced in pairing the right benchtop with the right lifestyle and they're prepared to support you in making this decision.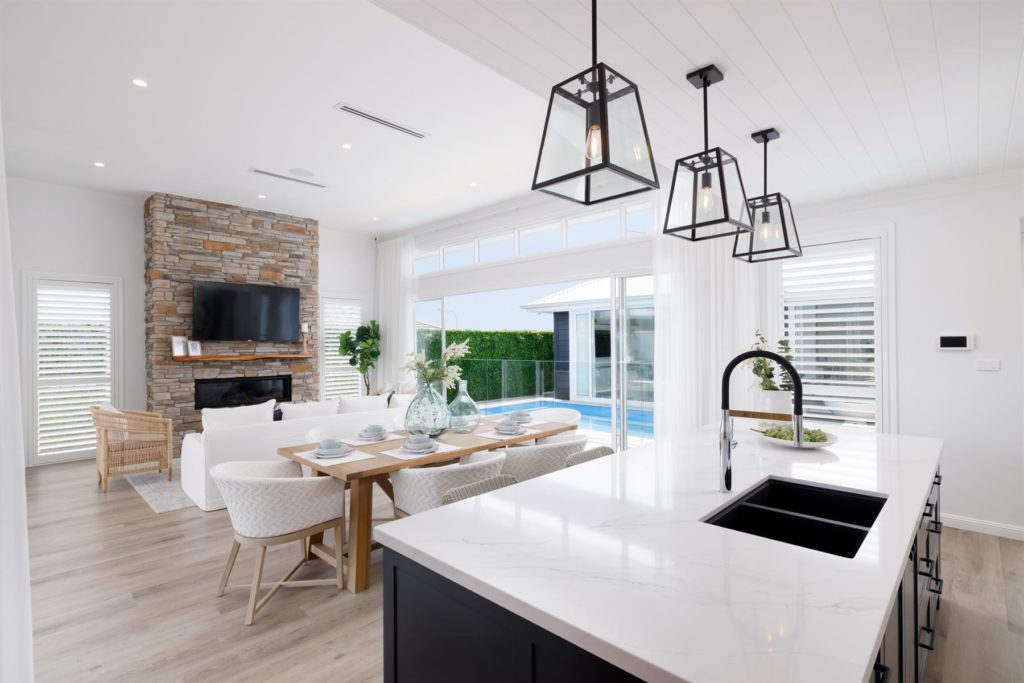 Start designing your dream kitchen today.
We know the perfect kitchen will help make your home a place you love to be, and have curated our product ranges to find you the perfect benchtop style.
With over 36,000 quality, customised homes built over the past 35 years, we can help design the perfect kitchen-scape for your home and lifestyle. Get in touch with a G.J. Gardner Homes consultant today.