1. Grey, Grey & More Grey
With Hamptons' style being so popular over the last couple of years, the glamour of grey has become a common staple in our interiors.
Grey is the ultimate neutral colour that will work well with any furniture and accessories, and the right shade of grey paint will instantly form a subtle backdrop that makes your white skirtings & architraves pop.
There are many shades of grey that you can work within your home, but it's important to realise that not all greys are alike.
To create harmony and a natural flow within your home, it is essential to understand the different types of undertones – warm and cool tones.
If you are looking for a more modern style home with a lot of natural light, cool greys will work well for you as they can often make a space look larger and feel crisp.
Cooler greys tend to reflect more blues, but you can also experiment with different strengths of colours to get the right hue.
When it comes to warmer grey tones, we are spoilt for choice. Warm greys can often be referred to as "greige" and are the perfect mix between pale grey and beige.
Warm greys are so versatile and are great for creating a more homely or cozy feeling within your house. If you are looking to go for a traditional Hamptons style home, warmer greys will be your palette of choice.
If you're unsure if you want to go with a warm or cool undertone, work with your colour consultant to find great chameleon colours that can work alongside a cool or warm colour scheme.
Tip: Always remember to ground your greys with neutrals to ensure the room does not feel clinical. Greys work well with timber or stone, you can bring this in with floorboards, fireplaces & furniture.
2. White – Light & Bright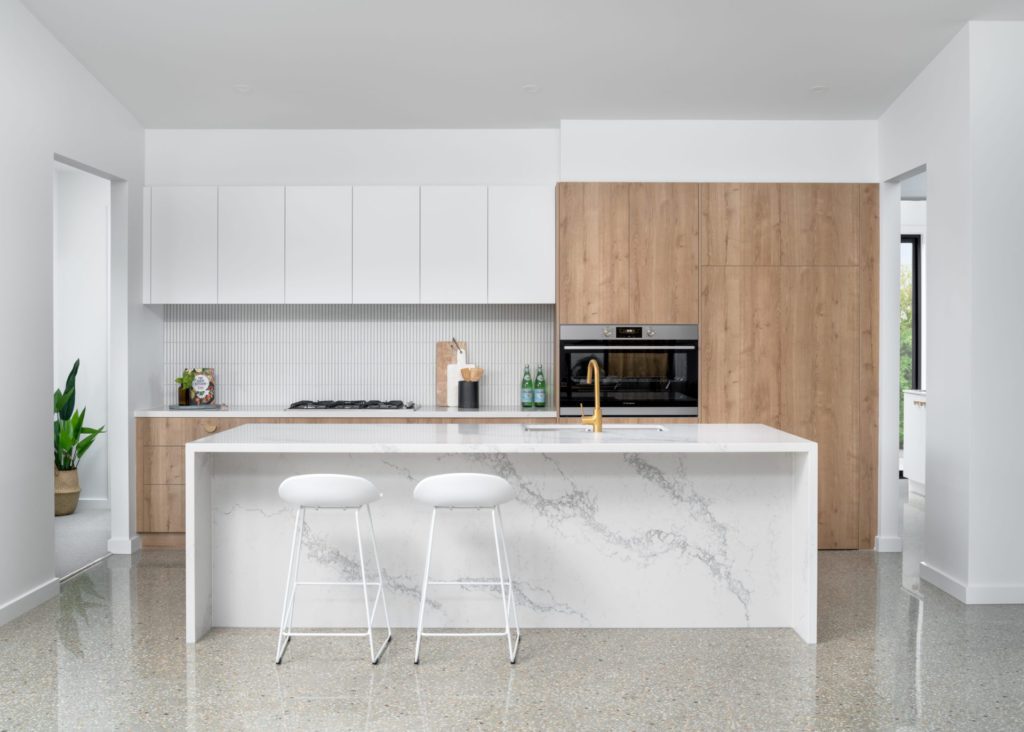 As Australians, we always seem to gravitate to the simplicity of whites. It's a colour that will never go out of style and works in every home.
We are seeing a massive emergence in white interior colour schemes as homebuilders are looking to create a resort-style atmosphere, and whites are the perfect backdrop to bring the outside in.
The big question is how do you choose the right white, and there is a lot to choose from! Whites come in many different shades, and like grey colours, the most important thing to remember is all whites have an underlying colour.
To choose the right white undertone for your home, you need to consider how much light is coming into your rooms, your room size and window placement.
Cool whites have either a blue or green undertone and are great for adding a modern or minimalist edge to your home. They often make your room feel larger, are softer to the eye and are helpful in tempering bright light.
For a room that is flooded with light or if you are looking to obtain a more coastal look within your home, like our Mandalay display home in North Richmond, cool whites work particularly well.
Tip: Colours may change when applied to different areas of the home. From ceiling to wall, room-to-room or between walls, the same paint colour can look different. Make sure you test a white sample in various areas to get an idea of how the paint is affected by light in different areas of your current home.
Warm whites have yellow, pink or peach undertones and are the perfect partner for a classic interior or a home with less natural light. Warmer whites are excellent for south-facing rooms as the paint's tones can warm up any space with their soft illumination.
3. Dark and Moody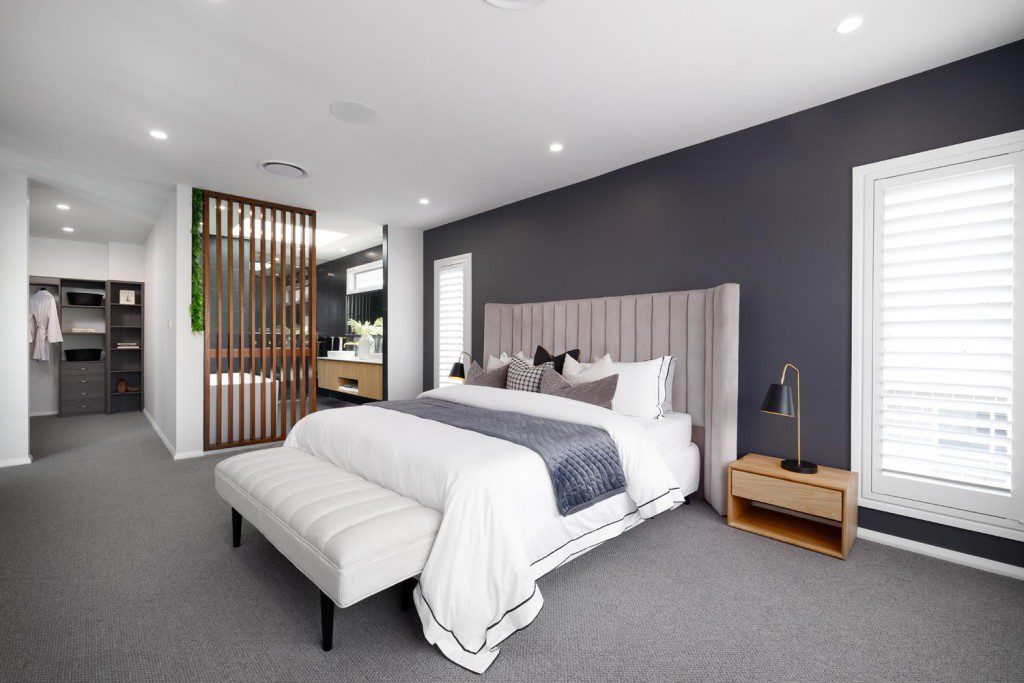 Dark interior designs have blown up in 2021, and we expect this trend to continue into 2022.
Dark colours don't have to be limited to just greys and blacks. Deep charcoals, bottom of the lake greens, browns and inky blues can deliver depth, strength and warmth and make a room look and feel grander than it is.
When painting your walls a dark tone remember to keep the tone consistent. Warm undertones can ensure that your rooms are feeling alive and vibrant, while a cooler tone will keep the rooms calm and quiet.
Darker paints can also make other parts of a room stand out. For example, darker paints can draw attention to lighter-coloured furniture like beds, couches and dining tables, while richer-hued kitchen cabinets can make more neutral walls pop. When painting your walls with dark paint, we always recommend using accents of neutrals to ground the space.
If you don't want to commit to a fully dark aesthetic but want to bring those moody vibes to your home, don't be afraid to use a feature colour in a room where you are trying to create an ambience.
One good place to start painting your home with a dark paint is a media room. This is the perfect space to paint in a dark tone to avoid light reflection and ensure your picture on your TV or projector really pops.
Tip: Dark walls can show imperfections, so invest in scrupulous wall prep and high-quality paints.
Interior Colour Trends Tips
The most important thing is to limit the number of colours you use in your home and when you do choose colours, ensure they are from the same family, i.e. either cool or warm tones.
Creating a consistent palette that stretches across rooms can help give your home a more intentional look and create a visual flow of colour from one room to the next.
If you are not sure what colour palette or trend is right for your new home, get in touch with your local G.J. Gardner office and receive professional advice from our colour consultants.